Federal judge shoots down Chicago gun sales ban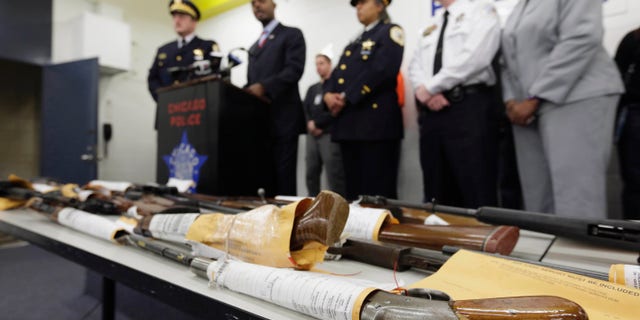 After ruling Chicago's ban on firearm sales a breach of constitutional rights earlier this month, a federal judge is giving the city 180 days to formulate a new law governing gun stores.
Judge Edward Chang of the U.S. District Court for the Northern District of Illinois, Eastern Division, granted the city's request for time to craft an ordinance reflecting, as one municipal official said, "many detailed components, including zoning, licensing and operational requirements for gun dealers."
In his original Jan. 6 ruling, Chang not only struck down Chicago's decades-old ban on firearm sales and transfers, but opined that the ban in America's third-largest city doesn't necessarily reduce violent crime, as the city has long insisted as a rationale for the prohibition.
"Chicago's ordinance goes too far in outright banning legal buyers and legal dealers from engaging in lawful acquisitions and lawful sales of firearms," Chang wrote, according to Forbes, "and at the same time the evidence does not support that the complete ban sufficiently furthers the purposes that the ordinance tries to serve."
[pullquote]
Following that ruling, Drew Worseck, an attorney representing the city, noted Chicago officials' reluctance to appeal Chang's ruling, although they have 30 days to do so.
For his part, Chicago Mayor Rahm Emanuel said in a statement, "I am pleased the court granted our request for a six-month delay to allow time to adopt a municipal ordinance regulating firearm sales in Chicago.
"Our goal is to create the strictest regulations that protect our residents and also comply with the court order without undermining the progress we have made in reducing violent crime throughout our city."
As Forbes noted, Chang seemed to draw in his 32-page opinion upon statistics showing no correlation -- at least in some instances -- between the predominance of gun-carrying citizens with violent crime.
The magazine compared Chicago's 2012 homicide total of more than 500, with Houston's -- which stood at about 200, despite similarly sized populations and the latter's comparatively lax regulation on firearms.
While Chicago reportedly has no gun stores and an effective ban on concealed carry permits, Houston not only allowed its citizens to carry concealed weapons, but claims more than 180 dedicated gun stores, not including the 1,500 or so other stores -- like Walmart -- that sell firearms among other wares.
In the original ruling, Chang seemed to grant Second Amendment advocates a big win in both noting the responsibility of governments to protect its citizens, but also reportedly writing, "…on the other side of this case is another feature of government: certain fundamental rights are protected by the Constitution, put outside government's reach, including the right to keep and bear arms for self-defense under the Second Amendment."
The Associated Press contributed to this report.