FBI Probes Threats Directed at House Democrats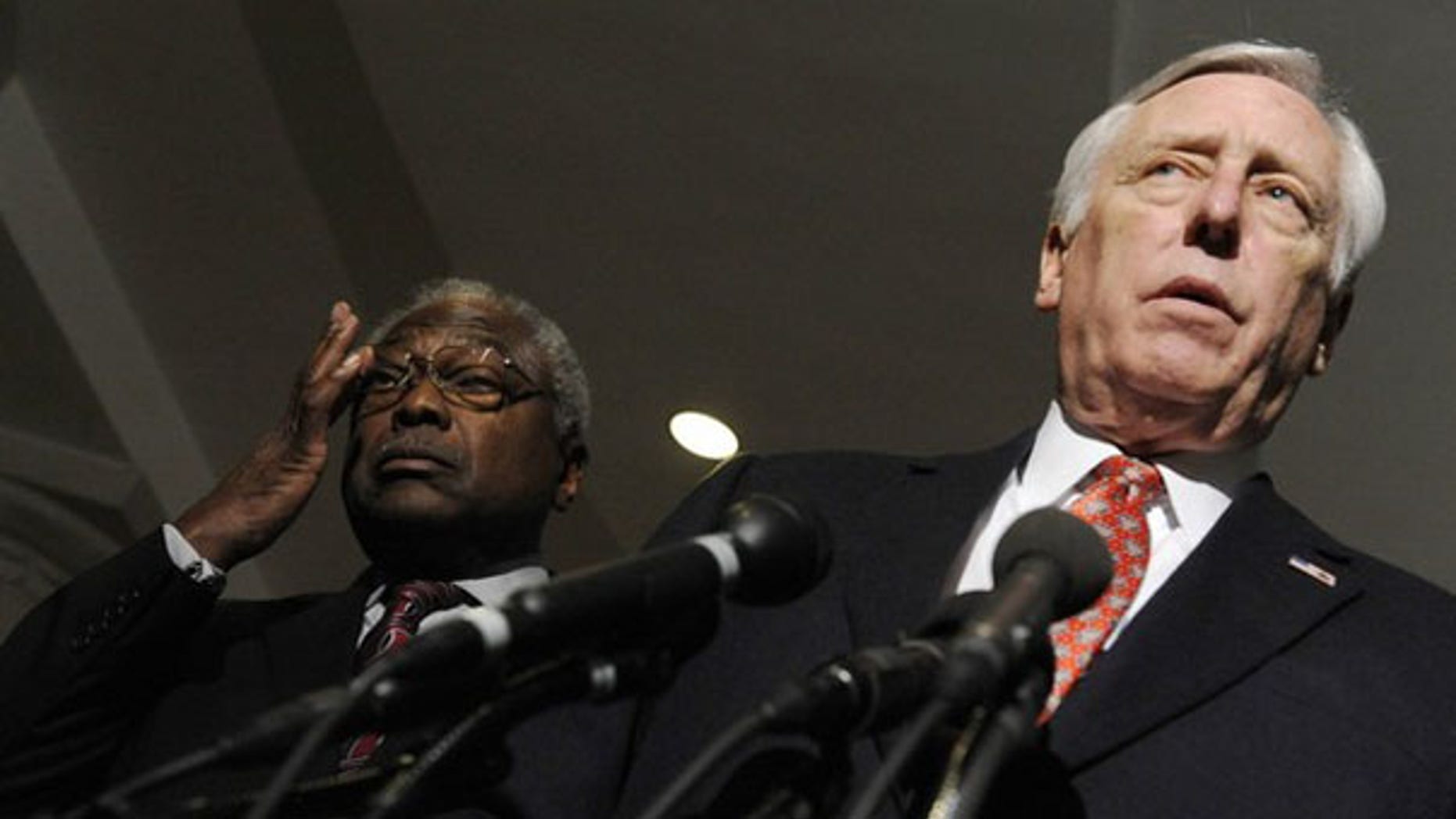 More than 10 lawmakers have complained they've received threats since the run-up to Sunday's House vote on a health insurance overhaul, House Majority Leader Steny Hoyer said Wednesday, and law enforcement officials are taking the allegations seriously.
Federal law enforcement officials are investigating at least two possible threats directed at members of Congress and their families that Democrats suggest are related to their vote for health care reform. Plus the office of Rep. Bart Stupak, D-Mich. -- who initially opposed the Senate's health bill over concerns about abortion funding but switched to support the plan following assurance from the White House -- has received several threatening messages, recordings of which have been obtained by Fox News.
"The incidents of threats whether in person or through telephones or through other communication devices, have given great concern to members, for the safety of themselves and their families," Hoyer told reporters.
"Clearly our democracy is about participation. Our democracy is about differing and debate, and animated debate and passionate debate -- but it is not about violence," he added. "It is about making sure that everybody in America feels free to express their opinion  ... without subjecting themselves their family or others to behavior, and frankly criminal behavior, in some respects, that undermines our democracy."
House Rules Committee Chairwoman Louise Slaughter, D-N.Y., said Wednesday the FBI is investigating recent vandalism at her office in Niagara Falls, adding the incident was "a dreadful thing."
"The man doing it said it was because it will prevent civil war," Slaughter said.
According to a report in the Buffalo News, a brick was thrown through a window in Slaughter's office, causing about $350 worth of damage. The report said another window was broken at the Monroe County Democratic headquarters in Rochester, and cited similar incidents elsewhere in the country.
Slaughter said she was not concerned about threats to her other offices because they all have security guards.
But the New York lawmaker said she thought it was part of a pattern.
The FBI is also investigating a separate incident at the home of Virginia Rep. Tom Perriello's brother. Perriello's office confirmed that a line to a propane tank on a gas grill was cut at Bo Periello's Charlottesville home on Tuesday. Tea Party activists had posted the address online thinking it was the congressman's home, telling opponents to drop by and "express their thanks" for his vote.
Perriello said in a written statement that it's "too early to say anything definitive regarding political motivations behind this act," but that political leaders should nevertheless condemn threats of violence, "particularly as threats to other members of Congress and their children escalate."
"Here in America, we settle our political differences at the ballot box," he said.
Mo Myers, a spokesman at the FBI's Richmond field office, said the FBI is working with local authorities. He said no one was hurt in the incident at Perriello's brother's home.
Mike Troxel, the blogger who posted the address online, told Fox News' Alan Colmes that he was encouraging voters to go to Perriello's house.
"I think people should have the right to have access to their, um, public officials," he said.
When asked if the children of public officials should be harassed at their house just because they're related, Troxel said, "You know, I think that's a burden that comes with being an elected official."
The voice mails left for Stupak were particularly graphic. In one recording, a man swears at Stupak repeatedly while wishing for him to die.
"Congressman Stupak, you baby-killing mother f---er. ... I hope you bleed out your a--, got cancer and die, you mother f---er," he says.
"You and your family are scum," a man is heard saying in another message.
Rep. John Larson, D-Conn., chairman of the House Democratic Caucus, blamed Republicans for the threats, calling on them to condemn the actions and speak directly to their supporters.
"They must ask their supporters to ratchet down their extreme rhetoric and cease this threatening behavior," he said in a written statement. "People have a right to assemble and speak their minds. But, inciting or enflaming violence against elected officials and their families is over the line and inappropriate."
Majority Whip James Clyburn, D-S.C., linked the threats to terrorism.
"If we don't disown that and go get out people to move beyond that, if we participate in it, either from the balcony or on the floor of the House, you are aiding and abetting this kind of terrorism really," he told MSNBC host Chris Matthews.
House Republican Leader John Boehner, in an interview with Fox News, acknowledged that people are "angry" about the health care bill but said "violence and threats are unacceptable."
"It is not the American way. Yes, I know there is anger, but let's take that anger and go out and register people to vote, go volunteer on a political campaign, and let's do it the right way," he said.
Terry Gainer, the Senate sergeant-at-arms, warned senators to "remain vigilant" in a memo obtained by Fox News. But he had no information on actual threats to senators.
The complaints have escalated since Democratic lawmakers said they were accosted over the weekend by protesters on Capitol Hill in the run-up to Sunday's vote.
Several black lawmakers said that as they were walking by protesters Saturday on their way to a procedural vote on Capitol Hill, a group of demonstrators shouted at them and called them the n-word.
"They were just shouting, harassing," Rep. John Lewis, D-Ga., said.
In addition, Rep. Emanuel Cleaver, a black congressman from Missouri, said he was spit on by someone in the crowd who was later detained.
Tea Party protesters, though, dispute those accounts, saying they never heard racially charged language in the crowd. The man detained for allegedly spitting at Cleaver was also let go after, according to Capitol Police, Cleaver was unable to positively identify him.
Cleaver's office said the congressman chose not to press charges.
The Associated Press contributed to this report.