FBI officials review surveillance memo, could not cite 'any factual inaccuracies': source
Two senior FBI officials have now reviewed a controversial Republican staff memo alleging abuses of government surveillance programs during the 2016 presidential campaign, a source familiar with the matter told Fox News – adding that the officials "could not point to any factual inaccuracies."
The two officials – one from the bureau's counterintelligence division and the other from the legal division – followed up after an initial review of the memo during a rare Sunday trip to Capitol Hill by FBI Director Christopher Wray.
The House Intelligence Committee voted late Monday along party lines to release the memo, prompting a backlash from Democratic lawmakers. Top Democratic Rep. Adam Schiff called it a "very sad day." President Trump has five working days to review the contents but is widely expected not to block its release.
After the contentious committee vote Monday night, the source confirmed that House staffers physically took the memo over to the White House for the president.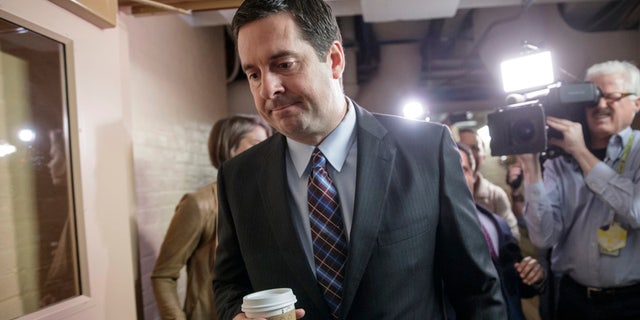 The FBI offered no comment to Fox News regarding bureau officials' review of the document. Senior DOJ officials told Fox News after this story first posted, however, that they "dispute the characterization" that no inaccuracies could be cited.
Senior DOJ officials also had the opportunity to review the memo at DOJ headquarters on Monday.
The Justice Department, in a Jan. 24 letter from Assistant Attorney General Stephen E. Boyd, originally had called the Republican staff memo's release "unprecedented" and "reckless." Boyd also stated, "Though we are currently unaware of any wrongdoing relating to the FISA process, we agree that any abuse of that system cannot be tolerated."
But DOJ officials told Fox News on Tuesday that parts of that memo are now "moot" -- specifically the term "reckless," as DOJ and FBI officials have now had the opportunity to review the document.
Fox News is told the memo was "drafted deliberately to eliminate national security information" that could be damaging if viewed by individuals outside Congress.
House Republicans have indicated the memo speaks to whether the unverified anti-Trump dossier was used to secure or extend surveillance warrants for Americans, including a Trump associate.
"If you're interested whether or not the dossier was used in court proceedings, whether or not it was funded by political opponents, you'll want to see the memo," Rep. Trey Gowdy, R-S.C., said on "Fox & Friends."
The source said the FBI and Justice Department had "fought tooth and nail" for close to a year to avoid providing the surveillance-related records to Congress. The source said additional records provided this month, after Republican committee Chairman Devin Nunes threatened to move forward with contempt of Congress citations, backed up investigators' earlier findings.
The committee is in the process of lining up the remaining FBI and DOJ interviews, which are expected in early February, as part of its investigation. Intelligence committee Republicans have two outstanding records requests: for additional texts between FBI official Peter Strzok and Lisa Page, and records documenting an April 2017 meeting between DOJ lawyer and senior special counsel prosecutor Andrew Weissmann and a major media organization. The Weissmann deadline was Jan. 11.
In a Jan. 4 letter, documenting his agreement with Deputy Attorney General Rod Rosenstein to avoid contempt citations, Nunes wrote, "I understand that your office is researching records related to the details of an April 2017 meeting between DOJ Attorney Andrew Weissmann (now the senior attorney for Special Counsel Robert Mueller) and the media which will be provided to this Committee by close of business Thursday January 11, 2018."
The source said the FBI and Justice Department said they wanted additional time to gather all of the Weissmann records, to provide them at once. Fox News understands the committee will make a new push for the remaining Weissmann records, which are related to former Trump campaign chairman Paul Manafort, as early as this week.
Republican Rep. Jim Jordan recently told Fox News, "I am interested in anything the FBI did to leak information to further their narrative."
Fox News' Jake Gibson contributed to this report.