Family of Pregnant Teen Who Died While Working the Fields Want Brown to Act to Protect Farm Workers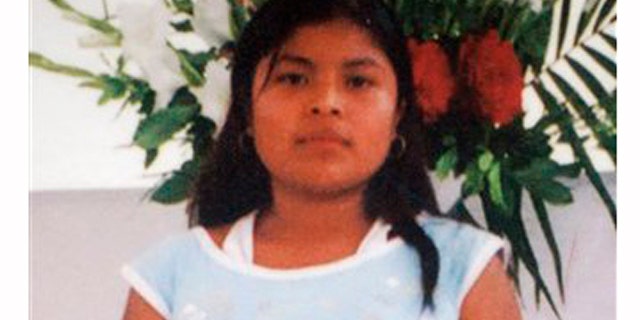 The death of María Isavel Vásquez Jiménez at the age of 17 in 2008 was heat-related.
Two months pregnant, she toiled pruning grapes in a California vineyard for nine hours in nearly 100-degree heat, with no shade or water, a condition that shot up her core temperature to 108, law enforcement authorities said.
"Vásquez Jiménez burned to death from the inside," a columnist wrote earlier this month.
Now, relatives of María Isavel Vásquez Jiménez and farm worker union officials are seeking a meeting with California Gov. Jerry Brown to make sure no one else dies in the same miserable and needless way, they say, that the teen did.
"We don't want another family to suffer like ours," said María's uncle, Doroteo Jiménez, also a farm worker. "We are asking for justice."
Jiménez and other supporters, including the United Farm Workers of America, want to meet with Brown on Cesar Chavez Day, which is on March 31. They want the governor to support a bill that will extend collective bargaining rights to California's farm workers, many of whom are undocumented and afraid, they say, to report abuse or dangerous working conditions.
Previous bills offering more labor protection to farm workers passed in the state legislature, but former Gov. Arnold Schwarzenegger vetoed them, arguing that they would pose a burden to the agricultural industry and the state economy.
Doroteo Jiménez believes that the bill, the Fair Treatment for Farm Workers Act, and other forms of better protection for farm workers could have saved his niece, whose fiancé also worked in the vineyards.
"There is more protection for the life of an animal than us," Jiménez said. "There are stiffer punishments for those that abuse an animal than those who abuse a farm worker."
The young woman's death, authorities said, was avoidable – her employers did not provide shade or water or call for help when collapsed. Her former bosses tried to make it look as if she had died jogging, hoping to stave off scrutiny of the dangerous working conditions and their many undocumented workers.
But their culpability was clear, authorities said. Still, this month, a plea deal was approved by San Joaquin County Superior Court Judge Michael Garrigan, in which the owner of the former Merced Farm Labor pleaded guilty to a misdemeanor of failing to provide shade, and was sentenced to 40 hours of community service, three years probation and a $370 fine.
The owner's brother, who was the company safety coordinator, pleaded guilty to a felony count of failing to follow safety regulations that resulted in death. He got 480 hours of community service, five years probation and a $1,000 fine.
The plea deal granted to defendants María De Los Angeles Colunga and Elias Armenta angered the Jiménez family, farm workers union members, and other supporters for whom the teen's death symbolized the problems and vulnerabilities in migrant work.
"We're not seen the same as other workers," Jiménez said in an interview.
After the plea deal, he released a statement that said that the farm operators "let her die without a care. . .For them, María Isavel was only a farm worker who could be replaced. For us, the loss is eternal."
"We know that many farm workers have died under the same conditions as María Isavel and that they are never mentioned and there is no justice for them," he said. "Fifteen farm workers have died from heat illness and who has fought for them?"
"We're very disappointed, however it was not a surprise," said María Machuca, spokeswoman for United Farm Workers. "We did vigils, we sent emails to the District Attorney's office, we hoped the judge would think about what this case meant not only for María's family, but for all farm workers."
Authorities said they understood the criticism directed at them, though they felt it was unfair.
They had, they told reporters, pursued the nation's first criminal case involving the heat-related death of a farm worker. But many factors – among them fear of testifying by many of María's undocumented fellow workers – made it a difficult case to prosecute to the fullest extent of the law, the authorities said.
"Farm workers have been singled out for decades, excluded from the National Labor Relations Act, the Federal Insecticide Act, the Fair Labor Standards Act, and the Federal Child Labor laws," the president of the United Farm Workers said in a letter pushing for the farm workers measure.
"The human beings who torture their bodies, sacrifice their youth, and number their spirits to produce California's great agricultural wealth, a wealth so vast that it feeds all of America and much of the world, deserve better."
Randy Thomas, the attorney for Colunga and Armenta, told the Associated Press that everyone needed to move on: "The defendants are sad about this case, but their involvement was very peripheral. . .so this was a sound resolution."
Doroteo Jiménez and farm worker groups say they will keep fighting to help workers not feel afraid of dealing head-on with the conditions the teen endured the last day of work.
"The plea deal set a precedent for how farm workers can be treated by employers," Machuca said. "Now employers know that nothing is going to happen to them."
Follow politics reporter Elizabeth Llorente on Twitter: @LlorenteLatino
Elizabeth.Llorente@FoxNewsLatino.com
Follow us on twitter.com/foxnewslatino
Like us at facebook.com/foxnewslatino