Families of Benghazi victims press for House select committee to investigate attack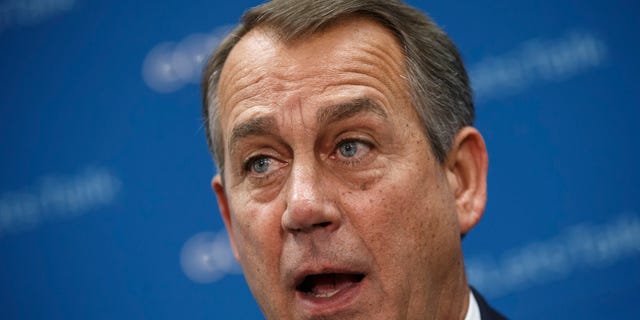 NEWYou can now listen to Fox News articles!
WASHINGTON – Three family members of victims of the 2012 Benghazi terrorist attack demanded Monday that House Speaker John Boehner create a select committee to investigate the assault that killed four Americans.
U.S. Ambassador to Libya Christopher Stevens, Foreign Service Officer Sean Smith, and security officers Tyrone Woods and Glen Doherty were all killed during the attack on the U.S. consulate in Libya on Sept. 11, 2012.
In a letter hand-delivered to Boehner, Smith's mother, Pat Smith, and uncle, Michael Ingmire, as well as Woods' father, Charles Woods, pressed Boehner to form a select committee to investigate the Benghazi scandal.
"Your reluctance to lead and resistance to create a Select Committee on Benghazi must end," the letter read. "More than 75 percent of all House Republicans – with the conspicuous absence of those in leadership or committee chairmen – have co-sponsored Rep. Wolf's Select Committee bill. Few bills in this Congress demonstrate such overwhelming support from Republicans."
In addition to forming a focused bipartisan committee, the letter also cited a recent New York Times report that the letter claimed ignored congressional testimony.
So far, Boehner has had five separate House committees investigate the matter.
An independent select committee would have subpoena power and the authority to read classified documents. Boehner has said publicly he opposed the creation of a select committee and didn't see the need for one.
There was no immediate reaction from his office to Monday's letter.
In a Dec. 30 opinion piece published on FoxNews.com, Ingmire called for Boehner to be removed from office.
"As a family member the slow drip of truth from these committees is maddening and, at times, insulting," Ingmire wrote. "Overall, John Boehner has been an ineffectual House Speaker and needs to be removed. He has failed to unify even his own party."
Fox News' Catherine Herridge contributed to this report.