FAA Issues New Work Schedules After Another Air Controller Falls Asleep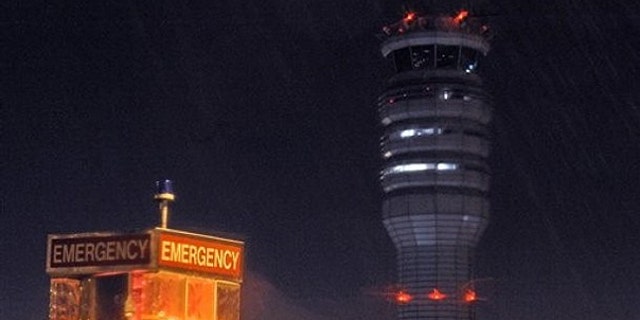 NEWYou can now listen to Fox News articles!
The Federal Aviation Administration is changing air traffic controllers' work schedules most likely to cause fatigue following another incident in which a controller fell asleep while on duty, this time at a radar center in Miami.
FAA Administrator Randy Babbitt said in a statement Saturday that the agency will be making changes to controllers' work schedules most likely to induce fatigue. He didn't describe those changes, but said they will take place within 72 hours.
"We are taking important steps today that will make a real difference in fighting air traffic controller fatigue. But we know we will need to do more. This is just the beginning," Babbitt said.
The latest sleeping incident -- the fifth to be disclosed by FAA since late March -- occurred early Saturday morning at a busy regional facility that handles high-altitude air traffic.
According to a preliminary review of air traffic tapes, the controller did not miss any calls from aircraft and there was no impact to flight operations, the agency said. The controller, who was working an overnight shift, has been suspended.
Prior to the start of the shift, all controllers were given a briefing on professionalism and the importance of reporting to work fit for duty, FAA said. The incident was reported to a manager by another controller, the agency said. There were 12 controllers on duty and two managers, it said.
Transportation Secretary Ray LaHood and Babbitt were briefed on the incident early this morning by David Grizzle, acting chief operating officer of the Air Traffic Organization.
Last week, FAA announced it was ending its practice of single-staffing some airport towers where traffic is light between midnight and 6 a.m. But aviation safety experts said more needs to be done to address the broader problem of fatigue-inducing schedules that don't allow controllers realistic opportunities for sleep between shifts.
Earlier this week, the head of the FAA's air traffic operations resigned.
On Monday, Babbitt and Paul Rinaldi, president of the National Air Traffic Controllers Association, will begin visiting air traffic control facilities to hear what controllers have to say and to remind them that sleeping on the job won't be tolerated. Their first stop is Atlanta, home of the world's busiest airport.
The decision to add a second controller at night to 26 airports and a radar facility plugs a gaping hole in aviation safety, said Gregory McGuirk, an associate professor at Embry-Riddle Aeronautical University in Daytona Beach, Fla.
"There is redundancy in every aspect of aviation, everything has a backup," said McGuirk, a former controller. "So why on the world's worst shift would you put the weakest link -- the human being -- into a control tower without any redundancy?"
The FAA and the controllers union are working together on ways to address chronic fatigue. The agency also will commission an independent review of its training curriculum and qualifications "to make sure our new controllers have mastered the right skills and learned the right disciplines before they start their careers," Babbitt and Rinaldi said in a column posted late Friday on the USA Today website.
It has been known for decades that fatigue is rampant among controllers. FAA rules forbid any sleeping on the job, even during breaks. Employees who violate those rules can be fired. But controllers told The Associated Press that unsanctioned napping at night where one controller works two jobs while the other sleeps, and then they swap, is an open secret within the agency.
The Associated Press contributed to this report.