FAA Investigation Reveals Senator's Frightening Landing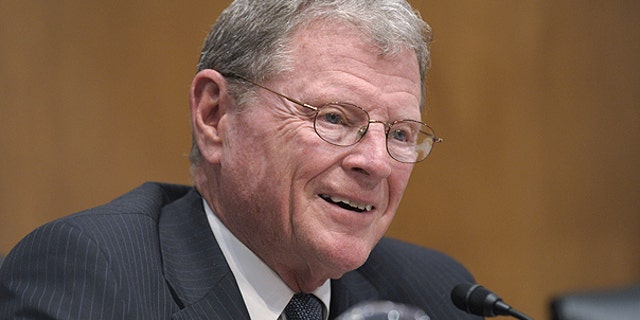 TULSA, Okla.-- Sen. Jim Inhofe "sky-hopped" his Cessna aircraft over six vehicles and ground personnel as he tried to land last year on a closed runway in Texas, sending frightened airport workers fleeing for their lives, according to federal records and audio clips released Wednesday.
The Oklahoma Republican issued a brief statement in response to the new details about the Oct. 21 incident at the Port Isabel-Cameron County Airport, calling it "an old story."
"I have completed the program required by the (Federal Aviation Administration), and this matter is over," Inhofe wrote.
In a new audio clip, construction supervisor Sidney Boyd told the FAA he was on the runway and that the senator "scared" workers and nearly hit a truck before landing.
Boyd's recounting of the incident to the FAA was first reported by The Smoking Gun and was part of the agency's investigation.
"I think (the truck driver) actually wet his britches, he was scared to death," Boyd told aviation officials in a tape-recorded call to the FAA. "I mean, hell, he started trying to head for the side of the runway. The pilot could see him, or he should have been able to, he was right on him."
In the same call, Boyd described how Inhofe, who has more than 50 years of flying experience, came over after he landed, demanding to know ,"What the hell is this? I was supposed to have unlimited airspace."
The FAA probe found that Inhofe knew the runway was marked closed but "still elected to land, avoiding the men and equipment on the runway."
The new documents also show that Inhofe told investigators at first that he wasn't distracted in the cockpit when the incident occurred but then volunteered that he was "showing a new hire employee seated in the right seat how the technology of the cockpit instrumentation worked ..."
The report also stated that Inhofe told investigators that his secretary called the airport the day before the flight and that the person she talked with did not mention anything about the runway being closed.
Instead of facing legal action, Inhofe agreed to complete a remedial training program, according to a Jan. 4 letter to the senator from Robert J. O'Keefe, an aviation safety inspector.
"This letter constitutes neither an admission nor an adjudication of a violation," O'Keefe's letter said.
The incident wasn't the first close call Inhofe has had in the cockpit. In 2006, an experimental plane the senator was flying spun out of control while landing in Tulsa. In 1999, Inhofe made an emergency landing in a Tulsa suburb after the plane he was flying lost a propeller.