EXCLUSIVE: EPA fraudster duped bosses – but not the office assistant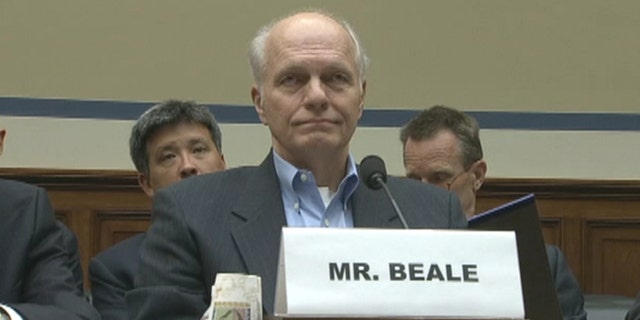 A former EPA official who notoriously duped the agency into believing he worked for the CIA was able to get away with his fraud for years. Yet, despite his ability to apparently fool all his bosses, the office administrator claimed she was on to him all along.
"I am surprised it took as long as it has for John to be investigated," she told investigators.
The former executive assistant in the Office of Air and Radiation, Addie Johnson, spoke to agents from the Office of Inspector General last year. A memo on that interview, obtained by FoxNews.com, details the myriad concerns Johnson claims she had "early on" with John Beale -- who was sentenced to prison in December for defrauding the agency.
The document is the latest evidence that mid-level workers within the EPA were raising flags about Beale for years, and raises more questions about why Beale's superiors took so long to act on those concerns.
Johnson told investigators that one of the first problem signs was that Beale never entered his work hours into the official attendance reporting system. Instead, Beale or a supervisor typically instructed her to put him in for 80 hours every pay period. This, she told investigators, raised concerns "since she rarely saw Beale in the office." Plus she said a supervisor kept allowing his expenses to be processed even though some of his vouchers for a single trip were over $20,000.
She told investigators that "John Beale walked on water in Air" (a reference to the office's name).
Another red flag came when she learned Beale claimed he had to fly first class because of a back condition, stemming from a supposed accident at his house in Massachusetts.
"Johnson stated that she did think it was strange that Beale needed to fly first class due to his back condition since he was an avid bicyclist who would routinely go on long bike trips and he never exhibited any signs of back problems when he was in the office," the memo said.
Then there was Beale's story about working for the CIA, which was his cover for all the missed hours and days at work. Johnson told investigators that she learned of that story from a co-worker. Beale would tell her he was working "across the river" or at "Langley" -- but Johnson told the agents "she never recalled Beale ever calling from a number at 'Langley,'" the memo said.
She said Beale also once told her he was planning to retire from the CIA, but his replacement was captured and tortured so he had to go back, and go to "Iraq/Iran" until his replacement could work. "John, that's what movies are made of," she told him, though Beale apparently claimed he was telling the truth. Finally, according to the memo, she said she noticed Beale ordered "a lot of books" using the EPA card but most "seemed to deal with economics and did not seem to be consistent with Beale's EPA job duties."
Johnson was not the only employee raising concerns about Beale. Other documents show that Scott Monroe, the director of human resources in the Office of Air and Radiation, became aware of problems with him as far back as 2008, and tried to intervene in late 2010 and early 2011. In January 2011, he sent a memo to now-EPA Administrator Gina McCarthy raising concerns about Beale's 25 percent "retention bonus."
The inspector general's investigation found Beale was first recommended for a bonus back in 1991. He kept getting them until 2013 -- the improper bonuses ended up totaling about $500,000.
A 2000 memo from EPA official Bob Perciasepe included the justification for the bonuses to be renewed. Perciasepe, assistant administrator in the Office of Air and Radiation, said Beale was involved in "international negotiations" with other countries on air pollution control programs and was very effective. He said Beale was being courted by a major law firm at a starting salary of $250,000, but would stay at EPA if he got the bonus.
Beale would later tell investigators that he never had a written offer of outside employment, just oral offers.
Since the fraud was made public, McCarthy has been credited with initially flagging Beale's activities and expenses. EPA bosses say they were duped by his CIA story, despite the warning signs.
A Dec. 20, 2013, email to staff from Perciasepe said Beale "used the trust he had gained in the agency" to further his lies.
"We are all horrified that this could happen here and we must commit to not let this aberration, or anything like it, ever happen again," he wrote.
An EPA spokeswoman, responding to a separate set of documents that detailed some of those warning signs, stressed that McCarthy was the one who "uncovered" the fraud, and that she "has worked in coordination with its Inspector General and the U.S. Attorney's office" since learning about it.
"John Beale is a convicted felon who went to great lengths to deceive and defraud the U.S. government over the span of more than a decade," spokeswoman Alisha Johnson said. "The Agency has also put in place additional safeguards to help protect against fraud and abuse related to employee time and attendance, including strengthening supervisory controls of time and attendance, improved review of employee travel and a tightened retention incentive processes."