Ex-Border Patrol boss Vitiello takes over immigration agency battered by protests and 'abolish ICE' rage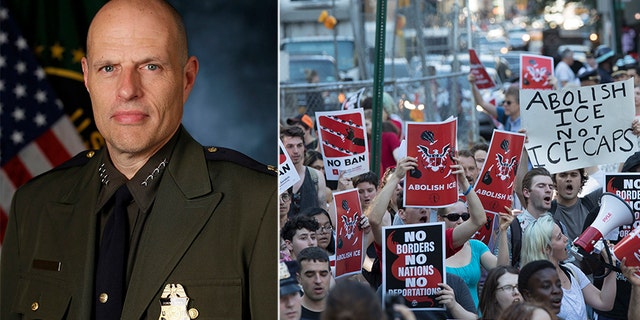 When Ronald Vitiello took over as acting director of U.S. Immigration and Customs Enforcement on Saturday, he inherited an agency under siege.
Activists have focused their outrage over President Trump's "zero-tolerance" policies squarely on the deportation division, as anti-ICE protesters take to the streets and Democratic lawmakers call to "abolish ICE" entirely.
In Washington, Trump has strongly defended the agency and warned Democrats that their anti-ICE rhetoric will backfire at the polls.
But amid signs that the nonstop protests and political warfare are taking a toll on morale, Vitiello will be tasked with shepherding the immigration agency through crises both internal and external.
"The men and women of ICE are among the most dedicated and honorable law enforcement professionals in the country," Vitiello said in a statement sent to Fox News. "I am honored to lead them as they continue to carry out their sworn mission to faithfully enforce our nation's immigration and customs laws and protect the homeland."
It may send a signal that Vitiello comes from the ranks of those tasked with protecting America's borders.
Vitiello started his career with the U.S. Border Patrol in 1985, where he worked along the southern border near Laredo, Texas, before going on to hold various leadership roles at the federal law enforcement agency in both Texas and Vermont. In 2010, he was appointed by former President Barack Obama as deputy chief of the Border Patrol and served as acting chief of the agency from 2015 to 2016.
When Trump took office, he promoted Vitiello to chief of the Border Patrol and eventually deputy commissioner of Customs and Border Protection, before being tapped by Trump once again to lead ICE after the retirement of Acting Director Thomas D. Homan. Trump has yet to nominate anyone to formally serve as director.
"I am pleased that ICE will continue to be led by an experienced and well-respected career law enforcement officer who will be a strong advocate for the agency's workforce," Homeland Security Secretary Kirstjen Nielsen said in a statement. ICE is housed within DHS and charged with executing hundreds of federal immigration statutes.
Holman was a strong advocate of ICE's deportation officers and a major opponent of sanctuary cities, which he said put his officers in danger and risked community safety. Vitiello has been described as having a softer approach to leadership than his predecessor, but also one that inspires loyalty.
"He's more quiet and thoughtful than [outgoing director Thomas] Homan, but he's still a cop," a former DHS official told Quartz, while CBP spokesman Daniel Hetlage called him "one of those leaders you want to work for."
His reputation will be put to the test, as the agency takes much of the political heat over a Justice Department policy that called for across-the-board prosecutions for illegal border crossers -- in turn leading to the separation of around 2,000 children from their parents due to decades-old detention rules. Trump has since ordered the separations be stopped, but it hasn't curbed calls on the left to "abolish ICE."
Hundreds of thousands of marchers participated in more than 700 marches across the country over the weekend to protest the family separations. They gathered on the front lawn of a Border Patrol station in McAllen, Texas, near a detention center where migrant children were being held in cages, and on a street corner near Trump's golf resort at Bedminster, New Jersey, where the president was spending the weekend.
Tweeting Saturday from New Jersey, Trump urged ICE agents to "not worry or lose your spirit" and wrote that "the radical left Dems want you out. Next it will be all police."
A number of prominent Democrats have called for the outright elimination of ICE.
Sen. Kirsten Gillibrand of New York said ICE has "become a deportation force," telling CNN late Thursday "you should get rid of it, start over, reimagine it and build something that actually works."
Rep. Mark Pocan, a Democrat from Wisconsin, stated last week that he plans to introduce legislation to eliminate ICE.
Trump tweeted Saturday morning that Democrats "are making a strong push to abolish ICE, one of the smartest, toughest and most spirited law enforcement groups of men and women that I have ever seen."
In an interview that aired over the weekend with Fox News' Maria Bartiromo, Trump added that "we have to have strong borders. We don't want crime…The Democrats want to have no borders. They want to get rid of ICE."
The pressure Vitiello faces in his new role is not just from outside critics. There have been numerous reports of concern among ICE agents.
"Even the cops don't like us anymore because they're listening to the news also," one ICE agent, who did not want his name used, told the Los Angeles Times. In California, many police departments have a longstanding policy against working with ICE to arrest people on immigration charges.
The backlash against ICE has become so heated that senior officials in the agency's criminal investigative division sent a letter to DHS Secretary Nielsen last month urging an organizational split of ICE.
The letter, signed by the majority of special agents in charge of ICE's Homeland Security Investigative Division (HSI), argued that the Homeland Security Investigative Division and ICE's other division, Enforcement and Removal Operations (ERO), should be two separate organizations. While the work of ERO is more well-known as it carries out arrest and deportations, HSI focuses its work on transnational counterterrorism, narcotics enforcement, human trafficking and other crimes.
"Many jurisdictions continue to refuse to work with HSI because of a perceived linkage to the politics of civil immigration," the agents wrote in the letter, which was obtained by the Washington Post. "Other jurisdictions agree to partner with HSI as long as the 'ICE' name is excluded from any public facing information."
The Associated Press contributed to this report.