Eva Longoria Launches New Project To Boost Latino Candidates And Voting Power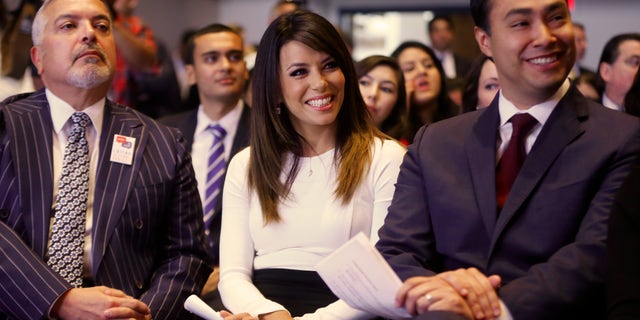 NEWYou can now listen to Fox News articles!
Washington (AP) – Actress and activist Eva Longoria and the Democratic National Committee's finance chief announced on Monday an effort to raise millions for Latino candidates, lamenting that this group's growth hasn't been matched by heavier political sway.
Longoria and DNC finance chairman Henry Munoz worked together to raise millions from Latino and Hispanic donors for President Barack Obama's re-election bid in 2012 and have been laying the groundwork for the Latino Victory Project since then. If the effort and its sister political action committee prove successful, they could again raise tens of millions of dollars, this time dedicated to helping Latino candidates.
"People keep talking about the power of the Latino vote. But the truth is that (2012) was just the tip of the iceberg," Longoria told The Associated Press on Monday. "We are not tapping into the full potential yet of the Latino community."
The group is close to raising its goal of $5 million this cycle, project president Cristobal Alex said in an interview. The group also would focus on introducing chosen candidates to donors in a way Democratic groups have done for years with female and gay candidates.
"Let's consider it an investment in the nation. Let's not refer to us as 'the sleeping giant' after the midterms," Munoz said. "We are the change we have been waiting for."
Munoz and Longoria led the Obama campaign's Futuro Fund, which raised $32 million — much of which was from first-time donors. Neither has forgotten their allies and both have worked to keep those donors engaged.
"A lot of the Latino donors that we spoke to had never been asked before," Longoria said.
Among the group's first designed candidates: Amanda Renteria, a California Democrat who is running for the House; Nevada Assemblywoman Lucy Flores, who is running for lieutenant governor; Texas state Sen. Leticia Van De Putte, who is trying to become lieutenant governor; and Angel Taveras, the mayor of Providence, Rhode Island, who is running for governor.
Taveras said the group's endorsement would help him "extend my reach nationally" to donors around the country.
Charlie Crist, who is running for his old job as governor of Latino-rich Florida, also won the group's backing.
"Latinos will decide that race," Alex said.
Added Rep. Joaquin Castro, D-Texas: "This is going to be a big year for Latino candidates across the country."
The group is non-partisan but its first slate of candidate endorsements does not include any Republicans.
Longoria said the group eventually could back GOP candidates. "I don't think the solutions to issues of the Latinos lie within one particular party," she said.
About 11 million Latinos cast ballots in 2012's presidential election, yet about 12 million stayed home. Latinos vote at a rate lower than any other group and their numbers in Congress don't match their share of the U.S. population.
Although the group's first major announcement comes with buzz, Longoria acknowledges that Latino turnout will remain a challenge, especially in a year when Obama is not on the ballot.
"Everybody gets so energized and excited to vote in the presidential elections," she said, "but yet we're not energized enough to vote for the people who have to work with the president."
Follow us on twitter.com/foxnewslatino
Like us at facebook.com/foxnewslatino