Ethics report: Florida Democrat Grayson likely violated House rules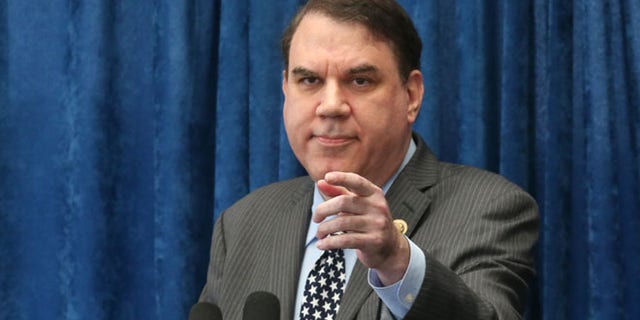 A congressional review panel said Tuesday that Florida Democratic Rep. Alan Grayson likely violated House rules in his business activities and use of congressional staff, as the separate House Ethics Committee moved to extend its probe.
Grayson, who is running for the Senate seat being vacated by ex-GOP presidential candidate Marco Rubio, is being scrutinized regarding a hedge fund he started when he was not a member of Congress and for allegedly using his congressional staff for unofficial business.
The complaint was originally handled by the Office of Congressional Ethics -- an outside, independent panel that reviews ethics complaints against House members.
The office said in a 74-page report released Tuesday there is "reason to believe" that Grayson improperly lent his name to the hedge fund and received compensation from entities connected to the fund.
The report also said Grayson likely received compensation for services rendered by someone else when he was a member of Congress. The findings from the independent OCE were referred to the House Ethics Committee, according to a joint statement by the panel's Republican and Democratic leaders.
Grayson, on a conference call with reporters, claimed what he did was not only "legal" but "commonplace."
"I didn't do anything wrong," he said, arguing the investigation is essentially over.
Grayson's Senate campaign touted the fact that the full committee has not – at this point – opened a full-blown investigation.
"The Ethics Committee decision against establishing an investigative subcommittee is highly significant, because in every single case where the Ethics Committee has issued a formal sanction (expulsion, censure or reprimand) against a Member of Congress based on an OCE referral, it has done so only after establishing an investigative subcommittee," the campaign said.
Grayson has denied wrongdoing. His campaign suggested Tuesday the complaint was politically motivated.
The campaign said the complaint was filed by Celeste Bush, chairwoman of Florida's St. Lucie County Democratic Party and a political ally of Rep. Patrick Murphy, Grayson's opponent in the Senate Democratic primary.
Grayson is known for his history of controversial comments, including a 2009 accusation that Republicans' health care plan is for sick people to "die quickly."
Florida's state primary is Aug. 30.
Fox News' Chad Pergram and The Associated Press contributed to this report.