End game? Democratic candidates suffer blows in high-stakes Colorado midterm races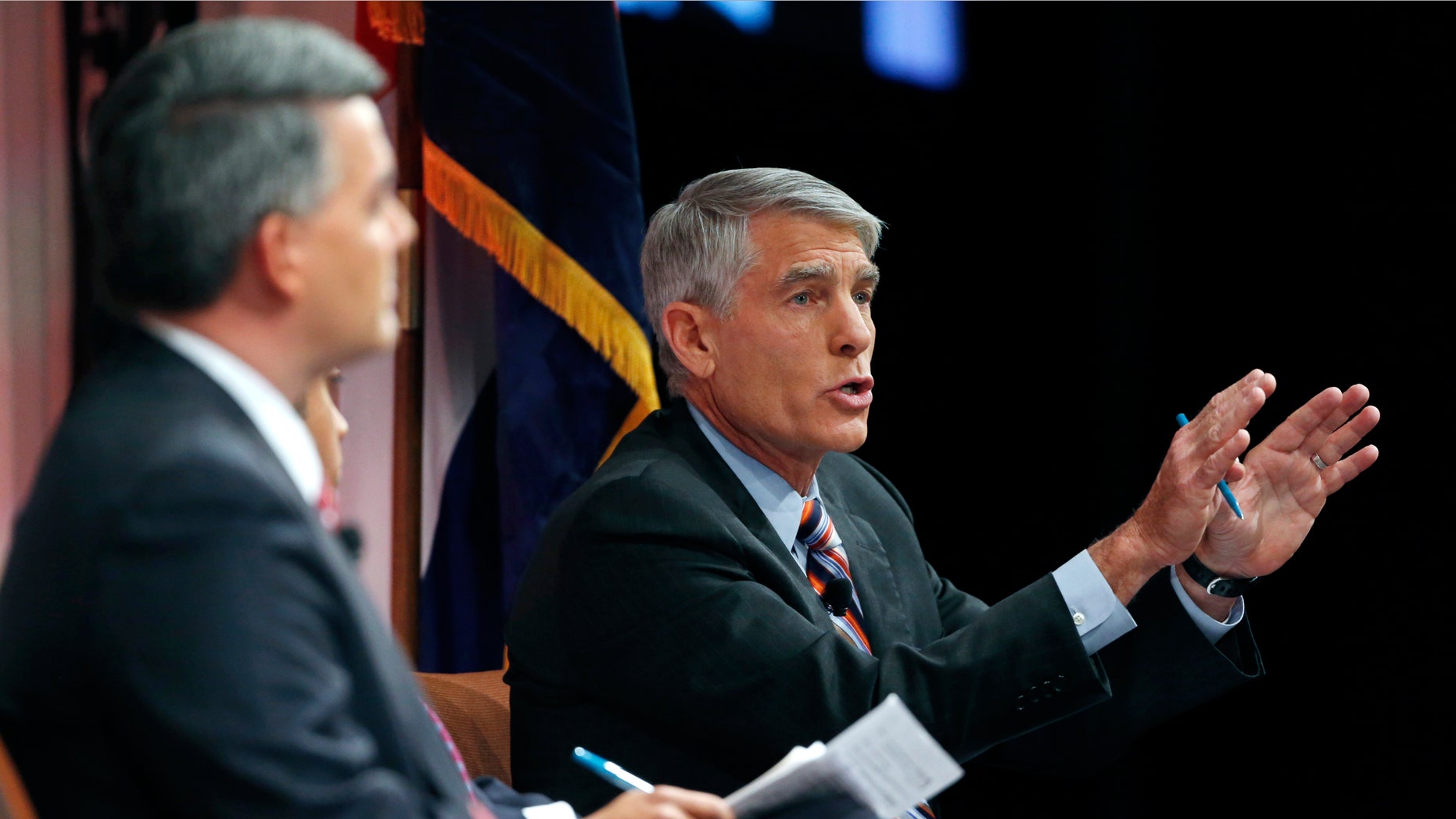 Democratic candidates in Colorado got back-to-back smackdowns in recent days.
The Democratic Congressional Campaign Committee (DCCC) opted to cancel $1.4 million of TV commercials they'd planned to air for congressional challenger Andrew Romanoff, Politico reported.
Politico called the move "a sign of waning confidence in his prospects."
Romanoff is running in the 6th district against incumbent Republican Rep. Mike Coffman, who's been maintaining a consistent lead in the polls.
At the same time, Colorado's major newspaper, the Denver Post, which traditionally endorses Democrats, threw its support behind Republican Cory Gardner, a congressman who is running for the Senate against incumbent Democrat Mark Udall.
The Post conceded that it shares Udall's ideology on many issues, but that he had failed to be much of a force in Washington, D.C. It also scolded the one-term senator for distorting some of Gardner's stances, and lauded Gardner's ability to leave his mark in his legislative career.
"Rather than run on his record, Udall's campaign has devoted a shocking amount of energy and money trying to convince voters that Gardner seeks to outlaw birth control despite the congressman's call for over-the-counter sales of contraceptives," the Post editorial said. "Udall is trying to frighten voters rather than inspire them with a hopeful vision. His obnoxious one-issue campaign is an insult to those he seeks to convince."
Both moves against Colorado Democrats were significant – these two races in particular are being closely watched nationally.
The U.S. Senate race is one of the most high-stakes in the nation. The Republicans, who now have a majority in the House of Representatives, need to win six seats nationally on Nov. 4 to have a majority in the Senate as well.
The race between Coffman and Romanoff is Colorado's most competitive race for the House. It also has become the most expensive House contest in Colorado history.
Romanoff, former speaker of the state House, has outraised Coffman thanks to help from national Democratic allies including Vice President Joe Biden and former House Speaker Nancy Pelosi.
Fundraising numbers released by the campaigns last week showed the challenger maintaining his fundraising advantage. Romanoff raised about $1.1 million in the last fiscal quarter, compared with about $850,000 for Coffman.
But Romanoff, once considered one of the most promising candidates for the Democrats for the midterm elections, has seen his once-strong position weaken in the face of an assertive campaign by Coffman and disillusionment over the performance of President Barack Obama and, by extension, all Democrats.
Politico said that the DCCC said it would reallocate the funds planned for Romanoff to other congressional races.
Colorado's 6th district is almost evenly divided among Republicans, Democrats and independents. It is about 20 percent Latino. The winner likely will determine which party controls Colorado's congressional delegation, currently made up of four Republicans and three Democrats.
Romanoff has tried to pry the seat from Coffman by consistently reminding voters that when Coffman was first elected in 2008, he opposed pro-immigrant measures like a plan to allow provisional status for some people brought illegally to this country as children.
Coffman said in a recent debate that his mind has been changed by meeting immigrant families with "parents that live in fear on a daily basis" over the prospect of being separated from their children.
"We do have to secure the borders and enforce the laws," Coffman said. But he added, "You have to be compassionate in keeping families together."
For his part, Romanoff faults Congress for failing to solve the nation's immigration troubles. "We haven't gotten action from this government," Romanoff said.
Underscoring the importance of Latino voters in the contest, the candidate's final debate on Oct. 30 will be conducted in Spanish.
The Associated Press contributed to this report.
Follow us on twitter.com/foxnewslatino
Like us at facebook.com/foxnewslatino