Emanuel Resigns as Obama Chief of Staff, Eyes Chicago Mayoral Race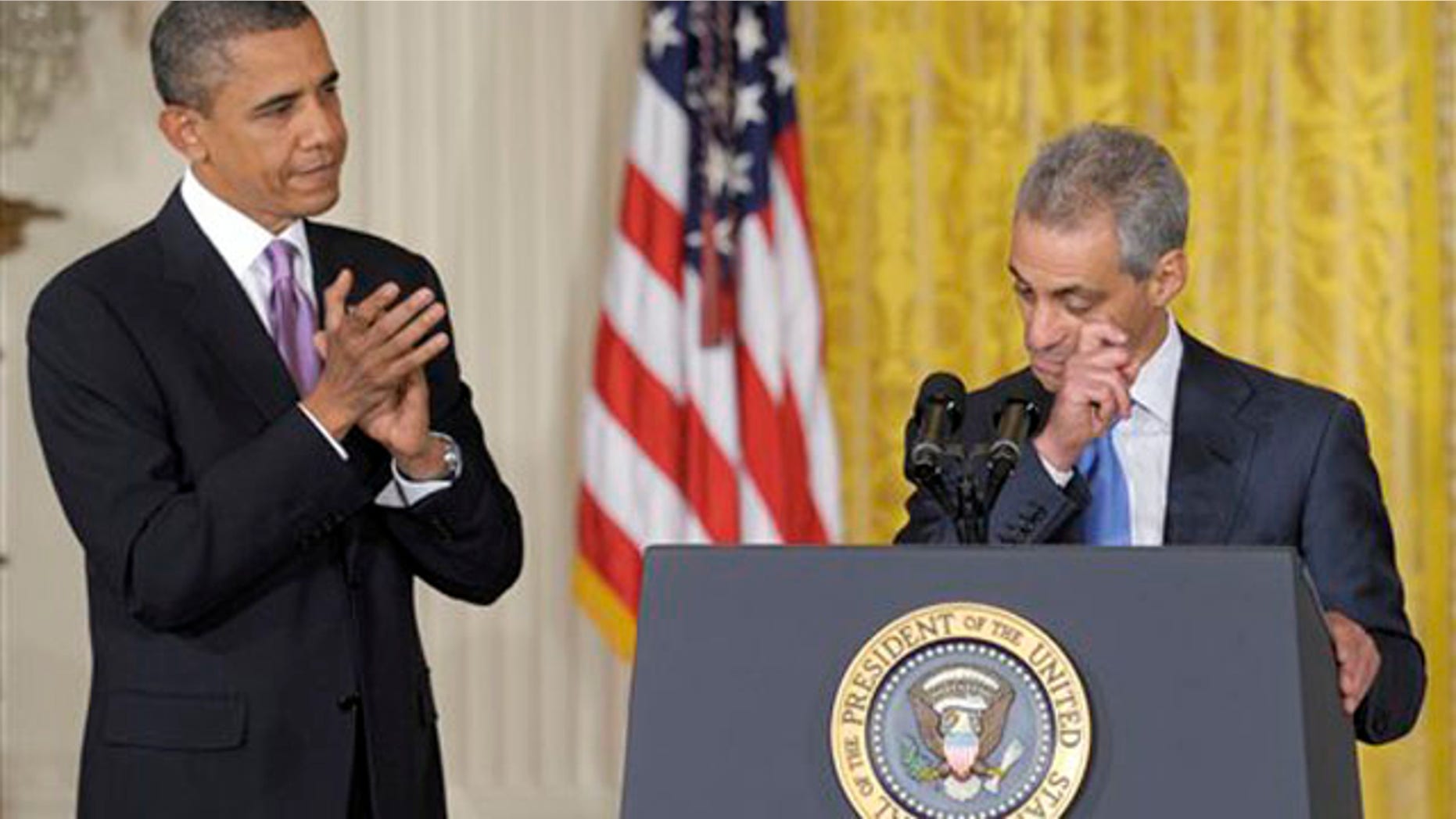 President Obama announced Friday that his brash and hard-charging chief of staff Rahm Emanuel would resign effective immediately, marking the most significant departure to date from the president's inner circle.
Emanuel was beckoned away from Washington by an open seat in the Chicago mayoral race and is expected to soon launch a campaign for that post, one he's described as his dream job. A packed crowd of top-level officials gathered in the East Room to watch Obama pass the torch Friday from Emanuel to his selected replacement, senior adviser Pete Rouse.
The president, calling the occasion "bittersweet," credited Emanuel with the passage of landmark legislation during his administration and said he would be "extraordinarily well-qualified" for his next endeavor.
"He just brings an unmatched level of energy and enthusiasm and commitment to every single thing that he does," Obama said. "It's fair to say that we would not have accomplished what we've accomplished without Rahm's leadership."
The two joked about Emanuel's reputation as a foul-mouthed, but effective, manager. Obama quipped that an old injury in which Emanuel lost part of his middle finger rendered him "mute."
Emanuel, who choked up while talking about his family, thanked his staff and added: "I'm sure you've learned some words that you've never heard before." He also threw in some Chicago shout-outs, touting the Chicago Bears and pledging to "make our hometown even greater" in a preview of the mayoral race to come.
Emanuel leaves behind an administration in the midst of turnover at the highest levels, with the president approaching the two-year mark. It comes after economic adviser Christina Romer and budget director Peter Orszag left the administration, and after senior adviser David Axelrod and top economic adviser Lawrence Summers announced their intention to do the same.
One senior White House official told Fox News that Obama and Emanuel had a series of conversations over the course of several days as Emanuel considered whether to leave. The official said Emanuel informed Obama Wednesday of his plans and Obama offered Rouse the job the same day.
A White House source said Emanuel is expected to start a "listening tour" in Chicago's neighborhoods Monday.
Sources said they did not know when Emanuel would make an official announcement about his mayoral bid but that he would launch a website with a message to Chicago voters in the near future.
Emanuel's departure, though expected by the political world for days now, is still an unquestioned loss for Obama. The president has counted on Emanuel's intensity, discipline and congressional relationships to keep the White House focused and aggressive. The job comes with nearly unrivaled pressure and power.
Though Rouse, a calm White House presence with his own seasoned understanding of how Washington work, is expected to serve as interim chief of staff, the president is likely to choose a permanent replacement after the Nov. 2 midterm elections.
Top contenders are Rouse, deputy national security adviser Tom Donilon and Ron Klain, the chief of staff to Vice President Biden, according to aides close to the president.
Emanuel's plans were the source of widespread speculation both in Chicago and Washington, D.C. ever since Mayor Richard Daley announced this month he would not seek re-election. In an April television interview, Emanuel had called it "no secret" he'd like to run for mayor.
Daley, who has held the mayor's job since 1989 and carried on a family dynasty, surprised many with his announcement. The choice for Emanuel suddenly became whether he would make a dash for the political job he has openly coveted, at a cost of uprooting his family again and quitting his post of national influence sooner than he thought.
When he ultimately announces his candidacy, Emanuel instantly becomes the most recognizable name in what is already a crowded field of candidates and possible candidates. Already with well over $1 million in his war chest and his well documented ability to raise huge amounts of money for political candidates around the country, Emanuel's campaign would be extremely well funded.
But he may not be the most popular out of the gate. A Chicago Sun-Times poll released last month showed Emanuel in fifth place behind Cook County Sheriff Tom Dart, state Sen. James Meeks, Rep. Luis Gutierrez and Rep. Jesse Jackson Jr.
Other possible candidates include former U.S. Sen. Carol Moseley Braun and other local officials. A number of African Americans besides Moseley Braun are considering running, including Davis and Meeks. Black ministers, politicians and others have discussed throwing their support behind a single candidate.
A number of possible candidates, including Moseley Braun, Davis, Meeks and Dart, are in the process of collecting the 12,500 signatures necessary to win a spot on the February ballot.
Those running against Emanuel are sure to label him an outsider, and Emanuel will counter by stressing his ties to the city, particularly his tenure in Congress representing the district that includes Chicago's North Side.
The Associated Press contributed to this report.