Emails show White House adviser intervened on ObamaCare 'bailout' after industry appeals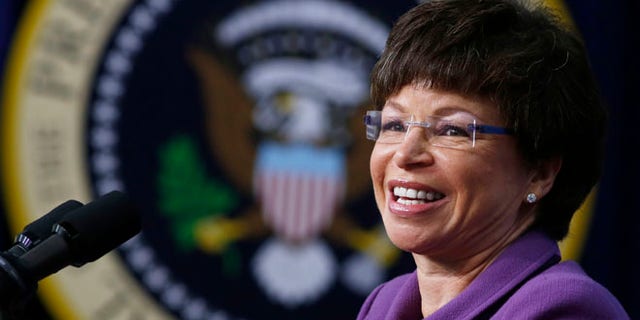 Newly released emails show a key White House adviser intervened on behalf of the health insurance industry after an executive repeatedly warned that massive premium hikes were coming unless the administration expanded an ObamaCare program that Republicans call an industry "bailout."
The insurance industry ultimately got a more "generous" offer from the administration -- one that Republicans warn could transfer potentially billions of taxpayer dollars into the Affordable Care Act to bail out insurance companies.
The documents were included as part of a report by Republicans on the House Oversight and Government Reform Committee. Republicans allege that White House adviser Valerie Jarrett intervened in response to appeals from the industry.
"Documents show that Ms. Jarrett took the warnings of the insurance companies very seriously," the report said.
The controversy pertains to a program known as "risk corridors," which allows the government to aid insurers that lose money by paying them from a pool of cash collected from insurers that turn a profit. The insurance industry, though, was concerned there wouldn't be enough cash in the pool to go around.
A string of emails starting on April 4 of this year shows Chet Burrell, president of CareFirst Blue Cross Blue Shield, bringing this issue to Jarrett's attention – and issuing blunt warnings that premiums could rise if the administration didn't change course. The industry was apparently concerned about a decision to make the program budget-neutral, which would limit funding.
"If this is indeed the policy, then carriers will have to price premiums as if the Risk Corridor features is not fully available," said a memo sent from Burrell to Jarrett on April 5. "Uncertainty or confusion will equate to higher rates. This could confront the Administration with a sea of far larger premiums increases than expected. Once the filings are made, they will likely quickly become public."
The not-so-subtle warning about skyrocketing premiums received Jarrett's prompt attention.
"I checked and the policy team is aggressively exploring options," she wrote back later that day. "… I really appreciate you bringing this to my attention."
Burrell's CareFirst division represents Maryland, Washington, D.C., and parts of Virginia.
The two continued to correspond, and Burrell continued to warn about rate increases in 2015 if the program were not changed. On April 15, Jarrett said the industry was getting "80 percent" of what it wanted but she didn't have "any more to add."
Burrell responded that "substantial rate increases are coming."
However, despite Jarrett's response, the Department of Health and Human Services a month later issued a final rule detailing changes to the program. The agency said that in the "unlikely event" the pool ran out of money, the secretary was required to make "full payments" to insurers -- and the agency would use "other sources of funding … subject to the availability of appropriations."
This move has angered Republicans, who warn that it puts taxpayer funds on the line.
"While the Administration's changes to the Risk Corridor provision protected the profits of insurance companies' ObamaCare-compliant plans, it was extremely detrimental to taxpayers," the new GOP report said. "When government picks winners and losers in the market, it reduces competition and harms consumers. Congress should protect taxpayers and bring greater transparency to the premiums in the individual market by repealing ObamaCare's Risk Corridor program."
The insurance industry, though, has defended the program.
ObamaCare's "temporary risk mitigation programs are designed to help ensure market stability and affordability for consumers," a spokesman with America's Health Insurance Plans said last month. "The final rule provides important clarity about how these insurer-financed programs will work as health plans prepare their rates for 2015."
HHS has claimed the agency remains confident the program will not have a shortfall.