Emails Show Justice Officials Drawing Blanks on 'Fast and Furious' Despite Memos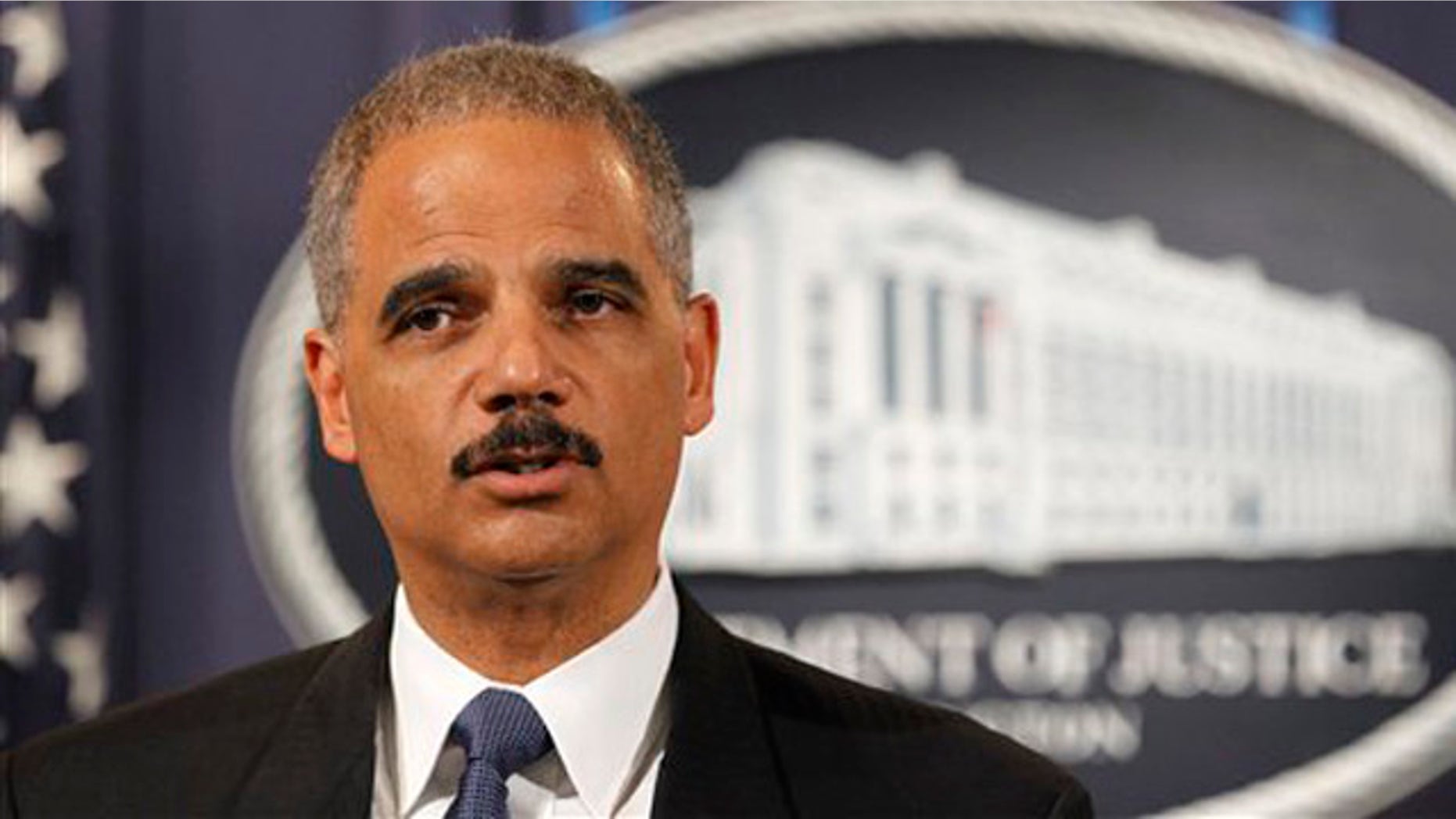 Newly disclosed Justice Department documents show that another round of memos mentioning "Operation Fast and Furious" was circulated within the Justice Department in mid-2010.
The internal documents, obtained by Fox News, raise questions over who at the Justice Department was actually sending and reading memos on the controversial gunrunning program.
Attorney General Eric Holder has insisted he didn't know about the investigation until this year, even though several memos from July and August 2010 addressed to him cite the gunrunning probe by name. Similar memos were sent to Assistant Attorney General Lanny Breuer, the head of the Justice Department's Criminal Division.
The broader back-and-forth focuses on a Bureau of Alcohol, Tobacco, Firearms and Explosives investigation in Arizona targeting major gunrunners. Launched in late 2009, the investigation planned to follow gun purchasers in hopes that suspects would lead them to the heads of Mexican cartels. But high-powered weapons tied to the investigation ended up at crime scenes in Mexico and the United States, including the murder of Border Patrol Agent Brian Terry late last year.
In a letter to critics on Capitol Hill last week, Holder said suggestions the memos to him show he must have known about the investigation "mischaracterize the process by which I receive information." He said his office typically receives more than 100 pages of "so-called 'weekly reports' that, while addressed to me, actually are provided to and reviewed by" his staff and the deputy attorney general's staff. He said he does not and "cannot read them cover-to-cover."
It seems neither did some officials below him.
On March 4, 2010, a memo "from" Gang Unit chief Kevin Carwile "to" three of Breuer's top aides noted that days earlier a gang-unit attorney "met with ATF HQ to be briefed on developments in Operation Fast and Furious and various firearms tracking investigations based in Phoenix, AZ." A week after that memo was sent, on March 11, Carwile sent a similar memo to the same three aides, again mentioning "Fast and Furious" by name.
But according to newly disclosed emails, Carwile didn't know the name "Fast and Furious" five days after sending the second memo. In an email to the gang-unit attorney mentioned in the memos, he asked the attorney for "the name of the Arizona case/investigation."
One source with knowledge of Justice Department procedure said the "to" and "from" lines in some department memos would be more accurate if they said "to the office of" and "from the office of."
Ten months after Carwile's memos, another one of the three aides who received them didn't seem to know basic details about the "Fast and Furious" investigation. As indictments in the case were about to be announced earlier this year, Breuer's chief of staff asked in one email, "Is the 'Fast and Furious' case ours or the [U.S. Attorney's Office's]?"
In fact, the case was being run by the U.S. Attorney's Office in Phoenix.
As for who at the Justice Department may have known details of "Fast and Furious," the chairman of the House Oversight and Government Reform Committee, Rep. Darrell Issa, R-Calif., noted in a letter to Holder on Monday that wiretap applications, described as having "rich detail of the reckless operational tactics being employed," were "reviewed and approved by several Deputy Assistant Attorney Generals" starting in March 2010.
In addition, the gang-unit attorney mentioned in the emails obtained by Fox News was briefed on "Fast and Furious" in December 2009, during the investigation's early stages. The attorney, Joe Cooley, also received a briefing months later from the ATF's Special Operations Division.
The Justice Department temporarily assigned Cooley to help prosecute the "Fast and Furious" cases, but that effort never got off the ground.
It's unclear if Cooley was ever briefed on investigative techniques.
Over the summer, Justice Department emails from March 2010 surfaced in which ATF officials at the time said then-ATF head Ken Melson was "being briefed weekly on this investigation" and "keenly interested in case updates." In addition, Melson had a series of specific questions about the case for ATF officials, according to the emails.
After the emails were disclosed, Issa said Melson had "intimate involvement" with the investigation and "was very much in the weeds with 'Operation Fast and Furious.'"
"Mr. Melson was interested in the IP Address for hidden cameras located inside cooperating gun shops," Issa said at a committee hearing and in a statement. "With this information, Acting Director Melson was able to sit at his desk in Washington and -- himself -- watch a live feed of the straw buyers entering the gun stores to purchase dozens of AK-47 variants."
But since then, and since Melson was voluntarily interviewed by Issa's investigators, Issa has changed his tune, noting now that Melson says he "didn't know about much" regarding "Fast and Furious."
Asked on "Fox News Sunday" this week about a briefing he got from Melson in April 2010, Issa said Melson "knew about the program" at the time of his briefing, but Melson did not know the "things" that "later" made him "sick to his stomach."
Nevertheless, Melson briefed then-Acting Deputy Attorney General Gary Grindler a month before Issa was briefed, according to the Justice Department. Still, Issa insisted in a letter to Holder on Monday that Grindler's briefing -- a month before his own with Melson -- was "extremely detailed" and relayed "operational details" regarding "Fast and Furious."
On Wednesday, Issa, who's leading the congressional investigation into the matter, sent a subpoena to the Justice Department, seeking more documents related to his committee's probe. Issa and others have accused the department of "stonewalling" their investigation.
"Top Justice Department officials, including Attorney General Holder, know more about 'Operation Fast and Furious' than they have publicly acknowledged," Issa said in a statement.
"The documents this subpoena demands will provide answers to questions that Justice officials have tried to avoid since this investigation began eight months ago. It's time we know the whole truth."
The ranking Democrat on the House Oversight Committee, Rep. Elijah Cummings, D-Md., called the subpoena a "deep-sea fishing expedition" and a "gross abuse of the Committee's authority" that appears to be "a political stunt."
In addition to the congressional investigation, the Justice Department's inspector general is looking into the matter, at Holder's behest, and House Judiciary Committee Chairman Lamar Smith, R-Texas, is calling for a special counsel to investigate.