Emails: Florida Gov. Scott's Firing of Dead Soldier's Mother Upset Jeb Bush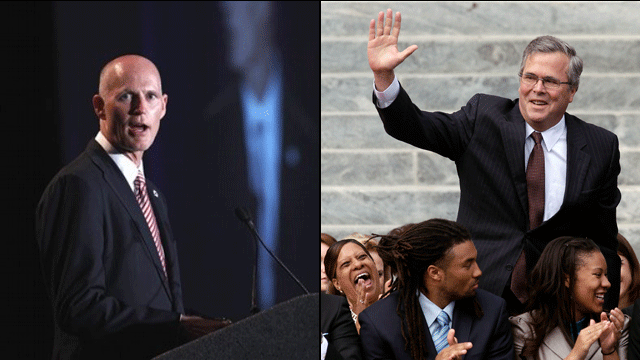 NEWYou can now listen to Fox News articles!
Newly released emails show that former Florida Gov. Jeb Bush was disappointed that Gov. Rick Scott fired the mother of an Army soldier who had just been killed in Afghanistan as well as others who worked in the governor's office.
Bush's comments were included in more than 700 pages of emails released by an attorney who worked on Scott's transition team. The new emails were recovered from Scott's campaign manager and give some insights into those trying to influence the new administration. The emails also highlight some tensions between members of the transition team -- including exchanges over who had the authority to offer jobs in the new administration.
The emails were written before Scott took office in January but after he was elected. They were released to the media late Friday. They were lost when the private company handling email for Scott's transition office shut down the accounts. Scott last week ordered an investigation into why the email accounts were shut down and why the public records were deleted in a possible violation of law.
But some of the records have slowly begun to emerge as they have been recovered from personal accounts of those worked for Scott.
The latest batch came from the account maintained by Susie Wiles, who was Scott's campaign manager and then took on the job of legislative liaison during the transition period. The emails provide details of Scott's first few days after winning the election last November, including that he attended a private dinner with former President George W. Bush, the former governor's brother, at the home of well-known central Florida developer Gary Morse on Nov. 12.
The emails also show that Wiles was deeply involved in screening potential hires for the governor.
That apparently led to the decision by Jeb Bush to directly email Wiles to question moves being made in the governor's office.
Bush sent an email to Wiles in December about the decision to fire Mavis Knight, whom he said had worked with "four governors well." Records show that Knight worked in the appointments office.
"I don't quite understand this decision," wrote Bush. "The transition team is letting dedicated admired people (go) without hiring anyone?"
Wiles wrote back and said that she would head to the governor's office "and see what I can do about reversing this."
Bush followed her comment with another email in which he notes that other people, including Carolyn "Freda" King were let go. King, a reformed drug addict who first went to work for the governor's office when Bush was there, worked in the external affairs office of the governor. King's son, Army Pfc. Brandon King, was killed in Afghanistan in July 2010.
"All three are African American, non-political and good workers," Bush wrote to Wiles.
In another email, Wiles told the director of administration in the governor's office that "we need to re-hire this lady...long story but need to find a place for her other than the external affairs office." Dawn Hanson wrote back: "Ok. Great surprise. She cried."
Wiles did not return calls for comment Saturday.
When reached Saturday, King did not wish to comment. But she said that after leaving the governor's office she had been working at the Department of Children and Families but then lost her position at the end of June due to budget cuts. King has her own website where she says she struggled with drug addiction for 20 years before turning her life around.
The Scott administration eventually decided to restructure the external affairs office where King worked. Scott hired a former tea party activist and campaign veterans to act as "liaisons" to the public. The governor's office did not answer questions about the decision to let go of both King and Knight.
The emails are now another example of Bush reaching out to the Scott administration. Documents released days earlier showed that Bush offered Scott a long list of "lessons learned through trial and error" that touched on everything from how to deal with those guarding his safety to telling him it was "OK to veto stupid bills." Those same documents showed that the former two-term Florida governor urged Scott to push for universal private school vouchers, save money by releasing elderly prisoners and close down one of the state pension plans.
Other documents show that those who had worked Scott's transition team knew about the problem with the possible deletion of the emails as far back as March when a conference call was held to discuss it. Those same documents also show that on Jan. 26 an email was sent out to those worked for the Scott transition team that email inboxes would be shut down Jan. 31.
Christopher Kise, an attorney who worked for the transition team, said that while discussions about the emails began in March, he and others spent months trying to see if the company that handled the email accounts -- Rackspace U.S. -- could recover them. Kise said it wasn't until July that it became apparent that the emails were lost.
The Florida Department of Law Enforcement has been asked by Scott to try to recover the emails, but some critics have questioned having the agency handle the investigation. FDLE reports to the governor and three other Republican elected officials.
"I think there needs to be an independent investigation," said Barbara Petersen, president of the First Amendment Foundation. "I don't know if we can be satisfied with an FDLE investigation."