Durbin Urges Churches to Get Involved in DREAM Act Debate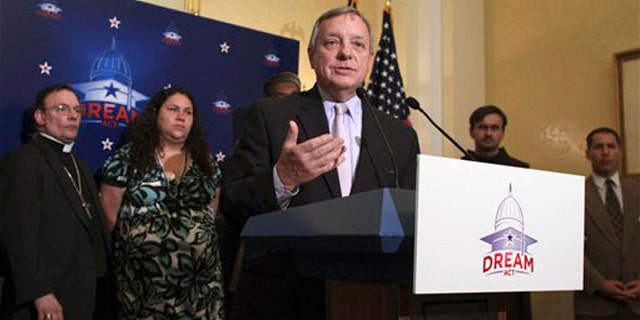 Sen. Dick Durbin is calling on churches, synagogues and mosques to carve out time this fall to discuss the so-called DREAM Act with their congregations, despite federal restrictions on lobbying that often apply to religious institutions.
The Illinois Democrat is reaching out to the faith community as he tries to advocate for passage of the controversial proposal that would provide a pathway to legal status for illegal immigrants who attend college or join the military. A coalition of religious organizations -- which see the bill as a humane immigration proposal -- had already been pushing for what they call the DREAM Act "Sabbath." Under the plan backed by Durbin on Tuesday, congregations across America would devote a Sabbath service this fall to discussing the immigration bill.
The senator's office, though, insists the exercise is completely above board in terms of IRS law. Durbin spokesman Max Gleischman said the churches are not necessarily being asked to advocate for the legislation. And, in the event these congregations do dabble in advocacy, Gleischman said it certainly wouldn't amount to lobbying.
"We're not advocating for, nor are they advocating, the turning over of the church ... to a lobbying firm to lobby on behalf of this," he said. "They are dedicating one day ... on Sabbath weekend to discussing the DREAM Act."
Federal rules are tricky and include plenty of gray area when it comes to tax-exempt groups. Under the law, those groups are not supposed to devote what the IRS calls a "substantial part" of their activities to lobbying.
Asked about Durbin's latest collaboration with the faith-based community, an IRS spokeswoman referred FoxNews.com to guidelines that define what does and does not count as lobbying. Any effort to urge members of the public to persuade lawmakers to support or oppose bills, the IRS says, is lobbying. Any effort to advocate "the adoption or rejection of legislation" also counts as lobbying under IRS guidelines.
However, nonprofits are allowed to engage in "some lobbying" -- just not "too much." And they can discuss public policy issues in an "educational manner" without running afoul of their status.
Durbin's office claims that's exactly what's happening.
"What they are talking about doing is telling the stories of DREAM Act students and having a dialogue about the DREAM Act," Gleischman said. "There's not a sort of central script about this."
But Bob Dane, spokesman with the Federation for American Immigration Reform, chided the senator for coordinating his campaign with the churches.
"They shouldn't be confusing theology with public policy," Dane said.
Dane conceded there's a "big gap" between lecturing about the provisions of the DREAM Act and "outright lobbying," suggesting churches and other institutions could be in the clear in discussing the proposal so long as they don't cross certain lines.
However, Dane said the religious leaders who support the bill are "overlooking" a key detail.
"They're guided by sincere charitable impulses," he said. "The problem is ... you can't be charitable with other people's resources. That's what happens when we grant amnesty to DREAM Act beneficiaries."
Dane described the latest push as an attempt to "score points" ahead of elections but predicted the effort was "going nowhere" in Congress. The DREAM Act failed in the Senate at the end of last year. Though Democrats have reintroduced it, the measure stands little chance of advancing in the House, where Republicans hold the majority.
Still, the DREAM Act "Sabbath" has gotten plenty of takers. Several Jewish, Christian and Muslim leaders joined Durbin on Tuesday in supporting the idea.
Last week, the Episcopal Church also released a statement saying it would participate in the DREAM Act dialogue this fall.
"Every child growing up in America deserves the opportunity to become a productive member of society and to achieve their dreams," Ana White, a church immigration policy analyst, said in a statement.