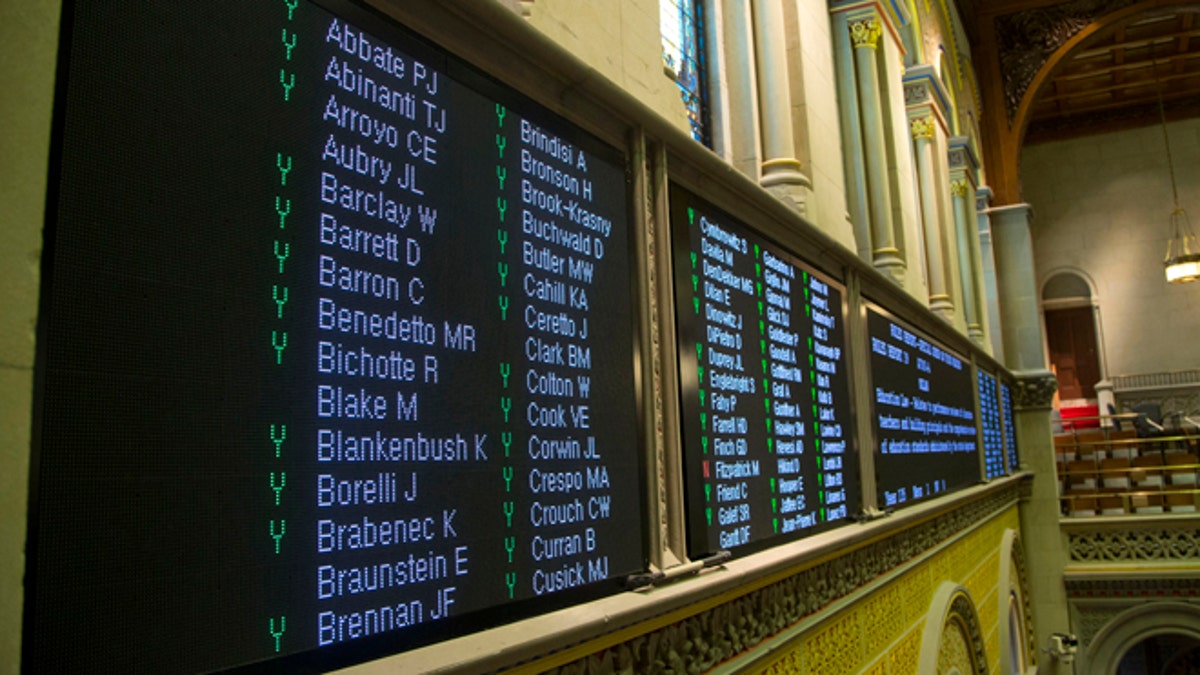 ALBANY, N.Y. (AP) – As New York state lawmakers enter the final weeks of their session, prospects have dimmed for several formerly high-profile proposals such as a ban on potentially harmful chemicals in children's toys, a minimum wage increase and a bill to prevent discrimination against transgender people.
Other bills at risk of languishing include the Dream Act, which would extend financial aid to students in the country illegally, and a measure to ban the sale of cosmetics containing microbeads.
Lawmakers are instead focusing on what they must get done before they can adjourn on June 17. Laws governing New York City's rent regulations and a key tax break for real estate developers expire next month.
"There are a number of things that are on the have-to list and that's what we're focusing on," said Gov. Andrew Cuomo, who is also pushing lawmakers to pass bills relating to campus sexual assault, juvenile justice and an educational tax credit. "We have a couple of weeks to go. Do we have a full agenda? Yes. We will get done what we have to get done."
___
MINIMUM WAGE AND DREAM ACT
Cuomo listed both a minimum wage increase and the Dream Act as priorities when he laid out his legislative agenda in January. Both enjoy strong support in the Democrat-led Assembly but face overwhelming obstacles in the Senate, controlled by Republicans.
"We've made it very clear that we're not doing the Dream Act," Republican Senate Leader John Flanagan said on public television's "New York Now." Republicans have argued taxpayers shouldn't have to fund incentives for students in the country illegally.
Several different minimum wage increases were proposed at the start of the session: New York City Mayor Bill de Blasio suggested a $13 wage; Assembly Democrats proposed phasing in a $12.60 statewide wage and a $15 in the New York City area. Cuomo called for a $10.50 wage statewide and an $11.50 wage in New York City.
Republicans want to wait until increases approved in 2013 are fully implemented before considering another. The minimum wage is now $8.75 and is set to rise to $9 at year's end.
In the meantime, Cuomo used his executive power to convene a wage board to consider a minimum wage increase for fast-food workers only. A recommendation would need the endorsement of Cuomo's labor commissioner but wouldn't be subject to legislative approval.
___
'TOXIC TOYS' AND MICROBEADS
Two priorities for environmental advocates appear stalled despite broad support.
A bill to phase out the use of certain chemicals in toys, such as mercury and cobalt, passed the Assembly but is hung up in the Senate. The bill has more than enough sponsors to pass, but a vote hasn't been scheduled.
Toy manufacturers argue that they already abide by federal regulations and say state-level rules would create a confusing patchwork of requirements.
The other bill would ban the sale of cosmetics containing plastic particles called microbeads that contribute to plastic pollution in waterways. The ban passed the Assembly and similar legislation is pending in the Senate, but it's looking less likely the measure will get a vote.
___
OTHER LEFTOVERS
Several other bills that made headlines when they were introduced appear to be running out of steam. One would require labels on food products containing ingredients from genetically modified plants. Another would legalize professional mixed martial arts. A measure to make it illegal to discriminate against a transgender person when it comes to jobs, apartments, hotels and restaurants has passed the Assembly but not received any debate in the Senate.
___
BRIGHTER PROSPECTS
Other measures are getting a late push that could see them come out on top when the session ends. Republican senators want to make permanent a law that limits property tax increases in local governments. They also want to raise the limit on the number of authorized charter schools in the state.
Cuomo wants to apply a new sexual assault policy in place at the state's public universities to private schools, too. The measure includes training policies for staff, students and police and a definition of consent that requires a clear, affirmative agreement to engage in sexual activity.
The Democratic governor is also making a push to end the practice of routinely prosecuting and incarcerating 16- and 17-year-old offenders as adults.
Finally, Cuomo is working to pass legislation that would create a tax break for private school tuition and donations to public schools.
___
SURE BETS
What will lawmakers do with their final three weeks? They'll likely pass hundreds of minor bills and tackle at least three major issues. The law governing the rent rules in and around New York City expires in June, and Cuomo said there would be "mayhem" if it isn't renewed in some fashion. A tax break for real estate development that saved New York City developers more than $1 billion last year is also expected to be renewed, though lawmakers are debating potential changes to it.
And a law giving de Blasio control over New York City schools will likely be renewed. Flanagan proposes a one-year extension. Cuomo and Assembly Democrats support a three-year renewal.