Donna Brazile rips Schultz over 'perks' that kept chair 'fat and happy' amid DNC cash crunch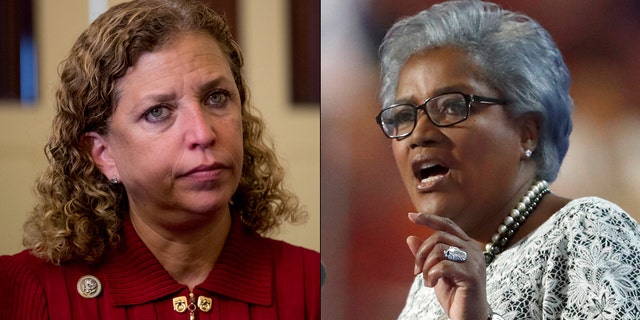 Former Democratic National Committee boss Donna Brazile, in her newly released 2016 campaign tell-all, tore into her DNC predecessor over the "perks" she enjoyed while the party was suffering from a cash crunch that left it dependent on Hillary Clinton's campaign.
Brazile, former interim DNC chair, pulled no punches in going after Rep. Debbie Wasserman Schultz' leadership style. In her book "Hacks," released Tuesday, Brazile recalled how she was briefed upon taking over for Schultz on the many perks meant to keep the chair "fat and happy" – including a "big Tahoe SUV" with a driver, a "body woman" and more.
"Debbie had a chief of staff and a body woman. She also had media consultants and a fund-raising consultant. I was free to hire my own consultants, two or three if I liked, and bring in a new communications team. All of that would go on the DNC payroll," she wrote.
Brazile was briefed on all these benefits by the liaison with Clinton's campaign. Brazile wrote that she told him she'd sell the SUV and drive herself, and would not hire consultants.
"And God knows I didn't need a body woman," she wrote.
BRAZILE LEVELS SEXISM ACCUSATION AGAINST CLINTON TOP DOG
She voiced surprise at the spending considering she was informed "the party was broke and $2 million in debt" when she took over, with the party spending upwards of $4 million a month. Stripping the extra expenses was "one way of getting the burn rate down," she wrote, questioning how many "hangers-on and sycophants were draining the lifeblood out of this party."
Brazile's book sent shockwaves through the Democratic Party last week after the allegation first surfaced that the DNC had struck a special deal with the Clinton campaign, giving it partial control over party resources while the campaign helped with the DNC's troubled finances.
Brazile suggested that the perks helped fuel this situation.
"This was the way to keep the chair fat and happy: Give her a huge staff and lots of perks and don't ask her to do anything," she wrote.
Early book excerpts also revealed that Brazile considered trying to replace Clinton with then-Vice President Biden as the Democratic presidential nominee amid questions about Clinton's health -- and included allegations of sexism against some campaign officials.
Clinton campaign members have fired back at Brazile's account. An open letter signed by dozens of team members said: "Donna came in to take over the DNC at a very difficult time. We were grateful to her for doing so. She is a longtime friend and colleague of many of us and has been an important leader in our party. But we do not recognize the campaign she portrays in the book."