'Do not vote for Hillary': NJ woman makes last request in obit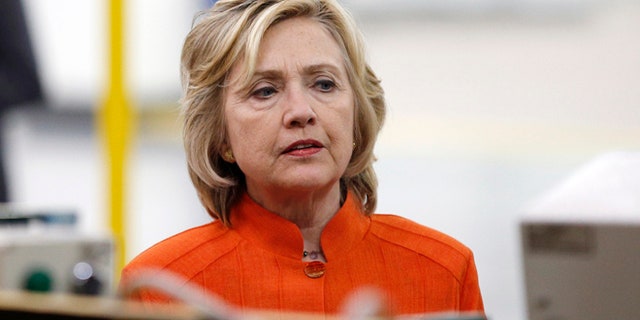 A New Jersey woman used her obituary to make one last political plea, urging mourners not to vote for Hillary Clinton.
Elaine Fydrych, who died Aug. 13 at the age of 63 after a long battle with lung cancer, included the unconventional request at the end of her obituary telling those who wished to honor her memory:
"Elaine requests, 'In lieu of flowers, please do not vote for Hillary Clinton.'"
Her husband Joseph told FoxNews.com that while her point was serious, she was making it in a typically tongue-in-cheek way.
"Elaine was a very beautiful woman inside and out. She was very talented, and she did a lot of comedy, and always had a line, a wisecrack," Joseph said.
"If you knew Elaine, you'd say yep that's Elaine. It was a fitting end for the woman. It was very appropriate that she go out this way."
Fydrych became more political after she began following the Benghazi hearings on television.
"The more she found out about Hillary, the more she didn't like her and thought it would be a complete catastrophe if the U.S. elected her president," her husband said.
Mourners who signed her online guestbook made it clear they would honor Fydrych's request not to support the 2016 Democratic frontrunner.
"Our thoughts and prayers are with the Fydrych family, she truly was a wonderful person and she will be missed by many!! We will gladly honor your wish also not to vote for Hillary!" one mourner wrote.
Elaine Fydrych, who had a love for theater and also was a stand-up comedian, appeared to inspire others who didn't know her, and her husband said that the media coverage of her wife's request has helped him get through this difficult time.
"It's been overwhelming. In the last few days my sadness and sorrow has turned into a smile and a chuckle," he said.
Fydrych is also survived by two sons, Kevin and Joseph, and daughter-in-law Jennifer.
Fydrych is not the first to take a swipe at Clinton in an obituary. In April, the family of a staunch North Carolina Republican placed a similar request in his obituary, WSOC-TV reported.
"Also, the family respectfully asks that you do not vote for Hillary Clinton in 2016. R.I.P. Grandaddy," the obituary for Larry Upright read.
FoxNews.com's Adam Shaw contributed to this report.