DHS Secretary Nielsen says 'we will not apologize ' for controversial immigration policy
Department of Homeland Security Secretary Kirstjen Nielsen pulled no punches on Monday when defending the Trump administration's highly controversial immigration policies during a speech at a meeting of the National Sheriffs' Association.
"We will not apologize for the job we do or for the job law enforcement does for doing the job that the American people expect us to do," Nielsen said during her speech in New Orleans. "Illegal actions have and must have consequences. No more free passes, no more get out of jail free cards."
Last month, Homeland Security began referring all cases of illegal entry to the Justice Department for prosecution. Nielsen said that "misinformation" was being spread about the policy and that agents are not acting cruelly, but are enforcing the laws passed by Congress.
She said past administrations asked immigration agents to look the other way when families crossed the border illegally, but no longer.
Nielsen said that releasing parents with their children amounts to a "get out of jail free card" policy for those in the country illegally.
Speaking at the same conference, Attorney General Jeff Sessions echoed Nielsen's defense of the policy, and called on Congress to act.
We will not apologize for the job we do or for the job law enforcement does for doing the job that the American people expect us to do.
"We do not want to separate parents from their children," Sessions said. "If we build the wall, if we pass legislation to end the lawlessness, we won't face these terrible choices."
The policy, which has resulted in nearly 2,000 minors being separated from their families over six weeks, has drawn sharp criticism from Democrats and even a number of influential Republicans, including former First Lady Laura Bush who called the policy "cruel" and "immoral" in an opinion piece in the Washington Post.
Trump asserted Monday that children "are being used by some of the worst criminals on earth" as a way to enter the United States. He tweeted: "Has anyone been looking at the Crime taking place south of the border," calling it "historic."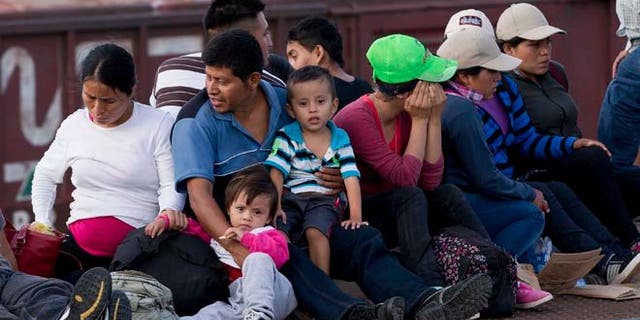 GOP Sen. Susan Collins expressed concern about it and a former adviser to Trump questioned using the policy to pressure Democrats on immigration legislation.
President Trump continued his defense of the policy on Monday, tweeting: "Why don't the Democrats give us the votes to fix the world's worst immigration laws? Where is the outcry for the killings and crime being caused by gangs and thugs, including MS-13, coming into our country illegally?"
The Associated Press contributed to this report.