Detained immigrant families in Texas assigned bonds to pay, lawyers say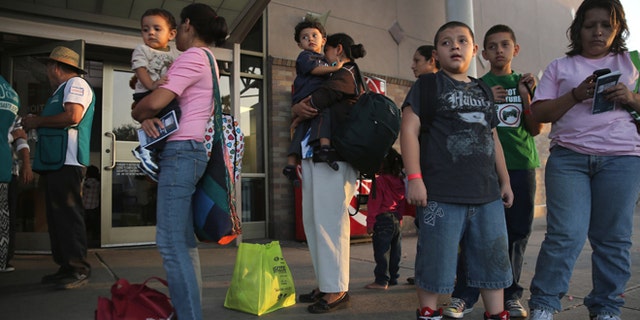 SAN ANTONIO (AP) – Immigration attorneys say U.S. Immigration and Customs Enforcement (ICE) has begun issuing bonds for Central American immigrant families who were detained in Karnes County, Texas.
The move comes after U.S. District Court Judge James Boasberg last week issued a preliminary injunction against ICE's policy of detaining mothers and children seeking asylum in the U.S. The American Civil Liberties Union, which filed the lawsuit, claimed the detentions were part of a strategy to deter other asylum-seekers from coming to the U.S.
ICE said it's still reviewing the ruling, the San Antonio Express-News reported, but immigration attorneys told the newspaper they believe ICE has already changed its policies. Lawyers showing up to immigration Judge Glenn McPhaul's court on Thursday learned that ICE had given their clients bonds between $4,000 and $7,500. That's the amount of money the migrants are required to put up in order to be released.
San Antonio immigration attorney Eric Barnal said three of his clients received bonds. His clients are all mothers from Central America who had been in detention since January.
ICE began holding women and children in a Karnes County detention center in summer 2014, when thousands of women and children from El Salvador, Guatemala and Honduras illegally crossed the Texas border. Federal officials have been expanding detention facilities in South Texas. ICE is doubling the capacity of the 500-plus bed Karnes County facility and is building a 2,400-bed family detention center in Dilley.
Still, the bonds are too high for most Karnes County detainees to pay, said Jonathan Ryan, executive director of the Refugee and Immigrant Center for Education and Legal Services.
"I don't think going to have real practical or pragmatic effect or benefit to the women or to us practitioners who are trying to defend them and liberate them, because the bonds they are setting are still prohibitively high," Ryan said.