Deporting undocumented immigrants could cost as much as $25 billion, report says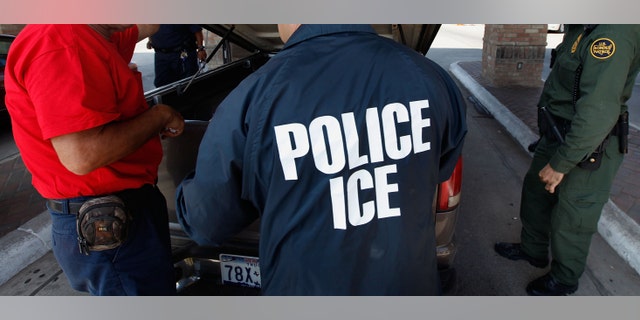 NEWYou can now listen to Fox News articles!
If the roughly four to five million immigrants who could benefit from President Barack Obama's executive order were to be deported, it would come with a price tag of about $25 billion.
That was the estimate by Politico, which said it came up with the figure based on a variety of sources.
The president's order suspends deportation for three years for undocumented immigrants brought as minors, as well as for those who have children who were born in the United States or are legal permanent residents.
House Republicans attached a rider to a Homeland Security spending bill, which passed, that calls for blocking Obama's executive order. But a similar measure has failed in the Senate, where Democrats have blocked debate on it.
Politico estimated that it costs roughly $7,200 to deport someone. The Department of Homeland Security told Politico that it costs closer to $8,661.
Deportations have skyrocketed under Obama, reaching a record – more than 2 million since he became president.
The president, however, has accused Congress of not budgeting enough funds to properly enforce immigration laws, Politico noted.
A report from the Department of Justice's Office of Legal Counsel said that Obama's executive action "is designed to respond to the practical reality that the number of aliens who are removable under the [Immigration and Naturalization Act] vastly exceeds the resources Congress has made available to DHS for processing and carrying out removals."
"The resource constraints are striking," it said, according to Politico. "DHS has informed us that there are approximately 11.3 million undocumented aliens in the country but that Congress has appropriated sufficient resources…to remove fewer than 400,000 aliens each year."
Meanwhile, the Obama administration, in order to bolster support for its executive action as it faces threats of being hampered by GOP efforts in Congress, has been touting the economic benefits of the deportation reprieve and the work permits those who are eligible for it can obtain.
The White House states that the President's Council of Economic Advisers projects that the executive action "would grow the U.S. economy by $90 billion to $210 billion over the next ten years."
A White House fact sheet on the executive order says: "The president's actions will grow the economy by increasing the productivity of all American workers… As the economy grows so do tax revenues, requiring the government to borrow less to finance government operations."
Proponents of strict immigration enforcement, however, counter that allowing millions of undocumented immigrants to work would hurt American workers as well as hurt the economy because those who qualify for the executive action relief would also be entitled to receive many government benefits.
Also, a Texas-led lawsuit joined by about two dozen other states challenges the executive order, saying it's an unconstitutional overreach by Obama and that it will end up putting a financial burden on local governments.
One of the arguments in the lawsuit, which a judge is expected to rule on soon, maintains that in providing breaks to undocumented immigrants, the Obama administration encourages more illegal immigration, forcing states such as Texas to increase spending on police and services for them.
Follow us on twitter.com/foxnewslatino
Like us at facebook.com/foxnewslatino