Democrats plan efforts to promote Obama's immigration action as GOP tries to chip away at it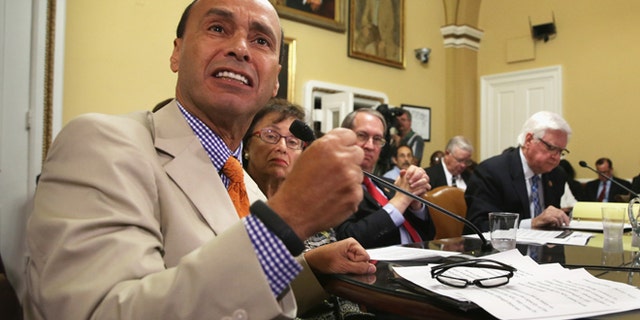 NEWYou can now listen to Fox News articles!
While a group of bipartisan senators introduced an immigration bill, Democrats in Congress rolled out a plan on Tuesday for building momentum and awareness nationwide for President Barack Obama's immigration executive order.
The Democrats' press conference in Washington, D.C., came as discussions took place among Republicans in the House of Representatives about various ways they could block portions or all of Obama's executive order.
Democratic lawmakers – including U.S. representatives Juan Vargas of California, Jared Polis of Colorado and Luis Gutierrez of Illinois – said they would be holding workshops and town hall-style meetings to discuss Obama executive action, which, among other things, would suspend deportation for three years for some 5 million undocumented immigrants, enabling them to obtain work permits and driver's licenses, NBC News reported. Many would also be able to receive many federal public benefits.
Gutierrez said he will be embarking on a national tour to talk about the president's executive order and to encourage people who think they might be eligible to apply, said NBC News.
Gutierrez said on Tuesday, "My Democratic colleagues and I want families who fear deportation to know that we have their back."
On the House floor in recent days, Gutierrez elaborated, "From Charlotte to Houston to Los Angeles, my colleagues here in the House are pulling together events to educate their own communities and I hope to attend as many as I can."
"Evangelical congregations and the Catholic Church and the Archdiocese in Chicago are stepping up to organize and host events and begin laying the groundwork for millions of the people who work and live and raise families in the U.S. to come forward and pay to be temporarily spared from deportation," he said. "Labor unions, corporations and small businesses that want to help families remain together are preparing too."
Also Tuesday, a bipartisan group of senators, including Republican Marco Rubio of Florida, introduced an immigration bill aimed at facilitating the hiring of foreign-born tech workers.
The bill would increase the number of high-skilled workers who can come to the United States each year under the H-1B visa category from 65,000 to 115,000. It would also allow the spouses of such professionals to work in the U.S.
Sen. Orrin Hatch, a Utah Republican who was part of those introducing the bill, described the Immigration Innovation Act is "a commonsense approach to ensuring that those who have come here to be educated in high-tech fields have the ability to stay here with their families and contribute to the economy and our society."
On Tuesday, Obama and Republican congressional leaders paid lip service to the notion of bipartisanship in their first meeting of the year, but neither side appeared to give ground on GOP priorities – including immigration reform – that have been met with veto threats by the White House.
The president was flanked by House Speaker John Boehner and Senate Majority Leader Mitch McConnell, the two Republicans now in charge on Capitol Hill.
Since the new Congress began its work this month, Republicans – who are in control of both chambers -- have taken aim at core elements of the president's agenda, including legislation on immigration and health care that the White House has vowed to veto.
At the Tuesday meeting with Obama, Boehner appeared to double down on the Republican strategy of defunding parts of the president's executive order on immigration in the Department of Homeland Security budget bill.
His office said the Ohio Republican made clear that the House would push forward a bill that would block as much as possible of the president's executive actions on immigration.
Homeland Security Secretary Jeh Johnson has warned that DHS should not be used as a weapon in the fight against Obama's executive order.
"There are homeland security and border security priorities that must be funded without delay," he said, according to NBC.
Boehner's office stressed in a statement that the DHS funding bill that Republicans are working on would strengthen border and national security.
The Associated Press contributed to this report.
Follow us on twitter.com/foxnewslatino
Like us at facebook.com/foxnewslatino