Democrats launch new push to flip seats in California's Orange County
For the first midterm cycle ever, top Democratic operatives from D.C. have set up shop in the O.C.
An office in Irvine, Calif., is within driving distance of seven districts held by Republicans right now, where voters also picked Hillary Clinton in 2016. So that's where several Democratic Congressional Campaign Committee staffers are already working, more than a year before the 2018 contests.
"There's no question that Republicans in Orange County and across California are on defense this cycle," DCCC Spokesman Tyler Law told Fox News.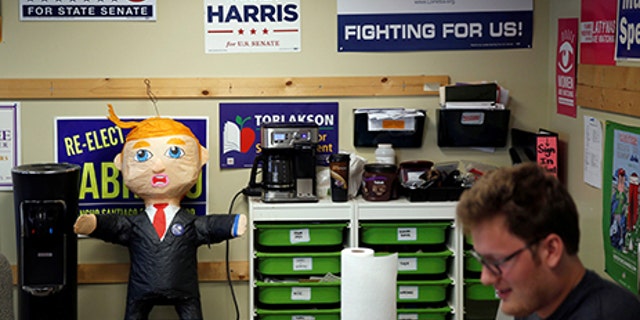 GOP officials don't mind their new neighbors, though.
"I love it that they're spending the money here and that we actually get to keep them occupied," Republican Party of Orange County Chairman Fred Whitaker said.
And Republicans are doing their best to make sure these Democrats from D.C. don't make too much progress.
On Monday, more than a dozen Republican volunteers sat around a conference table at the Republican Party of Orange County's office in Tustin, Calif., making calls to try identifying potential new voters.
Whitaker said calls like this used to be made months closer to the election, but the schedule jolted forward when Democrats singled out Southern California.
Their early efforts are to stave off the diverse group of dozens already signaling their intention to challenge local members of Congress.
One of Rep. Ed Royce's Democratic challengers is Gil Cisneros, a Navy veteran and Mega-Millions lottery winner, who has one other line that stands out on his resume: he used to be a Republican, because he was a fan of former President Ronald Reagan.
"This city on a hill is how he saw the nation, and I kind of saw it the same way," Cisneros explained. "But he was for things that now, that the Republican Party's not for. And they've changed."
Another first-time candidate is Kia Hamadanchy, angling himself to replace Rep. Mimi Walters. Hamadanchy is a former Senate staffer who decided to run the night President Trump announced a partial ban on travel to the U.S. from certain countries, and sees the long list of candidates on the left as a signal of Democratic strength.
"As Democrats, we have a lot of issues with our messaging and winning elections," Hamadanchy told Fox News. "These primaries are going to allow people to kind of hone that message."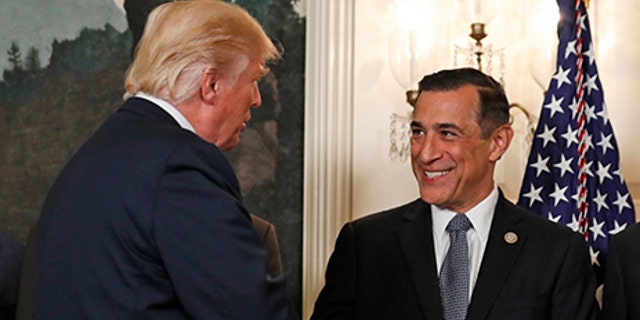 Longtime Rep. Darrell Issa is one of the incumbents facing a stiff challenge next year, in one of the districts that voted for Clinton in 2016.
Now Issa thinks some of those Clinton voters may continue to support him, because he doesn't think they approve certain health care proposals coming from the left.
"Protestors and people here are openly calling for a single-payer system, that drives a lot of working, middle-class Democrats away from their own party," Issa told Fox News in a Tuesday interview on the Oceanside Pier in his district.
The former House Oversight Committee Chairman also doesn't think he'll be punished at the ballot box for sometimes aligning himself with President Trump.
"They may or may not support the president, but they want you to work across the aisle to get things done," Issa said.