Democrat Duckworth not sold on Bernie Sanders' 'Medicare for all' plan
NEWYou can now listen to Fox News articles!
U.S. Sen. Bernie Sanders' attempt to unify progressives around single-payer healthcare has met resistance from colleague Sen. Tammy Duckworth, D-Ill., who says now is not the time for Sanders' "Medicare for all" system.
Duckworth, a decorated military veteran who lost both legs during the Iraq War, has shot down any optimism about implementing a single-payer healthcare system in the near future. She also issued a thinly veiled suggestion that Sanders should focus on "real work" to fix the U.S. healthcare system.
"I just don't think the Sanders proposal is achievable," Duckworth told the St. Louis Post-Dispatch this week. "I know he is (taking) a philosophical stand, but I just don't think we are in a time right now where we should be taking these very strong stands when we have real work to try to fix it."
"I just don't think the Sanders proposal is achievable."
"What can we do to shore up the exchanges, what can we do to make sure the White House makes the payments (to subsidize some plans)?" she asked.
After being asked what was the difficulty of opening Medicare to everyone – and effectively making a socialized system – the senator explained that it was unlikely to happen. She urged others take a "very measured approach" to reach successful legislative victories.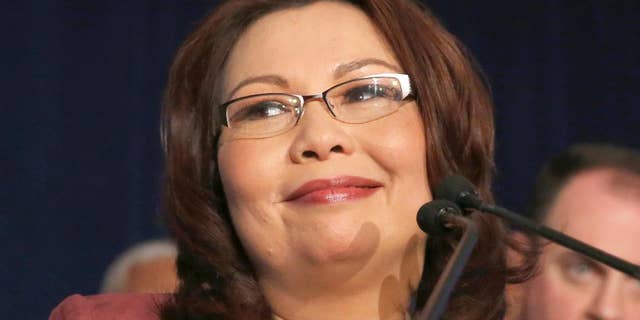 "For me it is about realistically implementing something. I just don't know that we have the capacity to go straight to everybody," Duckworth said about allowing everyone to join Medicare, according to the Post-Dispatch.
"I have always had good government-provided healthcare, either through the military or the VA. So I understand how good it can be and I also understand and I know the frustrations of the bureaucracy and the ineffectiveness of the system. So I think [we] have to do a very measured approach. But we need to move forward."
Although she's a Democrat, Duckworth said she believes ObamaCare needs fixing. "I was one of the Democrats who voted against the medical device tax. There are many, many flaws within the Affordable Care Act," she said.
"But I have always been one to fix it and figure out how to fix it and figure out how to make it better. Look, I am voting for anything that expands coverage and makes it cheaper."
Duckworth's comments came as a new Republican-led healthcare repeal effort was underway and Sanders' "Medicare for all" bill was gaining traction among progressives.
U.S. Sen. Joe Manchin, D-W.Va., said earlier this month that he was willing to look at Sanders' bill, adding that the proposal "should be explored," Fox News reported.
U.S. Sen. Kamala Harris, a freshman senator from California whose name has been floated as a potential 2020 presidential candidate, also backed Sanders' bill and will co-sponsor it.
Republicans have celebrated the Democrats' turn to single-payer healthcare, believing it is a losing policy position.
"Bernie Sanders' $32 trillion socialist health care plan will force Senate Democrats to choose between liberal activists and common sense," Katie Martin, communications director for the National Republican Senatorial Committee, said in a statement.
"Democrats must come clean on whether they back Sanders' plan for government-run health care, or if they will stand with taxpayers against this unrealistic boondoggle."