Defying expectation, outgoing Argentine president won't run for elected office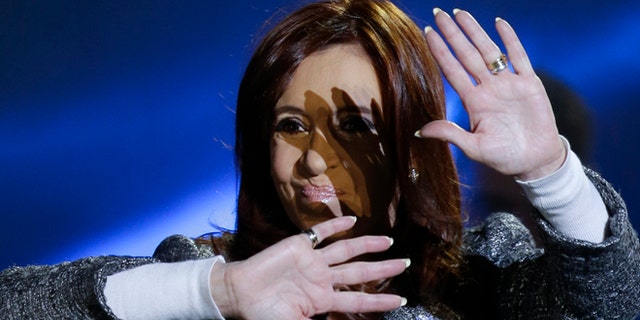 NEWYou can now listen to Fox News articles!
BUENOS AIRES, Argentina – President Cristina Fernández de Kirchner of Argentina won't seek another office when her second term ends Dec. 10, defying recent speculation she might run for congress.
With the passage of the filing deadline at midnight Saturday, Fernandez's name did not appear on any list of candidates. She is barred by Argentina's constitution from seeking a third presidential term.
Expectations had been rising that Fernandez might not be willing to leave government completely after holding public offices for more than two decades and many speculated she could decide to lead the congressional slate in Buenos Aires province.
Her son Máximo Kirchner, however, is seeking a seat in the House of Deputies for Santa Cruz province. He is the son of Fernandez and the late Nestor Kirchner, who preceded his wife as president.
Fernandez still is expected to remain an influence in the left-of-center Front for Victory coalition that has supported her policies of government intervention in the economy.
The last year of Fernández's presidency has been marked by an economic downturn, an ongoing financial nightmare involving unpaid government bonds that caused the federal government to functionally default and a series of corruption scandals that culminated with the death of a prosecutor, Alberto Nisman, who was preparing to accuse Fernández and members of her administration of covering-up the bombing of a Jewish center in the 1980s in exchange for favorable deals on oil and other goods from Iran.
A federal judge decided not to proceed with Nisman's case, but many believed that she would seek a Senate seat or some other elected office and the immunity from prosecution that it would grant her.
Based on reporting by the Associated Press.
Like us on Facebook
Follow us on Twitter & Instagram