Defiant Murkowski Says "I'm putting everything on the line"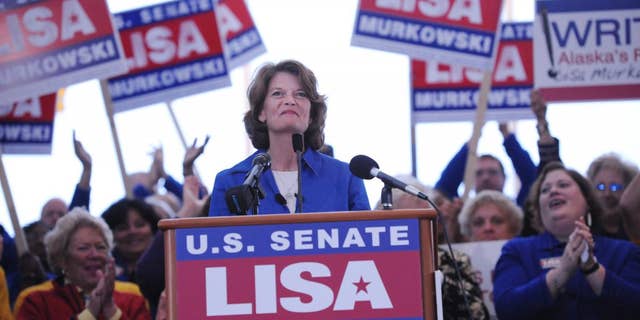 Sen. Lisa Murkowski, R-Alaska, says she is "putting everything on the line" to run a long-shot write-in candidacy following her defeat in her state's GOP primary, this on a day when her Senate Republican colleagues plan to strip the senator of both her leadership roles in the conference and on the Energy and Natural Resources Committee.
"Eighty-five percent of the Alaskan electorate did not have an opportunity to participate" in the closed primary," a defiant Murkowski told NBC's Matt Lauer Wednesday on the Today Show. "This is a tough call," Murkowski said of her rogue candidacy, something not done successfully since 1954 by South Carolina's Strom Thurmond.
A number of Republicans in Washington have chafed at the senator's bid, fearing it could give an undue advantage to the Democrat in the race, Sitca Mayor Scott McAdams.
Sen. Jim DeMint, R-SC, who has endorsed Tea Party-backed GOP candidate Joe Miller, accused his former colleague of being a "big tent hypocrite" and a "Republican-in-name-only" in a toughly-worded fundraising letter to his supporters, adding, "Rather than accepting defeat and working to unite Republicans behind Joe Miller, she has decided to put her own personal interests ahead of everything else."
"What I'm doing is I am putting my state, the state of Alaska, before my party," Murkowski told Lauer.
The senator later made clear in a separate interview that even though her new campaign makes no reference to her being a Republican, she has no intention of abandoning her party. "I am a Republican; have always been a Republican. I have no intention of leaving the Republicans," the senator told NBC's Chuck Todd, "When I win in November, I will be back with the Republican conference."