Cuba removed from state sponsors of terrorism list, State Department says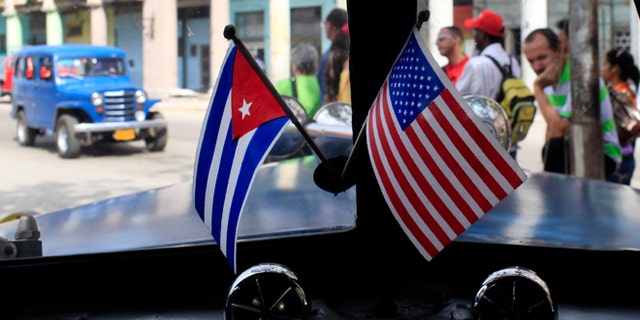 NEWYou can now listen to Fox News articles!
WASHINGTON (AP) – The U.S. State Department announced Friday that it has officially removed Cuba from the list of state sponsors of terror, a designation the country has had since 1982, as part of the continuing thaw in relations between the two Cold War foes.
"The rescission of Cuba's designation as a State Sponsor of Terrorism reflects our assessment that Cuba meets the statutory criteria for rescission," Jeff Rathke, a department spokesman, said in a statement.. "While the United States has significant concerns and disagreements with a wide range of Cuba's policies and actions, these fall outside the criteria relevant to the rescission of a State Sponsor of Terrorism designation."
Secretary of State John Kerry signed an order removing the communist country from the U.S. terrorism blacklist as part of the process of normalizing relations between Washington and Havana.
Kerry acted 45 days after the Obama administration informed Congress of its intent to make the change. Lawmakers had that much time to weigh in and attempt to block the move, but did not do so.
The step comes as officials from the countries continue to hash out the details of restoring full diplomatic relations, including opening embassies in Washington and Havana and naming ambassadors. Friday's removal of Cuba from the terrorism list had been a key Cuban condition for opening embassies.
The reasons for Cuba remaining the list in recent years included Havana's welcoming of alleged members of the Basque ETA terrorist organization and the Revolutionary Armed Forces of Colombia, or FARC, as well as the continuing presence on the island of certain fugitives from U.S. justice.
The Associated Press and EFE contributed to this report.