Crowded Democratic field fights for Florida gubernatorial nomination
NEWYou can now listen to Fox News articles!
TAMPA, Fla. – As the campaign speeches and bus tours draw to an end, all five of the Democratic candidates vying for Florida GOP Gov. Rick Scott's seat are scrambling for every last vote ahead of Tuesday's primary.
The crowded race has, to an extent, been overshadowed by the Republican primary where Rep. Ron DeSantis is wielding a Trump endorsement against Agriculture Commissioner Adam Putnam.
But Fox News rates the race for the open seat a "toss up" in November, as Democrats eye a potential pickup.
"This is a premier race, one of the top three races in the whole country," said Susan MacManus, a veteran political analyst and former political science professor at The University of South Florida. "I think the Democratic primary election will be very close … the whole country is going to be tuned in."
Heading into the last weekend of early voting, more than 1.6 million ballots had been cast, already surpassing 2014 totals, when 1.2 million people cast primary ballots before Election Day.
MacManus says this is one the most expensive and exciting gubernatorial primaries the Sunshine State has ever seen.
On the Democratic side, former U.S. Rep. Gwen Graham has held a steady lead over former Miami Beach Mayor Philip Levine, Palm Beach billionaire Jeff Greene, Tallahassee Mayor Andrew Gillum and Orlando businessman Chris King.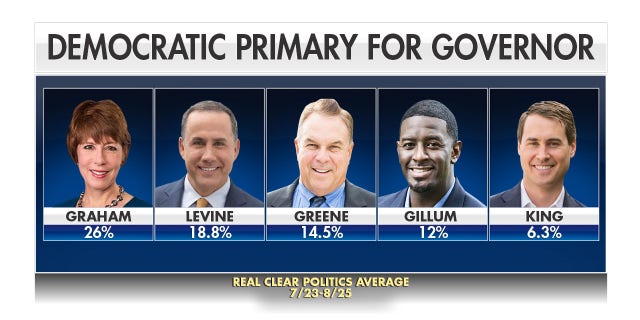 "The diversity of the Democratic candidates is incredible—you have race and age and gender and religion and geography—all kinds of mixes among the candidates which makes it fascinating to follow," MacManus said.
Despite being significantly outspent by both Greene and Levine, Graham is leading by over 7 points on average, according to Real Clear Politics.
But MacManus said Graham's lead doesn't necessarily guarantee a win on Tuesday.
"There are five well-known, credible candidates … each of them has to try to carve out the winning percent, which could be very low," she said. "With that many candidates close together, you might secure the nomination with thirty-some percent of voters."
Fellow frontrunner Levine's outspokenness against President Trump and ability to self-fund his campaign have made him a close competitor for Graham, whose family has deep political roots in the state. She is the daughter of Bob Graham, a two-term governor, three-term U.S. senator and a 2004 candidate for president.
"I will continue in that same vein of public service as my father to work hard for the people of Florida," Graham said at a Saturday campaign event in Orlando, Fla.
She is positioning herself as a check on the Republican-controlled legislature of a swing state that hasn't seen a Democrat win the governor's mansion since 1994 and has yet to elect a female governor.
"I think this is a year when being a woman candidate is an advantage … people are looking for change," Democratic strategist and former Florida gubernatorial nominee Jim Davis said.
Graham wants to de-emphasize standardized testing in public schools and increase environmental standards, while making opposition to the president a campaign centerpiece. Levine has waged an issues-oriented campaign based on his reputation as a businessman and experience in municipal government, pledging to ban assault rifles, raise the minimum wage, boost public education spending and aggressively deal with climate change.
With Florida's congressional redistricting approaching in 2020 -- over which the elected governor will have veto power -- the effects of the 2018 election could be felt in Washington for the next decade or more.
"The next governor of Florida will play a big role in the 2020 presidential election," MacManus said.
MacManus said because of the large number of voters registered as "no party affiliation," both parties' nominees will have to shift gears between Tuesday and the general election in November.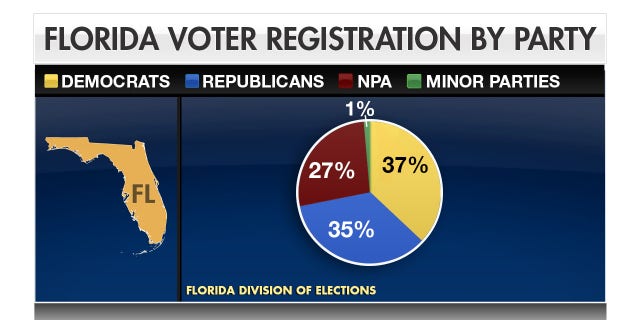 "Whoever wins the primary election has suddenly got to change gears and start to think about general election outreach," she said. "Since Florida has this history of people winning by just one percent, you can't win with your own party alone ... the attention has to be 'how can I reach the 28 percent of Floridians who aren't registered as a Democrat or a Republican?'"
The Democratic nominee will face off in November against either Putnam or DeSantis.