Court ruling against North Carolina districts could leave House control in limbo until 2019
NEWYou can now listen to Fox News articles!
The ruling by a three-judge panel that North Carolina's congressional districts must be redrawn could rock the 2018 midterms – and ultimately leave unclear which party controls the House until next year.
The federal judges found that election advocacy groups and Democrats who brought an initial lawsuit challenging North Carolina's congressional map had standing to do so – and ruled that the maps were unconstitutionally drawn to favor Republicans.
The question is what comes next.
The Supreme Court could be asked to review the decision. But the court is short one member after Associate Justice Anthony Kennedy's retirement, and until his replacement is confirmed there is the chance a tie vote would leave the panel's decision in place.
In its ruling, the panel floated a few options for holding elections with newly drawn districts – including holding a general election as planned without primaries, or holding new primaries during the previously planned November general election and then conducting "a general election sometime before the new Congress is seated in January 2019."
The latter option could upend expectations for the November midterms.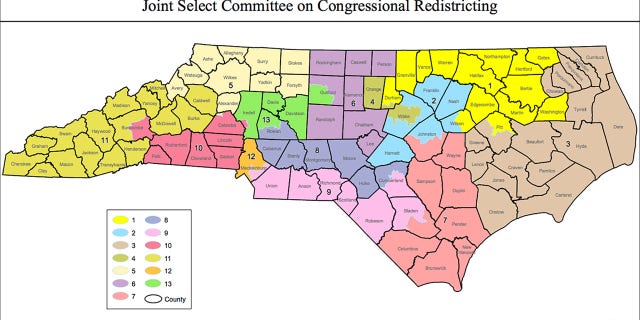 If the race for control of the House really is as close as some anticipate, it all could come down to North Carolina.
Under the current map, at least a couple of Republican seats are considered in play – the seat held by Rep. Robert Pittenger, who lost his primary, and the seat held by freshman Rep. Ted Budd. But a redrawing of the map could boost Democrats by imperiling more Republican incumbents – including Reps. George Holding, Virginia Foxx, Patrick McHenry and David Rouzer, who flipped a seat that had once belonged to a Democrat.
A major redrawing could put as many as six GOP seats in play. If election night is airtight and the North Carolina general election is pushed back for House races, the public may not know which party controls the House for weeks.
A delay in determining which party controls the House also could impact leadership elections on both sides of the aisle.
North Carolina's election maps have long been the subject of controversy and court challenge.
In Monday's ruling, U.S. Circuit Court Judge James Wynn wrote that North Carolina's General Assembly "expressly directed" the lawmakers and consultants responsible for crafting the congressional district map "to rely on 'political data' — that is, past election results specifying whether, and to what extent, particular voting precincts had favored Republican or Democratic candidates, and therefore were likely to do so in the future — to draw a districting plan that would ensure Republican candidates would prevail in the vast majority of the State's congressional districts, and would continue to do so in future elections."
Currently, North Carolina is represented by 10 Republicans and three Democrats in the House of Representatives.
Fox News' Bill Mears and The Associated Press contributed to this report.