Court Filing Suggests Philadelphia Top Cop Lied About D.C. Mass Arrests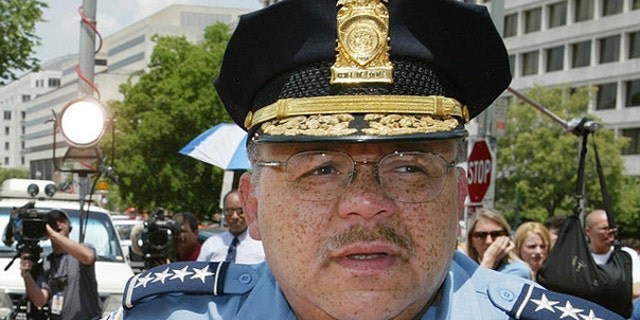 NEWYou can now listen to Fox News articles!
Attorneys representing four observers swept up in mass arrests during a 2002 protest in Washington, D.C., filed testimony Wednesday suggesting former Police Chief Charles Ramsey may have lied about his involvement in the crackdown.
Ramsey, now the commissioner of the Philadelphia Police Department, has long testified that while he backed the decision to make the arrests he did not order them.
But in a sworn affidavit filed in D.C. federal court Wednesday, a veteran city detective claimed he was standing a few feet away from the chief and other top officers when he heard him order the arrests.
"As I walked closer, about five to six feet away from them, I heard Chief Ramsey say we're going to lock them up and teach them a lesson," Detective Paul Hustler said in the written testimony, claiming no protesters had been arrested before Ramsey made the comment.
An accompanying court filing said this testimony "directly contradicts" Ramsey's prior statements.
The suit is the longest-running case stemming from the arrest of hundreds of protesters demonstrating against the International Monetary Fund and World Bank in 2002. A prior settlement in a separate-but-related case led to an apology from Ramsey to some protesters.
But the plaintiffs here did not sign on to that settlement and are still seeking compensation as well as reforms in the police department.
The office of D.C. Attorney General Peter Nickles did not immediately have a comment on the filing. A request for comment was also made with Ramsey's office.
Jonathan Turley, an attorney for the journalists and observers who brought the suit, said the affidavit raises serious issues.
"The affidavit raises obviously serious and disturbing questions for the court and counsel," said Turley, a law professor at George Washington University. "We will seek answers to those questions in the weeks to come."
The federal judge on the case, District Judge Emmet Sullivan, has expressed frustration with the D.C. government's handling of the case, in which evidence and documents have disappeared.
Ramsey is a prominent national law enforcement figure.
He was selected in September to be part of a panel in Cambridge to review the arrest of a black Harvard professor by a white officer. That incident drew national attention after President Obama criticized the police department's actions, and then intervened to calm the tension by bringing the officer and professor together for beer at the White House.