Could Paul Manafort begin cooperating with Mueller's team? A look at his options after guilty verdict
Even if a federal jury had not found Paul Manafort guilty of multiple counts of bank and tax fraud, he still would have been heading back to prison after the trial.
Manafort was found guilty of eight out of 18 counts related to bank and tax fraud on August 21 – almost exactly two years after he resigned from the Trump presidential campaign in a shroud of controversy. And the former Trump campaign chairman is slated to appear in a different courtroom in September to face additional charges that include conspiring against the U.S.
Manafort is the first campaign associate of Trump's to have been found guilty by a jury as part of Special Counsel Robert Mueller's investigation.
After the Aug. 21 guilty decision, Kevin Downing, Manafort's attorney, said his client is "evaluating all of his options at this point." Manafort faces a maximum of 80 years in jail; a sentencing date has not yet been set.
Read on for a look at what attorneys have to decide in the coming weeks and what could be next for Manafort.
Manafort's choice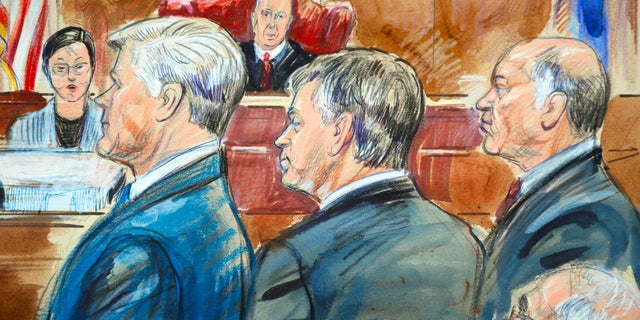 It's entirely likely Manafort, at 69 years old, could spend the rest of his life in federal prison, especially if he's found guilty in an upcoming trial in Washington, D.C.
It's plausible Manafort could seek a reduction of prison time if he agrees to cooperate with Mueller's team – and if he has any information that can be corroborated by investigators.
"I see Mueller continuing to squeeze [Manafort] if he sees value," Ron Hosko, a former assistant director to the FBI, told Fox News.
Manafort's team could also appeal the decision, but Carl Tobias, a law professor at the University of Richmond, said he didn't think that would be "fruitful" for him.
"It would be difficult to overturn since [the case] is so fact-specific," Tobias told Fox News. "And I think the judge was pretty receptive to Manafort as opposed to the government so I don't think the 4th Circuit is going to give Manafort much comfort if he does appeal."
Mueller's bump
The guilty verdicts certainly give a needed boost to Mueller's team and its credibility, especially as Manafort is the first former Trump campaign associate to be found guilty by a jury in this investigation. Other Trump associates, such as Rick Gates and Michael Flynn, have accepted plea deals.
"I don't think you can characterize this as anything other than substantiating what Mueller has done so far," Tobias said. "This gives him more flexibility to finish up his investigation and move forward."
"There's much that's under the surface of the Mueller iceberg."
Mueller's team could move to retry the 10 charges the jury could not decide on, but Tobias considered that to be unlikely given its success with the other eight charges.
Hosko said he didn't expect Mueller's team spent too much time celebrating the guilty verdicts, but instead forged ahead with its investigation.
"There's much that's under the surface of the Mueller iceberg," Hosko said, adding that the verdict could be a "pivot point" for the team, from finding evidence of collusion with Russia to other wrongdoings.
"Look what he's walked into: Michael Flynn, George Papadopoulos, Rick Gates, Manafort, [Michael] Cohen. These are all people the president has surrounded himself with, and that alone is very troubling," he added. "Maybe [Mueller] doesn't find collusion, but criminality.
The Trump card
It is possible Trump could pardon Manafort, although he hasn't signaled whether he would do so yet.
Trump has continuously expressed his dismay over the verdict. On Twitter, he said he feels "very badly" for his former campaign chairman and his "wonderful family."
"'Justice'" took a 12-year-old tax case, among other things, applied tremendous pressure on him, and, unlike Michael Cohen, he refused to 'break' – make up stories in order to get a 'deal.' Such respect for a brave man," Trump said.
John Dowd, formerly one of Trump's lawyers in the Russia investigation, reportedly discussed a potential pardon of Manafort last year.
Another trial in his future
Manafort has a second trial coming up in mid-September. That trial, set in D.C., involves allegations he acted as an unregistered foreign agent for Ukrainian interests and made false statements to the U.S. government.
He is also accused of witness tampering in that case. Manafort had been out on $10 million bail, but it was revoked in June. His lawyers have said he's being held in solitary confinement.
Prosecutors in the second trial have said they have more than double the evidence for that case than they disclosed in the Virginia one.
Ellis the "wild card"
The "wild card" in this case, Hosko said, is U.S. District Judge T.S. Ellis III. Throughout the trial, Ellis often derided the prosecution – even at one point suggesting an attorney was so discouraged he was crying.
"You don't really care about Mr. Manafort," Ellis charged during the preliminary hearing. "You really care about what information Mr. Manafort can give you to lead you to Mr. Trump and an impeachment, or whatever."
Hosko said it's possible Ellis could ignore sentencing guidelines and give Manafort less prison time.
Hosko warned, though, that should Ellis ignore the guidelines, it could undercut any motivation Manafort might have to cooperate with Mueller's team.
Fox News' Peter Doocy and Alex Pappas contributed to this report.