Corker doesn't rule out challenging Trump in 2020 Republican primary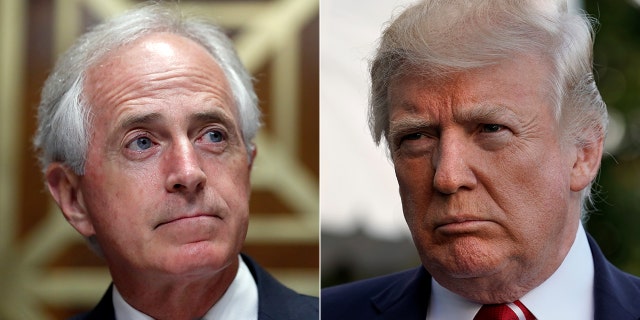 Less than three weeks after calling the White House an "adult day care center," U.S. Sen. Bob Corker, R-Tenn., on Friday appeared open to the idea of challenging President Donald Trump in the 2020 GOP primary.
But while speaking to reporters at the 64th annual Governor's Conference on Economic and Community Development, Corker said it was "way, way too early" to decide whether to compete for the Republican presidential nomination, USA Today reported.
"So the only thing that I'm thinking about right now over the next 14 months truly is doing the best job I can as a senator," Corker said. "You know, I don't know what I'm doing next Sunday."
The notion that Trump will be impeached is unrealistic, Corker said, even as some media reports speculated he was building a case for the president's removal from office.
Corker added that he was wary of contemplating a presidential run because of how it would affect his current responsibilities.
"I think that if you even begin thinking those things, everything you do becomes viewed through a different lens," he said.
Corker, who has announced that he will not seek a third Senate term in 2018, has long feuded with the president. After the deadly violence at protests in Charlottesville, Va., in August, Corker said that Trump had demonstrated neither the "stability nor some of the competence that he needs to demonstrate in order to be successful."
On Oct. 8, after Trump tweeted that Corker was a "negative voice" who lacked "the guts to run" for reelection without the president's endorsement, Corker likened the White House to an "adult day care center."
Later that day, Corker told the New York Times that Trump was setting the U.S. "on the path to World War III." The president hit back, calling the senator a "lightweight" who "couldn't get elected dog catcher in Tennessee."
Corker again excoriated the president Tuesday, tweeting that he was "utterly untruthful" and vowing he would not support Trump in any future campaign.
But Corker acknowledged his attacks on Trump might not be endearing him to many of his constituents. In a survey conducted this month, Corker's disapproval rating had soared to 41 percent in Tennessee, marking a 14-point increase since last spring. Meanwhile, Trump's approval rating in the state has held steady at approximately 50 percent.
"We were surprised that it hadn't dropped further than it did," Corker said of his approval rating.
The Associated Press contributed to this story.