Conservative filmmaker pleads not guilty to violating federal campaign laws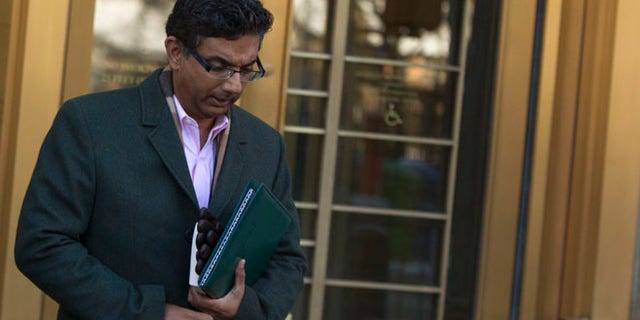 The conservative filmmaker behind a hit anti-Obama documentary pleaded not guilty Friday to charges he violated federal campaign laws, in what a close colleague has termed a "selective prosecution."
Dinesh D'Souza, whose "2016: Obama's America" is the second-highest grossing political documentary of all time, was released on $500,000 bond and his travel was restricted to the United States.
He was charged with one count of illegally donating to the Senate campaign of New York Republican Wendy Long and one count of causing false statements to be made to authorities in connection with the contributions.
His lawyer, Benjamin Brafman, later released a statement saying, "Mr. D'Souza did not act with any corrupt or criminal intent whatsoever. He and the candidate have been friends since their college days, and at worst, this was an act of misguided friendship by D'Souza."
D'Souza's co-producer on "2016," Gerald Molen, told FoxNews.com he believes D'Souza is being singled out by federal authorities.
The 2012 film examined President Obama's past and early influences that may have shaped his political ideology and was a surprise hit, making over $33 million at the box office.
The duo is teaming up again for a new film "America," which Molen said will be released on schedule in July 2014 regardless of what happens in the case.
"Neither the filmmakers nor the American public can allow this prosecution to deter us from the film's release, and I am calling upon the American people to show their elected officials that this kind of selective prosecution will not stand, by joining us at the box office," Molen said. "I look forward to my good friend Dinesh being vindicated for what appears to be nothing more than a misunderstanding."
At Friday's arraignment, Brafman told U.S. District Judge Richard M. Berman there was not much dispute about what happened.
"I think there's a dispute over how it happened and whether what happened violated federal law," Brafman said.
He said he had been in discussions with the government for some time before his client was indicted and had hoped to convince prosecutors that criminal charges were inappropriate.
Outside court, Brafman said there was no corrupt intent, a necessary component of the law, in his client's actions, and he said the $20,000 in donations fell short of the $25,000 required to bring a criminal case. He said it was a situation that was normally resolved with a fine rather than criminal charges.
Long lost to Democratic incumbent Kirsten Gillibrand in last year's New York election.
In his statement later Friday, Brafman said, " It is important to note that the indictment does not allege a corrupt relationship between Mr. D'Souza and the candidate. There was never a corrupt agreement of any kind, nor was there any request made that the candidate take any action or refrain from taking any action as a candidate, or as a U.S. Senator if her political campaign were to have been successful.
"Simply put, there was no "quid pro quo" in this case, nor was there even any knowledge by the candidate that Campaign Finance Rules may have been violated."
The indictment states the alleged illegal contributions came to light during the FBI's routine examination of campaign contributions filed with the FEC during the 2012 election year.
D'Souza faces a maximum of two years in prison for the illegal contributions charge and a maximum of five years in prison for the false statements charge.
The Associated Press contributed to this report