Congress Votes to Strip ACORN of Federal Funding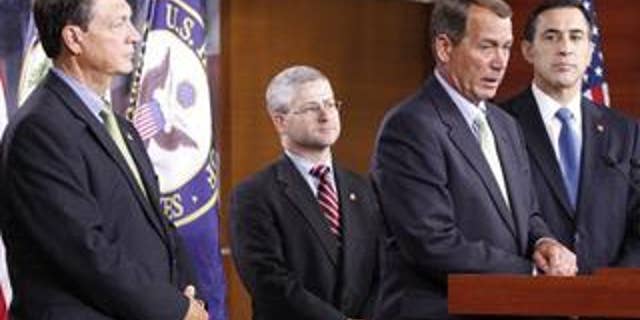 Republicans succeeded in drawing overwhelming support from Democrats Thursday to eliminate federal funding to a now-scandalized ACORN, the community organizing group that has come under heavy fire in the wake of damaging undercover videos that purport to show counselors giving advice on tax fraud to a "pimp" and "prostitute."
The House voted 345-75 to strike ACORN funding from a student aid bill with two voting present.
Later, the Senate voted 85-11 to eliminate ACORN funding from an Interior Department spending bill.
In the House, the Defund ACORN Act prohibits any "federal contract grant, cooperative agreement or any other form of agreement (including a memorandum of understanding" from being awarded to or entered into with the group. It also prohibits federal funds "in any other form" from being provided.
In the Senate, the Protect Taxpayers from ACORN Act blocks the group from receiving taxpayer dollars.
Rep. George Miller, D-Calif., chairman of the House Education and Labor Committee, suggested the House vote is essentially symbolic because the student aid bill did not actually provide any funding to ACORN.
However, the language refers to all federal contracts so it applies to any federal money.
Rep. Darrell Issa, R-Calif., who introduced the "motion to recommit" attached to the Student Aid and Fiscal Responsibility Act of 2009, said the decision followed a similar Senate vote on Monday and the Census Bureau's decision last week to cut ties to the group.
"The battle, however, to deny ACORN federal funding is not over until the president signs the bill into law. ACORN gave significant support to Democrats and Americans must remain vigilant to avoid backtracking or efforts to water down prohibitions denying Federal funds to this corrupt organization," said
House Minority Whip Eric Cantor, R-Va., applauded the vote.
"ACORN has violated serious federal laws, and today, the House voted to ensure that taxpayer dollars would no longer be used to fund this corrupt organization," he said in a written statement. "All federal ties should be severed with ACORN, and the FBI should investigate its activity.
"This united Republican effort to defund ACORN is a victory for the rule of law and taxpayers across the country."
But Rep. Jerrold Nadler, D-N.Y. called the ACORN measure, which he voted against "flatly unconstitutional" and said it "threatens any organization disliked by Congress."
"Congress must not be in the business of punishing individual organizations or people without trial, and that's what this Amendment does," he said in a written statement. "Whatever one may think of the organization, the Constitution's clear ban on Bills of Attainder is there for the protection of all of our liberties."
Democrats offered overwhelming support to the ACORN measure because they didn't want to derail the student aid bill, senior House sources told FOX News. And the measure still has to be approved by the Senate -- a process that will be complicated by the differences in its bill that blocked federal funds to ACORN.
Miller said he allowed the ACORN measure to hit the floor despite its irrelevance to the student aid bill because he was "comfortable with giving members a vote on that issue and advance the legislation."
He also said that whether or not ACORN would be defunded was "somewhat above my paygrade."
Whether symbolic or not, the vote gives Republicans more momentum as they continue to keep the pressure on ACORN, which is on its heels. It also gave Republicans a move to force Democrats, who control the House, to vote on an issue that may leave some of them vulnerable in next year's mid-term elections.
Republicans now have the firepower to run ads highlighting this vote, saying: "This lawmaker voted against defunding ACORN." The 75 lawmakers who voted "no" and two who voted "present" were all Democrats.
Click here to see how your representative voted.
But at least one Democrat who did vote to strip funding, Rep. Zack Space of Ohio, said he was "outraged" by a series of videos taken by two undercover filmmakers dressed up as a pimp and a prostitute in order to get advice at local ACORN establishments on how to set up a brothel in a way that allowed them to pay taxes and get federal grants for housing.
"I am outraged at the actions of ACORN's employees and believe they should be penalized to the full extent of the law," said Space. "Our government must be vigilant in ensuring that organizations that are found to act fraudulently do not receive taxpayer dollars."
Click here for more FOXNews.com coverage of ACORN.
FOX News' Chad Pergram and Trish Turner contributed to this report.