Congress Goes on Vacation Without Extending Jobless Benefits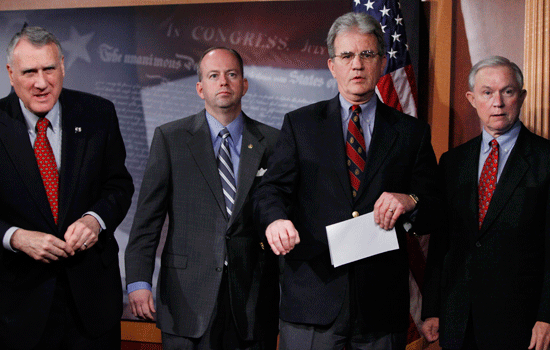 As Congress enjoys a two-week vacation, thousands of Americans will begin to lose jobless benefits because lawmakers failed to resolve a dispute over how to pay for an extension of unemployment insurance.
A current extension of jobless benefits for Americans who have been out of work for more than six months expires April 5. But lawmakers, who left town on Friday, won't be back on Capitol Hill until April 12.
What's more, a 65 percent subsidy for health insurance benefits for the unemployed under the COBRA program expires Wednesday.
Sen. Tom Coburn, R-Okla., and other Senate Republicans wanted unused stimulus funds to offset the cost of the $9 billion extension instead of adding it to the nation's $12.7 trillion debt.
Senators reached a resolution Thursday but House Democrats rejected it.
"Sadly, the Democratic leadership of the House rejected this agreement because they didn't want to set a precedent of paying for these benefits," Coburn said in a written statement. "The American people who have to pay for these extensions, however, don't have the luxury of not paying for things."
"The House's decision to avoid making the same hard choices families face speaks volumes about why we have a debt crisis and why Congress has an approval rating of 14 percent," he added.
But House Majority Leader Steny Hoyer, D-Md., said the offer was rejected because the source to pay for the extension was exhausted.
And House Speaker Nancy Pelosi's office blamed Coburn for the inaction.
"Just like Sen. Bunning before him, Sen. Coburn has decided to stand in the way of Americans receiving needed benefits," said Nadeam Elsahmi, a Pelosi spokesman.
"The House passed unanimously a 30-day extension, and any claim that there was an agreement reached in the Senate on a shorter bill is nothing more than spin by Republicans," he said. "Instead of grandstanding, Sen. Coburn and his Republican colleagues should stop obstructing Senate approval of a House bill passed unanimously by Democrats and Republicans alike."
Kentucky Republican Bunning led a similar battle three weeks ago that led to an interruption in unemployment benefits eligibility for some people and a two-day furlough for some Transportation Department employees.
This time, lawmakers can limit the impact of the benefit cutoff if they quickly fix the problem when they return next month. The same holds true for a 21 percent cut in Medicare payments to doctors.
The expiration of unemployment insurance means that people who have been out of a job for more than six months will gradually lose eligibility for additional weeks of benefits that are fully financed by the federal government. The first six months of unemployment benefits would not be affected, since they are the responsibility of the states.
But someone whose six-month state benefits are running out after April 5 won't be eligible for a new 20-week "tier" of federally financed benefits so long as the program has lapsed. A person already receiving such benefits won't see them run out until they apply for additional weeks.
That means perhaps one in 50 of the 11 million people now receiving unemployment checks would be affected in the first week of the benefits expiration, according to the National Employment Law Project. Almost 1 million people would see their benefits exhausted by the end of April.
The Democrats in control of Congress promise that any lost benefits will be made up for, so even the relatively few jobless people who may miss checks should eventually get their money, though they could face bureaucratic hassles.
The more generous jobless aid started in 2008 and was extended through last year by the economic stimulus bill. With unemployment averaging almost 10 percent nationwide, Democrats and Republicans alike want to see the benefits extended. The most recent extension, passed earlier this month, was supposed to buy time for House-Senate negotiations on a yearlong extension.
The expiration of health care subsidies next week won't affect people already on the program. It would mean that people who lose their jobs next month can't get the subsidy until Congress restores it.
It's a long-standing practice on Capitol Hill to pad the national debt to pay for emergency jobless benefits, and the long-term extension would do just that. But with the deficit projected at $1.5 trillion, Republicans are starting to balk. "I think you'll see a much greater commitment now to fiscal responsibility," said Jon Kyl of Arizona, the No. 2 Republican in the Senate.
For Democrats, the episode exposed rifts. Many Democrats say the unemployment benefits are an emergency and that financing them with tax revenue or budget cuts reduces their stimulative impact on the economy. But Democratic deficit hawks are sympathetic to the GOP's argument.
The Associated Press contributed to this report.