Confidence in Obama Slipping to New Lows as Campaign Season Ramps Up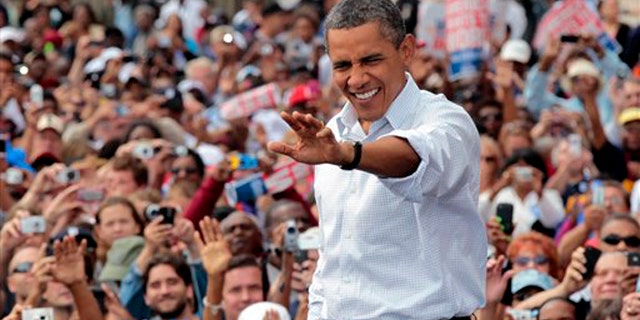 President Obama's approval ratings, much like the housing market, just keep finding a new bottom.
A pair of national polls out Tuesday showed the president's popularity slipping to risky levels for an incumbent seeking re-election. The new polls showed Obama with record-low approval ratings, as Americans show startling levels of pessimism with the direction of the country, the economy, Congress and Obama's presidency.
One of the most foreboding figures came out of the latest NBC News/Wall Street Journal poll. According to the survey, 54 percent think the president is unlikely to recover from his setbacks.
The same poll showed Obama's overall approval at 44 percent, and his approval on the economy at 37 percent. Worse, only 19 percent think the country is going in the right direction. It's the lowest rating yet for a president who galvanized an historic coalition of supporters on a message of hope for America.
A separate Washington Post-ABC News poll put Obama's approval rating at 43 percent, and disapproval rating at 53 percent. Those represent a new low and high for Obama, respectively.
Voters felt even less confident of Obama's handling of the economy, reflecting similar results out of a Fox News poll last week. That survey showed voter disapprove of his handling on job creation by 60-35 percent.
The numbers underscore the trouble Obama is in as he enters the election season. The president plans to deliver a major jobs address Thursday, but Republican presidential candidates have made the lack of job creation so far a focus of their campaigns.
There were a few good signs for Obama in the latest polls. The NBC News/Wall Street Journal poll showed a majority of people find Obama likeable, and about half approve of his foreign policy handling. And while Obama's popularity is low, congressional Republicans' popularity is lower. Eighty-two percent of those polled disapprove of Congress, and most blame Republicans for the recent Standard & Poor's rating downgrade.
The poll showed Obama beating the frontrunning GOP candidates -- Texas Gov. Rick Perry and former Massachusetts Gov. Mitt Romney -- in a hypothetical matchup, but losing to a "generic" Republican candidate.
The NBC/Wall Street Journal poll of 1,000 adults was conducted Aug. 27-31. It had a margin of error of 3.1 percentage points. The Washington Post-ABC News poll of 1,001 adults was conducted Aug. 29-Sept. 1. It had a margin of error of 3.5 percentage points.