Compare and Contrast: Obama and Cheney's Divergent Views on National Security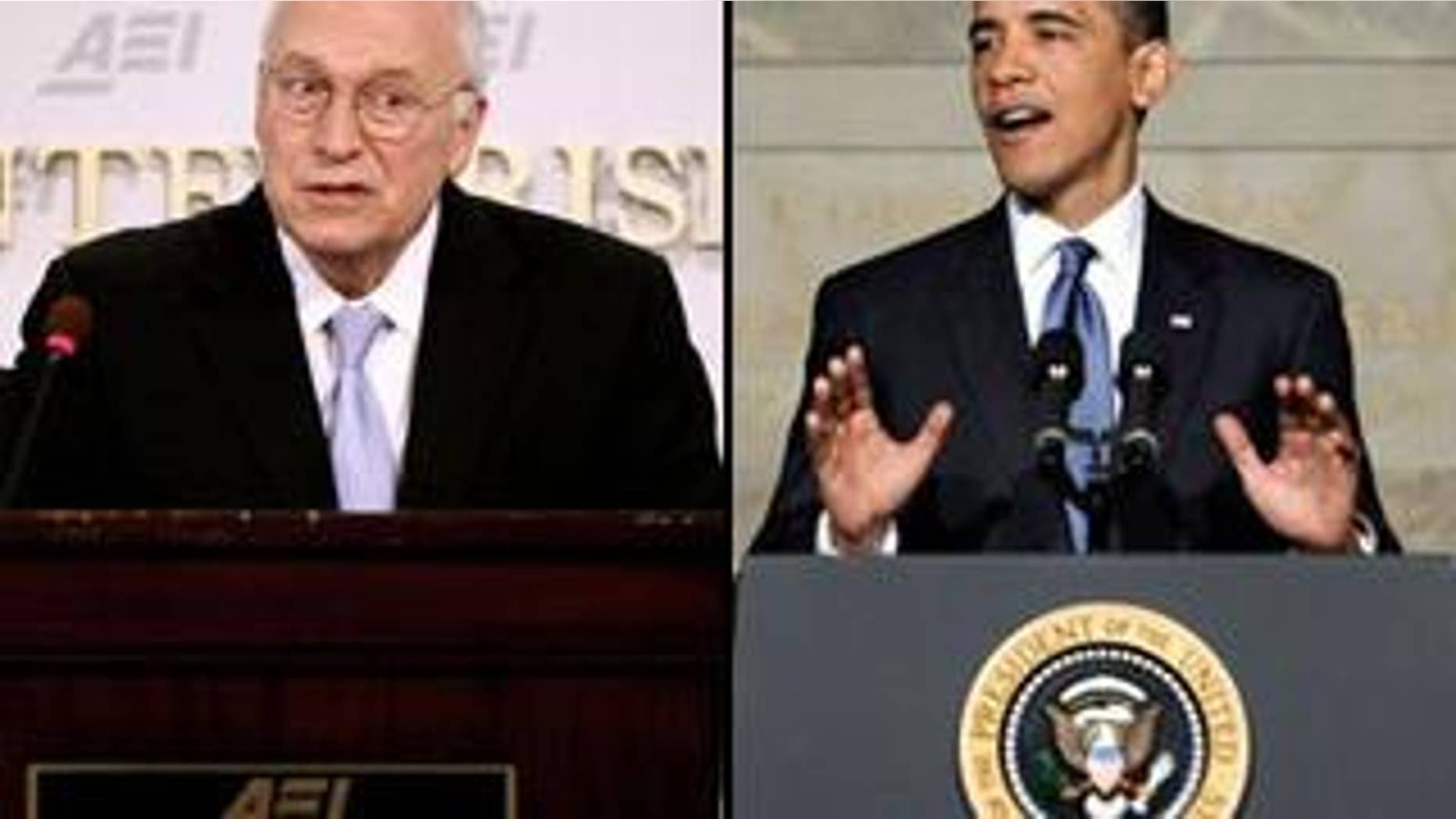 President Obama and former Vice President Dick Cheney each delivered major speeches Thursday outlining America's national security challenges, with each making the case for their respective administration's policies. 
Throughout the two speeches, the only similarity between them was the subject matter. 
Key among the differing arguments were the controversial issues of the Guantanamo Bay, Cuba, prison, the use of enhanced interrogation techniques, the politicization of national security and the upcoming detainee trials. Here's some of what they said:
On Enhanced Interrogation Techniques
President Obama:
"I banned the use of so-called enhanced interrogation techniques by the United States of America. I know some have argued that brutal methods like water-boarding were necessary to keep us safe. I could not disagree more. As commander-in-chief, I see the intelligence, I bear responsibility for keeping this country safe and I reject the assertion that these are the most effective means of interrogation. What's more, they undermine the rule of law.
"They alienate us in the world. They serve as a recruitment tool for terrorists, and increase the will of our enemies to fight us, while decreasing the will of others to work with America. They risk the lives of our troops by making it less likely that others will surrender to them in battle and more likely that Americans will be mistreated if they are captured. In short, they did not advance our war and counter-terrorism efforts -- they undermined them, and that is why I ended them once and for all."
Former Vice President Dick Cheney:
 "I was and remain a strong proponent of our enhanced interrogation program. The interrogations were used on hardened terrorists after other efforts failed. They were legal, essential, justified, successful and the right thing to do. The intelligence officers who questioned the terrorists can be proud of their work and proud of the results, because they prevented the violent death of thousands, if not hundreds of thousands, of innocent people."
On Prosecuting Guantanamo Detainees
President Obama:
"When feasible, we will try those who have violated American criminal laws in federal courts -- courts provided for by the United States Constitution. Some have derided our federal courts as incapable of handling the trials of terrorists. They are wrong. Our courts and juries of our citizens are tough enough to convict terrorists, and the record makes that clear."
Former Vice President Dick Cheney:
"Attorney General Holder and others have admitted that the United States will be compelled to accept a number of the terrorists here, in the homeland, and it has even been suggested U.S. taxpayer dollars will be used to support them. On this one, I find myself in complete agreement with many in the president's own party. Unsure how to explain to their constituents why terrorists might soon be relocating into their states, these Democrats chose instead to strip funding for such a move out of the most recent war supplemental.
The Politicization of National Security
President Obama:
"I understand that these problems arouse passions and concerns. They should. We are confronting some of the most complicated questions that a democracy can face. But I have no interest in spending our time re-litigating the policies of the last eight years. I want to solve these problems, and I want to solve them together as Americans.
"And we will be ill-served by some of the fear-mongering that emerges whenever we discuss this issue. Listening to the recent debate, I've heard words that are calculated to scare people rather than educate them; words that have more to do with politics than protecting our country."
Former Vice President Cheney:
"The administration seems to pride itself on searching for some kind of middle ground in policies addressing terrorism. They may take comfort in hearing disagreement from opposite ends of the spectrum. If liberals are unhappy about some decisions, and conservatives are unhappy about other decisions, then it may seem to them that the president is on the path of sensible compromise.
"But in the fight against terrorism, there is no middle ground, and half-measures keep you half exposed. You cannot keep just some nuclear-armed terrorists out of the United States, you must keep every nuclear-armed terrorist out of the United States. Triangulation is a political strategy, not a national security strategy. When just a single clue that goes unlearned one lead that goes unpursued can bring on catastrophe -- it's no time for splitting differences. There is never a good time to compromise when the lives and safety of the American people are in the balance."
Support of U.S. Allies
President Obama:
"The prison at Guantanamo has weakened American national security. It is a rallying cry for our enemies. It sets back the willingness of our allies to work with us in fighting an enemy that operates in scores of countries. By any measure, the costs of keeping it open far exceed the complications involved in closing it. ...
"I do know with certainty that we can defeat Al Qaeda. Because the terrorists can only succeed if they swell their ranks and alienate America from our allies, and they will never be able to do that if we stay true to who we are; if we forge tough and durable approaches to fighting terrorism that are anchored in our timeless ideals."
Former Vice President Cheney:
"The administration has found that it's easy to receive applause in Europe for closing Guantanamo. But it's tricky to come up with an alternative that will serve the interests of justice and America's national security. ...
"Now the president says some of these terrorists should be brought to American soil for trial in our court system. Others, he says, will be shipped to third countries. But so far, the United States has had little luck getting other countries to take hardened terrorists."
Preserving American Values
President Obama:
"We uphold our most cherished values not only because doing so is right, but because it strengthens our country and keeps us safe. Time and again, our values have been our best national security asset -- in war and peace; in times of ease and in eras of upheaval. ...
"The decisions that were made over the last eight years established an ad hoc legal approach for fighting terrorism that was neither effective nor sustainable -- a framework that failed to rely on our legal traditions and time-tested institutions; that failed to use our values as a compass. And that is why I took several steps upon taking office to better protect the American people."
Former Vice President Cheney:
"It is much closer to the truth that terrorists hate this country precisely because of the values we profess and seek to live by, not by some alleged failure to do so. Nor are terrorists or those who see them as victims exactly the best judges of America's moral standards, one way or the other. Critics of our policies are given to lecturing on the theme of being consistent with American values.
"But no moral value held dear by the American people obliges public servants to sacrifice innocent lives to spare a captured terrorist from unpleasant things. And when an entire population is targeted by a terror network, nothing is more consistent with American values than to stop them."
The Release of Classified Information
President Obama:
"The argument that somehow by releasing those memos, we are providing terrorists with information about how they will be interrogated is unfounded -- we will not be interrogating terrorists using that approach, because that approach is now prohibited. In short, I released these memos because there was no overriding reason to protect them. And the ensuing debate has helped the American people better understand how these interrogation methods came to be authorized and used.
Former Vice President Cheney:
"Somehow, when the soul-searching was done and the veil was lifted on the policies of the Bush administration, the public was given less than half the truth. The released memos were carefully redacted to leave out references to what our government learned through the methods in question. Other memos, laying out specific terrorist plots that were averted, apparently were not even considered for release. For reasons the administration has yet to explain, they believe the public has a right to know the method of the questions, but not the content of the answers."
On Upholding the Constitution
President Obama:
"I want to be very clear that our goal is to construct a legitimate legal framework for Guantanamo detainees -- not to avoid one. In our constitutional system, prolonged detention should not be the decision of any one man. If and when we determine that the United States must hold individuals to keep them from carrying out an act of war, we will do so within a system that involves judicial and congressional oversight. And so going forward, my Administration will work with Congress to develop an appropriate legal regime so that our efforts are consistent with our values and our Constitution."
Former Vice President Cheney:
"The key to any strategy is accurate intelligence, and skilled professionals to get that information in time to use it. In seeking to guard this nation against the threat of catastrophic violence, our administration gave intelligence officers the tools and lawful authority they needed to gain vital information. We didn't invent that authority. It is drawn from Article Two of the Constitution. And it was given specificity by the Congress after 9/11, in a Joint Resolution authorizing 'all necessary and appropriate force' to protect the American people."