Commander to Request Thousands More Troops to Afghanistan in Coming Days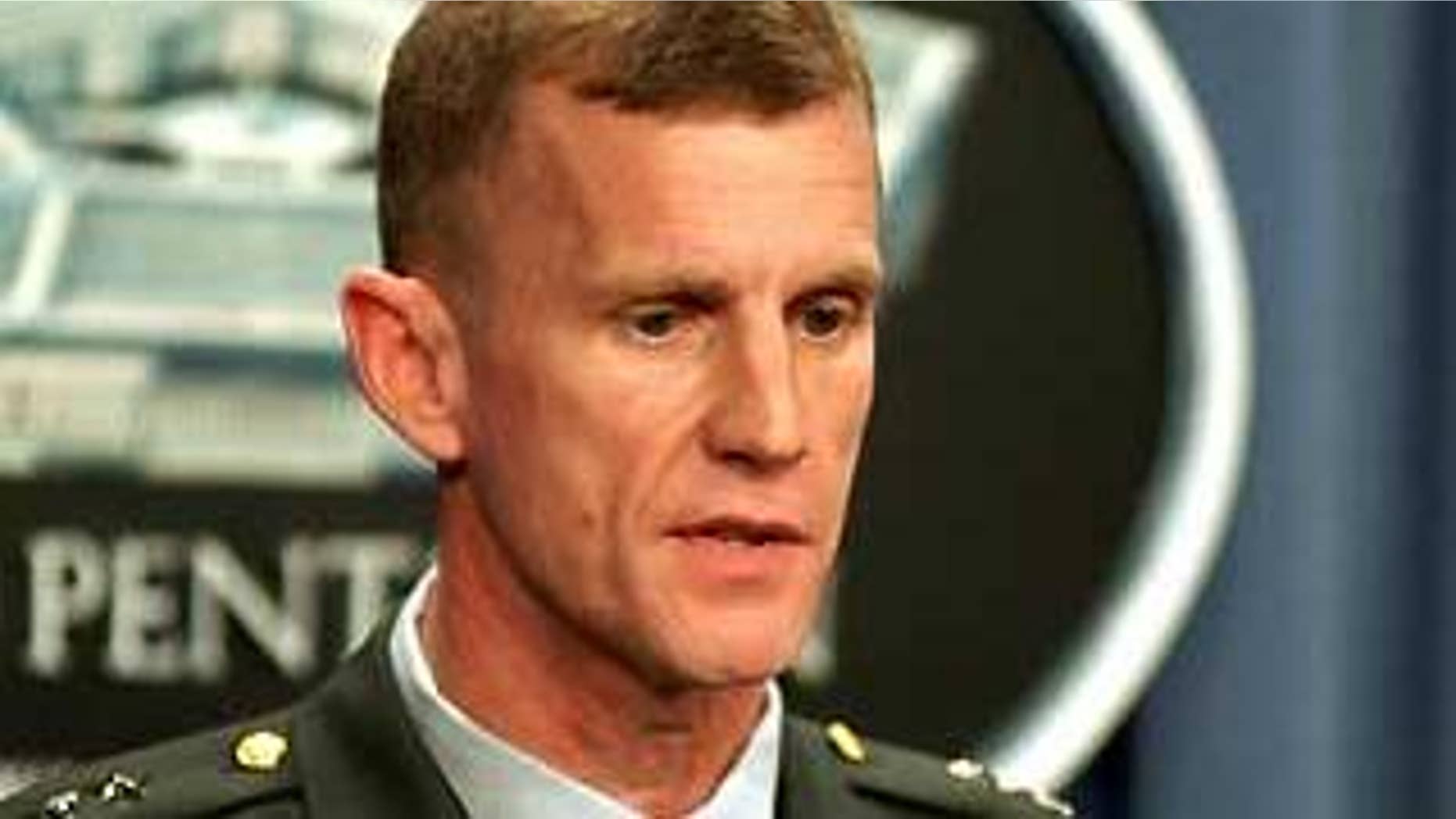 Gen. Stanley McChrystal's request for an additional 30,000-40,000 U.S. troops in Afghanistan may be received by Secretary of Defense Robert Gates in coming days, a senior defense official speaking on background told FOX News on Tuesday.
"The resource component of General McChrystal's assessment will be transmitted very soon," the senior defense official said.
Details of McChrystal's strategic assessment to President Obama leaked out Monday and were confirmed by FOX News.
In his assessment, McChrystal wrote that "failure to gain the initiative and reverse insurgent momentum in the near-term (next 12 months) -- while Afghan security capacity matures -- risks an outcome where defeating the insurgency is no longer possible."
Sources said that McChrystal has had his request for some time, but has been asked not to send it to Washington just yet. The senior defense official denied that, echoing other Defense Department and White House officials who said no one told McChrystal to hold the troop request and to not deliver it until President Obama was ready.
Pentagon and White House officials have said that the request is part of a two-phased process, starting with the assessment and ending with the actual numbers.
However, the confusion is in part attributable to Obama's seeming change in position on Afghanistan.
On March 27 the president announced a "comprehensive, new strategy" aimed at preventing the Taliban or Al Qaeda from going unchallenged or establishing a base for terrorists "who want to kill as many of our people as they possibly can."
But on Sunday he said he is not prepared to offer a decision on troop levels until he decides on the mission for Afghanistan.
"Until I'm satisfied that we've got the right strategy I'm not going to be sending some young man or woman over there -- beyond what we already have," Obama said in an interview that aired on NBC's "Meet the Press" on Sunday.
According to a senior U.S. defense official, even if the president decided today to send more troops, none is available to deploy until January, meaning that even with a 60-80 day notice to families, Obama has time time left to decide.
However, Army commanders are whispering that if they want more troops it will take months to organize and about six months to get them in the pipeline. So time is of the essence to decide if they are going to attempt classic counterinsurgency tactics.
On Tuesday, Sen. John McCain, the ranking Republican on the Senate Armed Service Committee, said he wants McChrystal and Gen. David Petraeus, head of Central Command, to return to Washington, D.C., to testify before Congress about the resources they need to win in Afghanistan.
"Why would you tell a general in the field not to send his recommendations for the troop levels that are needed in order to implement a strategy, which according to the chair of Joint Chiefs of Staffs was formulated last March?" McCain, R-Ariz., asked.
According to the senior defense official the release was imminent in part because "the perception that this request is being withheld has become more of a distraction than it would be if we actually had the request".
FOX News' Jennifer Griffin and Justin Fishel contributed to this report.