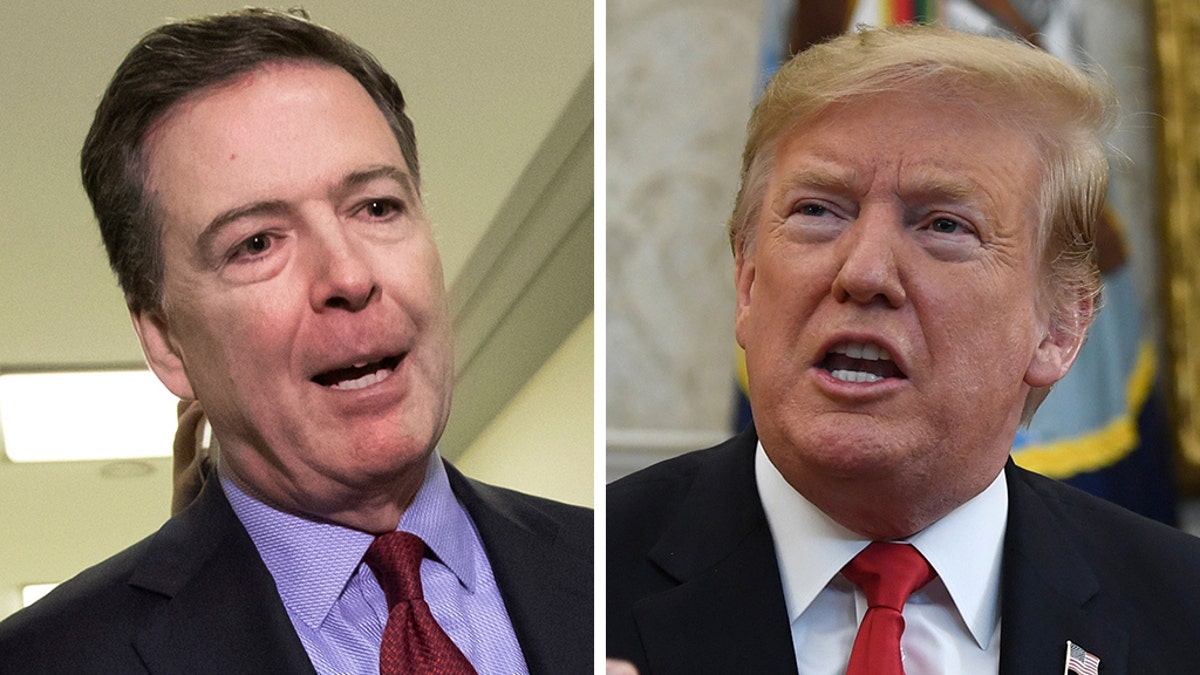 Former FBI Director James Comey said in an interview Wednesday that President Trump may have obstructed justice in his decision to fire him.
Comey's remarks came via a clip from his NBC Nightly News interview, during which Lester Holt brought the conversation back to early May 2017, when Comey testified before the Senate Judiciary Committee.
During that hearing, Comey spoke on a variety of topics, including the Hillary Clinton email investigation.
FLASHBACK: TRUMP FIRES FBI DIRECTOR COMEY
"But you declined to answer questions specifically about evidence of collusion at that point. A couple days later, you're fired," Holt said.
"A few days after that, I sit down with President Trump," he continued. "He says, 'when I decided to just do it,' talking about firing you, 'I said to myself, I said you know, this Russia thing with Trump and Russia is a made up story.' What did you think when you heard that?"
Comey replied: "I thought that's potentially obstruction of justice and I hope somebody is going to look at that."
The ousted official went on to say that he didn't know what was in Trump's head at the time.
CLICK HERE TO GET THE FOX NEWS APP
But what the president "appears to be saying is, 'I got rid of this guy to shut down an investigation that threatened me,'" Comey said.
Trump fired Comey on May 9, 2017, telling him in a brief letter that he could not "effectively lead" the bureau.
During the Wednesday interview, the pair also discussed Special Counsel Robert Mueller's report on the Russia investigation. Comey said he wasn't sure where the probe would ultimately wind up, considering he'd been terminated before his team "finished the work," but he said he found positives in the way it was conducted.
"I think it's good that he was able to finish the work and establish both that the Russia thing wasn't a hoax - that the Russians interfered in the election in a huge way, and that's really important," Comey said. "And then another piece of good news, the evidence didn't establish that any Americans conspired as part of that effort. That should be good news no matter what party you're associated with."
Comey went on to insist that the probe was necessary, saying "there was smoke and enough smoke to justify investigating."
"It would've been irresponsible not to investigate. And we don't investigate, despite what the partisans say, to find a particular result," Comey said. "We investigate to find out what's true. And as best I can tell, it looks like Bob Mueller was allowed to do that and that's a great thing."
Holt later asked Comey for his thoughts after playing a soundbite of Trump saying that the country "can never let this happen to another president again," referring to the investigation. Comey replied by creating an altered version of the events with different parties.
"Close your eyes again, change the names. Let me make one up for you," Comey said. "The Iranians, this is totally made up, the Iranians interfere in the election to help elect Barack Obama because they think they'll get a better nuclear deal from him. And during that election, an Obama aide meets with the Iranians and talks about the dirt they have that will help Obama get elected. And the FBI finds out about that. We should not investigate that?"
After continuing his reimagined version, Comey says "the hypocrisy is revealed just by changing the names."
"The FBI did what it absolutely had to do," he continued. "The American people should be glad it's there and proud of it. And the rest is just lying and noise."