Comey vs. the World: G-man sparring with old deputy, boss amid war with Trump and Clinton
It's James Comey versus the World.
Whether the former FBI chief is blasting President Trump as "morally unfit" to hold his elected office, trashing his former right-hand man Andrew McCabe as a liar, revealing private conversations with his old boss, former Attorney General Loretta Lynch, or criticizing former President Barack Obama, Comey seems to be warring with everyone— on both sides of the aisle.
It is the duty of an FBI director to remain fully non-partisan and independent, and Comey has now taken a turn as an equal-opportunity attacker, with jabs for all—including the GOP, which the longtime Republican announced this week he can no longer "be associated with."
Much of the criticism has come out in his media blitz to promote his new book, "A Higher Loyalty," which was released April 17. Comey has appeared in multiple high-profile interviews, giving his side of the story behind the investigation of Hillary Clinton's emails, Presdient Trump's alleged Russia collusion and his dramatic firing.
"I'm sure he has an inner circle of friends, but I don't see anyone out there defending him right now. He's managed to pretty much tick off everybody."
But Comey's outspokenness in the wake of his book release could pose a problem for him in the coming weeks, as the Justice Department inspector general report on the FBI's handling of the investigation into Hillary Clinton's private email server is expected to become public.
A "good friend" of Comey's — Benjamin Wittes — wrote Wednesday that he was "very much" looking forward to the Horowitz report, specifically what it will say about Lynch. Wittes said Lynch appeared "only too happy to have Comey fall on this particular grenade," and told him to "try to look beat up" when Comey re-opened the Clinton email probe days before the 2016 presidential election.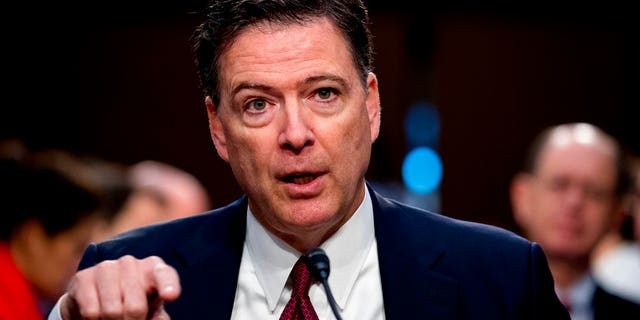 "Comey told me this story shortly after it happened, and for a lot of reasons, it has bothered me ever since," Wittes wrote. "Partly because of it, I very much look forward to how the forthcoming inspector general's report on the Clinton email investigation treats the attorney general."
Justice Department Inspector General Michael Horowitz is said to be finalizing the report, which could be unfavorable for a number of people — including Comey, and could further pit him against his former colleagues in the Obama administration.
"I don't think the inspector general can do anything but come down hard on Comey," former head of the FBI's Criminal Investigative Division Chris Swecker told Fox News. "I'm sure he has an inner circle of friends, but I don't see anyone out there defending him right now. He's managed to pretty much tick off everybody."
Comey has criticized Lynch publicly, beginning during his Senate testimony last year, and continuing in the book, where he goes after Lynch for her directive to call the Clinton email probe a "matter" rather than an investigation.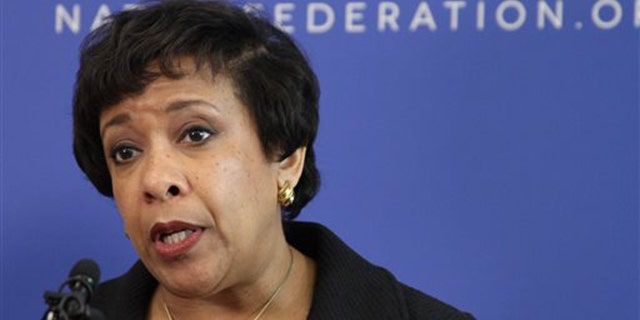 Then Comey, for the first time, publicly ripped Obama for having "jeopardized" the Justice Department's credibility during the investigation into Hillary Clinton's private email server. Comey criticized Obama for giving two media interviews suggesting there was "no there there" in the Clinton email probe.
COMEY RIPS OBAMA FOR COMMENTS ON CLINTON CASE: HE 'JEOPARDIZED' DOJ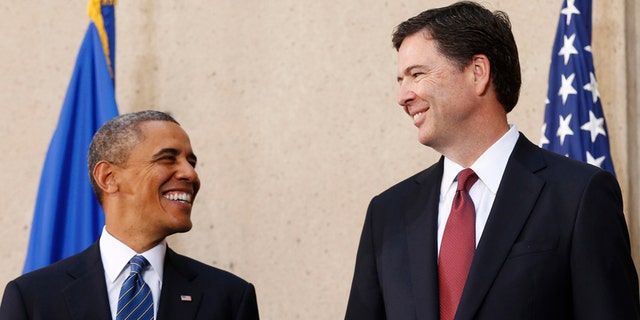 "He's a very smart man and a lawyer. And so it surprised me. He shouldn't have done it. It was inappropriate," Comey told ABC News' George Stephanopoulos on Sunday.
Comey then switched gears to fire back at Trump's Twitter comments. The president called Comey an "untruthful slime ball," and "the worst FBI director in history," but Comey compared Trump to a "mob boss," and an "obsessive ex-boyfriend."
COMEY CALLS TRUMP 'MORALLY UNFIT TO BE PRESIDENT,' SAYS HE WOULDN'T HAVE CHANGED HANDLING OF CLINTON PROBE
By Wednesday, Comey moved on to his former deputy, McCabe. Comey revealed Wednesday that he was the one to order the inspector general investigation into the media leak that ultimately led to McCabe's ouster.
COMEY SAYS MCCABE LIED, CONFIRMS HE KICK-STARTED PROBE THAT LED TO HIS FIRING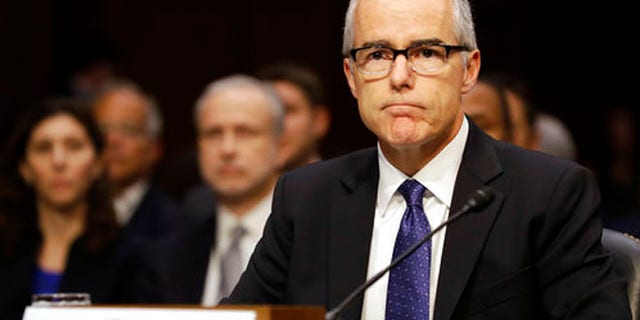 "The McCabe case illustrates what an organization committed to the truth looks like. I ordered that investigation," Comey said on ABC's "The View" this week. "Good people lie. I think I'm a good person, where I have lied. I still believe Andrew McCabe is a good person, but the inspector general found he lied."
McCabe's counsel, Michael Bromwich, is now blasting Comey, and Horowitz for painting Comey as "a white knight carefully guarding FBI information."
"Neither Mr. Comey nor the OIG is infallible, and in this case neither of them has it right," Bromwich said in a statement to Fox News regarding the inspector general report which found McCabe lacked "candor" and lied to Comey and federal investigators about the fact that he authorized a leak for a Wall Street Journal report days ahead of the 2016 presidential election.
Bromwich and Trump aren't the only ones firing back at Comey. Comey's re-emergence into the public eye with his new book has brought out the knives, yet again, from top Clinton figures.
CLINTON WORLD FUMES OVER COMEY BOOK TOUR: 'HE'S NOW LYING'
"None of this adds up. And writing about it now is going to do no favors for the FBI & DOJ, currently in the fight of their lives trying to repair the damage to their reputation," Clinton spokesman Nick Merrill tweeted this week.
Former special counsel to former President Bill Clinton, Lanny Davis, blasted Comey this week as a "liar."
"It is time — accurately — to call Comey a liar for this crucial, self-serving rationalization for his action that made Donald Trump president," Davis wrote in an Op-Ed this week.
Comey has repeatedly said that he wrestled how to handle the October 2016 notification that was re-opening the Clinton investigation. Comey has defended his decision, knowing full well the scorn being heaped on him from Clinton allies.
"I pray no FBI director ever has to deal with this again, because it was just a series of no-win decisions," Comey said in a USA Today interview. "… And my hope is, I even hope Hillary Clinton at least reads those parts of the book, because I think she will walk away saying, 'you know what, I still think that guy's an idiot, but…he's kind of an honest idiot, and he's trying to do the right thing here."
Comey has made clear this week that his wife and daughters are Clinton super-fans, and he has managed, in his week of widespread criticism for all, to avoid bashing the former secretary of state in any way.
Swecker suggested that Comey has been "trying" to do Clinton a "favor," and noted that the inspector general report could point out "irregularities" in the Clinton case from the onset.
"If you can compare how Mueller is conducting his investigation, and how Comey conducted the Clinton email probe, you see it was genteel, laid back, and seemed like he bent over backwards to accommodate Hillary Clinton," Swecker told Fox News. "It will be interesting to see what [Horowitz] says about whether this was a real investigation."
Swecker, who served under former FBI Directors Bob Mueller, Louis Freeh and William Webster, said the former FBI directors were "modest" and "stayed in the background."
"I hate the people that associate the FBI with Comey. He is an aberration in FBI history," Swecker said.
Though Comey has criticized his former colleagues, nearly a dozen House Republicans have requested Attorney General Jeff Sessions launch a criminal investigation into the former FBI chief, and the cast of officials he has talked about this week — including Lynch, McCabe and Clinton.
"The old cliché — pride comes before the fall. It seems his ego is raging out of control," Swecker told Fox News. "He seems to think he is the only moral person on the planet right now, and I think that's a dangerous level of hubris which will always bring you down."
Fox News' Judson Berger contributed to this report.