Colorado Supreme Court kicks GOP Rep. Lamborn off primary ballot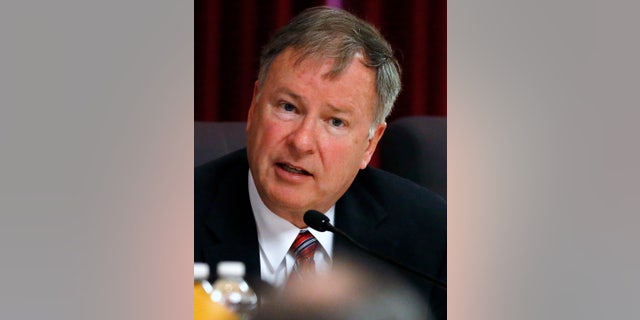 DENVER – Colorado's Supreme Court on Monday knocked six-term U.S. Rep. Doug Lamborn from his party's primary, saying the Colorado Springs Republican didn't collect enough valid voter signatures to qualify.

The court reversed a lower court ruling in a lawsuit that challenged the validity of voter signatures that Lamborn's campaign tried to use to make the June 26 primary.

Five Republican voters in Lamborn's district filed a lawsuit claiming that seven circulators who collected signatures on Lamborn's behalf were not Colorado residents.

Colorado's Republican secretary of state, Wayne Williams, had approved Lamborn's ballot petition on March 29, and a Denver district judge ruled April 10 that Lamborn could stay on the ballot.

Lamborn had been seeking a seventh term in Congress. State Sen. Owen Hill and Darryl Glenn, who challenged Democrat Michael Bennet for his U.S. Senate seat in 2016, also are in the GOP race.

Lamborn's attorney, former state party chair Ryan Call, didn't immediately return a phone message and an email seeking comment. Lamborn's office in Washington, D.C., referred calls to his campaign.

Lamborn was first elected to the U.S. House in 2006, after spending 12 years in the Colorado state legislature. Since then, he's withstood a number of primary challenges, but has rarely faced stiff Democratic opposition in the state's conservative 5th Congressional District. The district hasn't elected a Democrat since it was created in 1972.

Lamborn serves on the House Armed Services Committee.

A staunch conservative, Lamborn voted to cut taxes as a Colorado lawmaker, and again in Congress when he helped to pass the 2017 federal Tax Cuts and Jobs Act. He has long advocated going to great lengths - including a government shutdown - to repeal the Affordable Care Act. And in 2010, the National Journal, a conservative magazine, named him the most conservative member of Congress.

The court determined that Williams erred in certifying Lamborn's petition for the 5th Congressional District. Colorado law requires that signature collectors employed by candidates be state residents.

The court determined that one circulator cited in the lawsuit did not reside in Colorado, causing the Lamborn campaign's number of verified Republican voter signatures to fall below the 1,000 needed within the district to qualify.

"Therefore, the supreme court holds that the Secretary may not certify Representative Lamborn to the 2018 primary ballot for Colorado's Fifth Congressional District," the ruling states.

Colorado major-party candidates can seek a place on party primary ballots either by petition or seeking enough votes at state party assembles. Lamborn chose not to go through the assembly, which was held April 14.