Colorado governor tries to apologize for gun control measures, blames staff, then curses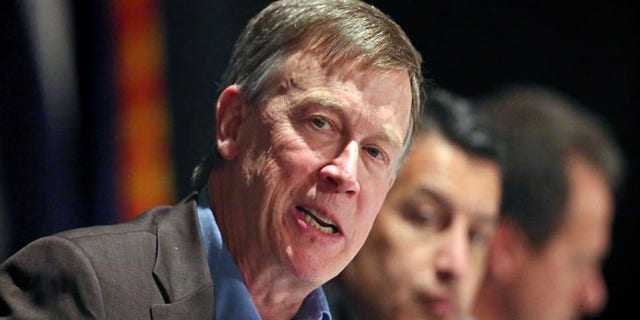 WASHINGTON – Colorado Gov. John Hickenlooper's awkward attempt to patch things up with his state's sheriffs over his support of controversial gun control legislation isn't going as planned.
The governor, a Democrat, offered a series of unusual explanations during a meeting he held last Friday with a group of Colorado sheriffs for why he signed legislation that restricts the sale of ammunition magazines of more than 15 rounds.
First, Hickenlooper blamed his staff for not anticipating the opposition on gun control. He then apologized for his staff's inability to effectively communicate and promised to do better in the future.
When Larimer County Sheriff Justin Smith pressed the issue, Hickenlooper snapped back, "What the f---? I apologized!"
He apparently was kidding around, as the sheriffs could be heard laughing. But on his Facebook page, Smith said he was surprised by the governor's choice of words.
"I'm a big boy and I won't pretend for a moment that it's not language that's foreign to me – but I found that type of attitude and response to be well below the dignity of the office of governor," Smith wrote. "This was a sitting governor, in a public meeting, responding to another elected official."
Hickenlooper also said he felt pressure to sign the bill into law because a member of his staff "made a commitment."
"To be honest, no one in our office thought it would get through the legislature," he said. "There were several Democrats who said without question they weren't going to vote for it."
The measure passed the Democrat-controlled legislature. No Republicans voted for it.
Last year, Hickenlooper spoke in favor of gun-control measures that called for background checks for all firearm sales as well as transfers.
After a group of gun control bills were signed into law earlier this year, 55 of the state's 62 elected sheriffs filed a federal lawsuit against the state, claiming the regulations violated the Second Amendment. The judge ruled the sheriffs could not sue the state while in office but did say they could once their terms ended.
Colorado has been very aggressive in pushing through gun control measures. The passage of three gun bills by the state legislature last year led to the ousting of two Democratic state senators – former Senate President John Morse and Angela Giron. Both were replaced by Republicans.