Clinton: World Needs to Toughen Up on Syria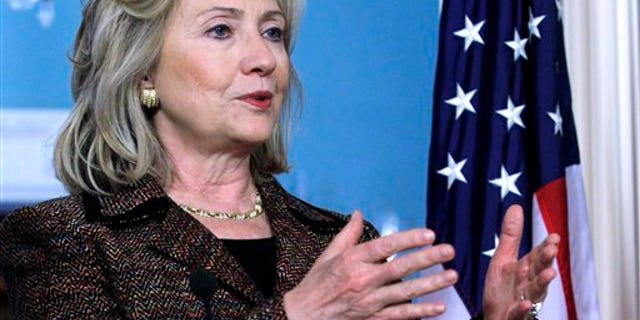 NEWYou can now listen to Fox News articles!
WASHINGTON – The Obama administration implored hesitant Arab countries and U.N. powers Russia and China to join the international condemnation of Syrian President Bashar Assad's regime, saying Thursday that they would be better off "on the right side of history."
Repeating the president's ultimatum of last month that Assad should either lead a reform process or leave power, Secretary of State Hillary Rodham Clinton said the Syrian leader was clearly blowing his chance by pressing on with a brutal crackdown on demonstrators and political opponents.
Expectations that his government can change are "if not gone, nearly run out," she said in Washington. She spoke as Syrian forces pounded a central town with artillery and gunfire, killing at least 15. Activists say more than 1,100 have died since the crackdown began in March.
Clinton, however, lamented that international disunity was limiting U.S. options for a response. She said the U.S. was working closely with Europe on sanctions and a possible U.N. resolution denouncing Syria for torturing and killing peaceful protesters.
But, "right now the attitude of the international community is not as united as we are seeking to make it," Clinton told reporters.
She was referring in part to a logjam at the U.N. Security Council. The U.S. and European partners have been unable to win a strong condemnation of Syria from the council, with members Russia, China and India calling instead for dialogue in Syria. Clinton did not mention those nations by name, although her meaning was clear.
She also said Arab countries have offered "nothing resembling a kind of strong action" on Assad as they did by uniting in opposition to Libyan leader Moammar Gadhafi.
Syria's would-be revolution is presenting the Obama administration with perhaps its greatest opportunity for a strategic gain as a result of the wave of protests that have spread across the Arab world this year. Assad's regime would be the first pro-Iranian and anti-American government to fall after the administration lost two allies in the former strongmen of Tunisia and Egypt, Zine El Abidine Ben Ali and Hosni Mubarak. The U.S. has joined its allies in a military intervention to protect Libyan civilians from attacks, but hasn't been able to force Gadhafi from power.
For all the violence, Assad's four-decade family dynasty doesn't inspire the same hatred in the region as Gadhafi's dictatorship, and that along with concerns over destabilizing Lebanon and Arab-Israeli peace efforts has forced the Obama administration to tread carefully. The U.S. was itself slow to fully denounce Assad, preferring for a time to encourage him to ease off and adopt reforms. It abandoned the softer approach last month and is now trying to build another coalition so that international action, short of a military intervention, can be mobilized to pressure Syria's government into halting military operations.
Speaking to reporters, Clinton said the U.S. was working hard behind the scenes to cobble together an international consensus on what actions Syria must take. These include the release of political prisoners, end to unjust detentions and permission for human rights monitors to enter the country.
"We're doing everything we can," Clinton said. "Those who we're seeking to bring to our view of the situation will have to make their own judgment. But we think they will be better off on the right side of history."
The Syrian government freed hundreds of political prisoners Wednesday in an amnesty and the president set up a committee for national dialogue in an effort to end the 10-week uprising. But the concessions came as deadly attacks continued on towns seen as the threat to his power.
The U.S. said the amnesty would not be enough.
State Department spokesman Mark Toner said all political prisoners needed to be released and the violence halted. "The gesture of releasing a hundred or so political prisoners doesn't go far enough, and I think that the Syrian people would feel that way," he said.
That message was echoed from France, but Russian Foreign Minister Sergey Lavrov issued a warning to protesters, saying attempts to change the Assad's regime by force will have "catastrophic consequences."
Clinton said the case of Syria demands a "very clear-eyed calculated assessment of what influence we have and who are our partners."
The United States has isolated the Arab country for years because of its hostile relations with Israel, and its support for Hezbollah in Lebanon and Hamas in the Palestinian territories — groups the U.S. considers terrorist organizations.
Underscoring the limited American influence, State Department officials said Thursday that U.S. Ambassador to Syria Robert Ford sought discussions with officials in Damascus earlier this week only to be denied. On Wednesday, spokesman Mark Toner had claimed Ford "was in to see his Syrian interlocutors" and that he "certainly raised ongoing human rights concerns."