Clinton to unveil 'exit tax' on US-foreign company mergers, report says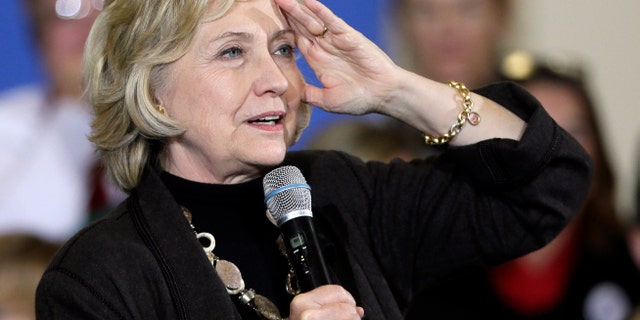 NEWYou can now listen to Fox News articles!
Hillary Clinton is expected to unveil a proposal Wednesday that would crack down on corporate inversions – the practice in which companies merge with foreign companies and move their headquarters overseas to lower their tax bill in the process.
According to the Associated Press, which first reported on the proposal, Clinton will unveil an "exit tax" that will be imposed on companies that attempt to relocate overseas for tax reasons. The tax would be levied on foreign earnings at the time of the inversion deal.
The announcement would come just a month after the news of a plan to merge drugmakers Pfizer and Allergan. The plan sparked controversy because it enables Pfizer – currently based in New York – to move its headquarters to Ireland, allowing the pharmaceutical giant to reduce its tax rate from 25 percent to 18 percent.
Profits earned by a U.S. company overseas are not taxed until they are brought back to the United States, prompting many companies to hold cash abroad to avoid higher taxes.
The new tax is to be part of a wider effort by the Democratic 2016 front-runner to target what is believed to be approximately $2 trillion in profits being held abroad by U.S. companies. Clinton will say that the new tax revenue could be used to boost manufacturing jobs in the U.S., campaign aides told The Associated Press.
Clinton's campaign team did not respond to a request for comment by FoxNews.com.
The report comes the same day as Clinton expanded on her intent to reform Wall Street in a New York Times Op-Ed, "How I'd rein in Wall Street," in which she outlined a series of new proposals and regulations that she claims would make Wall Street more accountable.
"President Obama and congressional Democrats should do everything they can to stop these efforts. But it's not enough simply to protect the progress we have made," Clinton wrote. "As president, I would not only veto any legislation that would weaken financial reform, but I would also fight for tough new rules, stronger enforcement and more accountability that go well beyond Dodd-Frank."
Clinton's proposals come after she has faced criticism for her past ties to Wall Street. At the Nov. 15 Democratic primary debate, Democratic rival Vermont Sen. Bernie Sanders criticized Clinton for her links to Wall Street.
"Let's not be naive about it. Why … has Wall Street been the major campaign contributor to Hillary Clinton?" he said. "You know, maybe they're dumb and they don't know what they're going to get, but I don't think so."
Clinton controversially responded by citing the 9/11 terror attacks as justification for the donations.
"I represented New York, and I represented New York on 9/11 when we were attacked," Clinton pointed out. "Where were we attacked? We were attacked in downtown Manhattan where Wall Street is. I did spend a whole lot of time and effort helping them rebuild. That was good for New York."
Sanders introduced legislation into the Senate in April that would continue to tax companies involved with inversion deals as American corporations as long as they remain U.S.-majority owned.
The Associated Press contributed to this report.