Clinton slams Trump at union protest outside mogul's Las Vegas casino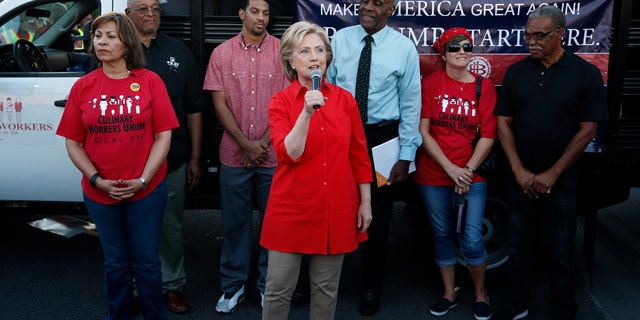 NEWYou can now listen to Fox News articles!
Hours before Tuesday's Democratic presidential debate in Las Vegas, front-runner Hillary Clinton ripped into Republican contender Donald Trump at a union rally outside one of the businessman's own casinos.
Clinton, clad in a red shirt that matched the crimson-clad workers of the politically potent Culinary Workers Union, urged the workers to "say 'No' to Donald Trump."
"Some people say Donald Trump is entertaining," Clinton said. "I don't think it's entertaining when someone insults immigrants, when someone insults women."
The former secretary of state was the only one of the five Democratic candidates appearing in the debate to attend the rally. All had been invited by the union.
"I wanted to come by to lend my voice to all yours and I wish you well in these efforts,' Clinton said in a brief speech.
The union has been trying to organize the Trump hotel for more than a year. The union says it was approached by some of the 500 restaurant workers and maids at the hotel who wanted representation.
"Mr. Trump said, 'Make America great,'" Maria Jaramillo, a housekeeper who's worked at the hotel for six years, said at the rally. "The Trump workers say, 'Start it here!'"
Eric Trump, an executive vice president at the Trump organization and the presidential candidate's son, said workers at the hotel are largely happy.
"For years the union in Las Vegas has been trying to unionize this hotel, and they have been incredibly unsuccessful," Trump said. "We have an incredible group of employees who have categorically rejected unionization."
Republican National Committee spokesman Michael Short mocked Clinton's appearance at the union rally, saying, "These union workers must be relieved that Hillary Clinton's private jet got her to Las Vegas just in time to pander to them.
"The truth is, rank and file union members aren't running to Hillary Clinton's side after seeing her politically-motivated flip flops on trade, health care, and the Keystone Pipeline," Short added. "Their guess about where Hillary Clinton will stand the next time the political winds shift is as good as anyone else's."
Fox News' Ed Henry and the Associated Press contributed to this report.