Clinton and Trump add to delegate count with wins in New Mexico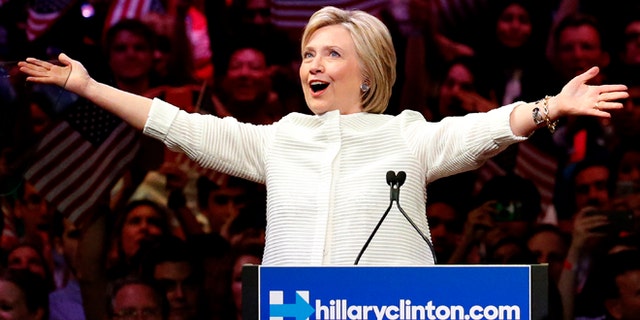 NEWYou can now listen to Fox News articles!
Presumptive Democratic Presidential nominee Hillary Clinton added to her delegate count Tuesday night with a win in the nation's most Hispanic state.
With 96 percent of votes in New Mexico tallied, Clinton won 53 percent of the vote in the state compared to the 47 percent that voted for challenger Sen. Bernie Sanders of Vermont. The former Secretary of State is now poised for a general election battle with the presumptive Republican nominee Donald Trump.
Clinton secured the 2,383 delegates she needed for the nomination on the eve of Tuesday's voting, according to an Associated Press tally, but secured the nomination with a win earlier in the night in New Jersey.
Clinton trumpeted her victory as historic.
"We are all standing under a glass ceiling tonight," Clinton said Tuesday night during her speech in Brooklyn, New York. "This is the first time in our nation's history that a woman will be a major political parties nominee."
Clinton wanted to wait until most of the voting was complete Tuesday night before fully reveling in becoming the first woman nominated by a major U.S. political party
While Clinton claimed the state on the Democratic side, Trump was the candidate who was making headlines in the state in the lead-up to Tuesday's vote, where in an uncontested race he pulled in 73 percent of the vote with just over 50 percent of votes tallied.
The real estate mogul has in the past few weeks both derided and courted New Mexico's Gov. Susana Martinez, the first female governor in U.S. history.
Martinez, the head of the Republican Governors' Association and the first Latina to be chief executive of any U.S. state, has been critical of the real estate tycoon a number of times in the past, including when he first brought up the issue of immigration and building a border wall last summer. His description of Mexicans as criminals was "completely and unequivocally wrong," Martinez, who is of Mexican descent, said at the time.
Trump, for his part, called out Martinez while campaigning in New Mexico in May, telling supporters that she "has got to do a better job. She's not doing the job."
Then he added, "Hey! Maybe I'll run for governor of New Mexico. I'll get this place going ... She's not doing the job. We've got to get her going."
Despite Trump's harsh words there have been rumors that the businessman has put Martinez on his shortlist as a possible running mate in the general election. A spokesman for Martinez, who has yet to endorse Trump for president, has said the two are set to meet "in the near future."
Trump recently said he would welcome Martinez's endorsement.
"The governor hopes to visit with Mr. Trump in the near future to discuss this issue and others that affect New Mexicans. As she has said, this has never been about her -- it's about the issues that impact New Mexico." Martinez's spokesman Mike Lonergan said.