Civil Rights Group Demands Arizona Sheriff Joe Arpaio's Resignation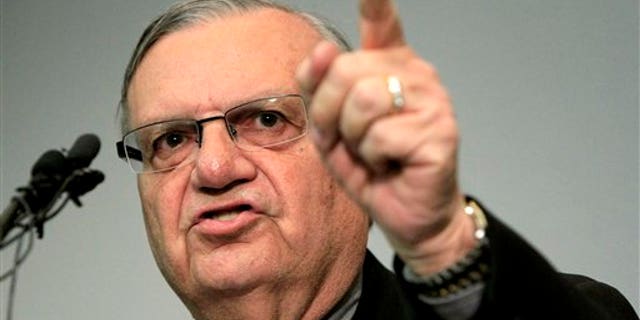 The nation's oldest Latino civil rights group is calling for the resignation of controversial Arizona sheriff Joe Arpaio.
The resignation demand by the National Council of La Raza, which held a press conference in Arizona on Thursday, follows a scathing report in December by the U.S. Department of Justice that the Maricopa County sheriff's office racially profiles Latinos, bases immigration enforcement on racially charged citizen complaints and punishes Hispanic jail inmates for speaking Spanish.
"It confirmed what we already know," said NCLR spokeswoman Lisa Navarrete to Fox News Latino about the DOJ charges, "that his department deliberately targets Latinos, in violation of a lot of laws."
"The calls for his resignation have been bipartisan, they've been from many different communities," she said. "He's not done a good job by anybody he's sworn to protect."
Celebrities Who Were Once Undocumented
The sheriff's office says it doesn't discriminate against Latinos. Arpaio has called the DOJ's December report a politically motivated attack by the Obama administration that will make Arizona unsafe by keeping illegal immigrants on the street.
Arpaio has faced numerous scandals in the past year that also have included botched sex crimes investigations and other alleged abuses.
At the news conference in Phoenix, NCLR President Janet Murguia called Joe Arpaio, who has termed himself "America's toughest sheriff," "America's worst sheriff" and said it was time for him to step down.
Murguia said not enough has been done locally to remove him from office.
"This isn't personal, it's about performance," Murguia said. "The Department of Justice's findings confirm that Arpaio has created a hostile climate for Latinos—citizens and noncitizens alike. But numerous reports also confirm that Arpaio has endangered the safety of every resident of Maricopa County by failing in his basic obligation to effectively enforce the law. By any measure, he should go."
The five-term sheriff has raised more than $1.1 million in the past year for his re-election campaign.
Meanwhile, lawyers for the Maricopa County Sheriff's Office say they'll meet Monday with DOJ attorneys over the federal accusations of civil rights violations.
Latina Candidate Barred over English Proficiency Files Appeal
Federal officials say they're willing to negotiate ways to reform the sheriff's office in Arizona's most populous county.
In a Jan. 17 letter to an Arpaio attorney, Assistant U.S. Attorney General Thomas Perez said MCSO appeared to be trying to delay the meeting.
This story contains material from The Associated Press.
Follow Elizabeth Llorente on Twitter: @Liz_Llorente
Elizabeth Llorente can be reached elizabeth.llorente@foxnewslatino.com
Follow us on twitter.com/foxnewslatino
Like us at facebook.com/foxnewslatino