China takes new stealth jet for test flight during Obama visit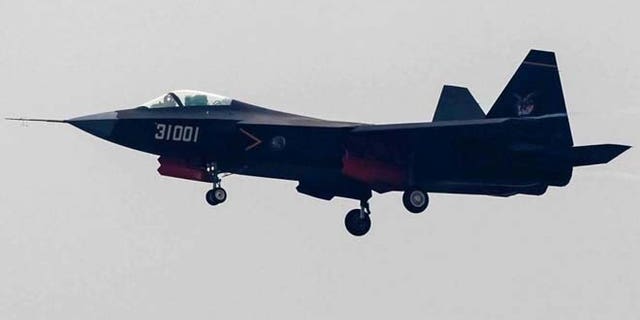 China's military upstaged the Asian economic summit in Beijing this week by conducting test flights of a new stealth jet prototype, as the White House called on Beijing to halt its cyber attacks.
Demonstration flights by the new J-31 fighter jet -- China's second new radar-evading warplane -- were a key feature at a major arms show in Zhuhai, located near Macau, on Monday.
The J-31 flights coincided with President Obama's visit to Beijing for the Asia-Pacific Economic Cooperation summit meeting. In a speech and meetings with Chinese leaders, Obama called on China to curtail cyber theft of trade secrets.
China obtained secrets from the F-35 Joint Strike Fighter through cyber attacks against a subcontractor for Lockheed Martin. The technology has shown up in China's first stealth jet, the J-20, and in the J-31. Both of the jets' design features and equipment are similar to those of the F-35.
The Chinese warplanes are part of a major buildup of air power by China that includes the two new stealth fighters, development of a new strategic bomber, purchase of Russian Su-35 jets, and development of advanced air defense missile systems. China also is building up its conventional and nuclear missile forces.
Meanwhile, White House Deputy National Security Adviser Ben Rhodes told reporters in Beijing Tuesday that the president would press China's leader Xi Jinping to curb Chinese cyber espionage.
"Cybersecurity, of course, will be an important focus for the president, given some of our concerns related to cybersecurity and the theft of intellectual property," Rhodes said in advance of Obama's meeting Tuesday with Xi.